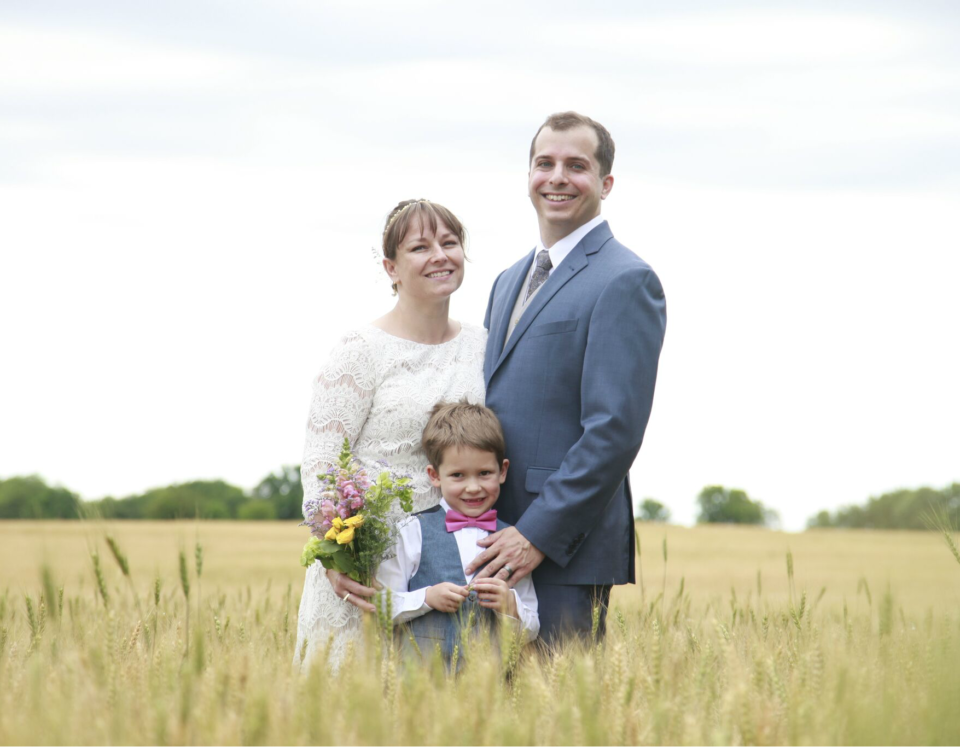 For those who haven't heard yet, I got married last month!  Now, I know SOME dudes have a reputation for being all "whatever, weddings are lame, just plan it however you want, that's lady-stuff" attitude when it comes to wedding planning, but, as those who know me may have guessed, not THIS dude.  I mean, sure, weddings CAN be lame, but if you are going to do some kind of societally-mandated ceremony like that, you may as well do it right!  And, thanks to Laura being the most understanding, supportive, and giving person in the whole damn world, my epic plans fell upon eager (or, at least, open) ears and we ended up pulling off one hell of an epic and/or sweet wedding.
Anyone who has read more than 4 words on this site knows that when I say epic, I mean EPIC.  We're talking raising your sword aloft, atop a ruined crumbling castle while a motherfucking dragon looks on under an overcast sky at the world's end EPIC!  Thus, this wedding was going to take a bit of work if I was going to come close to matching the grandiose visions of epic trothplightings dancing through my head.  I'll try to break it down to the main areas in this post, starting with…
Staying under budget
To be fair, the whole "on a budget" part of this post title is really mostly just cheap click-bait (in addition to not actually being EPIC at all).  There really isn't much of a secret to doing a wedding on a budget.  You just have to do it at your parent's house–boom, no venue fees.  Oh, and make sure your mom actually grows cut flowers and does caterings for a living…that will really help with the food and flower budget:
Really, we spent far more on putting up family in hotels and the photographer (and me buying my first ever suit) than any of the usual wedding expenses.  Anyway, that's all I got on budget advice…however, if you still want to know how to plan an EPIC wedding…read on!
The Proposal
The proposal itself took place in front of a shimmering sunset on a beach at the end of the world, followed by some casual beach horseback riding the next day.  Because, really, how could anyone say no to this guy?
Whether or not I've learned anything about how to properly ride a horse from all those John Wayne movies aside, things were off to a properly EPIC start.
The Ring
Up next we had to keep the ball moving with the ring.  I'd proposed with a "placeholder" ring, one that was a nice little silver poppy flower, but that I'd purposely picked as something that you wouldn't want to wear every day.  It seemed like a good idea (and, mostly is) to not just go ahead and pick out something that someone is going to wear every day for the rest of their life without any input from them.  However, it really just puts all the stress of picking out a ring on your partner, which can be both a blessing and a curse, since how the fuck do you pick out anything you want to wear every day the rest of your life?  Laura nailed it though and came up with this awesome Mayan-esque hand-designed number made for us by a local jewelry shop:
I'd still recommend not just picking something out for your partner like some kind of asshole that thinks it's acceptable to order for you at a restaurant before you get there, but it's still not easy picking out a perfect ring, even if it is for yourself.  Speaking of which, I thankfully skipped out on my more grandiose (and riveted) ring ideas to go with a simple naturalistic design that in a nice matte gunmetal grey weird tantalum metal:
Wedding Planning Deadlines
Now, I'm the kind of guy that likes to wait until Monday night at 1:00 AM to start his Monday blog posts.  Questions of whether or not that technically counts as Tuesday morning aside, it has been brought to my attention that such behavior might not be ideal for planning your wedding with your partner.  Thus, you might find it more helpful to set deadlines rather than attempt to make a case that 20 days is "pleeeeenty of time."
Invitations
If Laura and I have one regret, it's that we didn't invite more people (with the exception of family members that post racist shit on Facebook).  It was a no-presents wedding, so weren't trying to rake in more loot, we really just wished we would have had more of our friends there.  Initially we were just trying to keep things small and I was worried about making old friends who lived across the country feel obligated to get an expensive plane ticket out to our wedding.  However, adding more people to our wedding would have been very easy to do, and I just needed to quit overthinking the whole invitation process.
But overthinking is what I do, and for the actual physical invitation itself, I just knew that no "storebought" wedding invitation would possibly match the EPIC vision in my head.  So I started by carving a linoleum block print (and somehow managed to avoid major puncture wounds–that shit is no joke!):
Then I enlisted some help:
And printed off a whole mess of super EPIC wedding invitations:
It turns out that learning a new skill for a wedding invitation isn't as easy as you would think, and there was a fair amount of trial and error getting those prints to come out well, but, when you've got "pleeeeenty of time" go for it!  This is your wedding, accept no store-bought substitutes!
New Hobbies
Just because you have a wedding coming up doesn't mean you can't still take a little YOU time.  After all, there's "pleeeeenty of time," so treat yourself!  Read a book, catch up on TV, or, as I did, take up a very expensive and time consuming new hobby a few months before your wedding date:
I know, it is probably a surprise that I didn't already paint miniatures, but it was something I always wanted to try, so I wasn't going to let slightly poor timing mess up a chance to take up a new hobby!
Luckily Laura ended up helping me justify the endeavor by suggesting that I should use my new skill to create a custom cake topper for our wedding cake.  Thus, one final ebay miniatures order (and a bit of head-swapping and green stuff work) later and we had one hell of an EPIC wedding cake topper ready to go:
Benny wanted to be a child wizard, Laura just wanted anything with appropriate armor, and I wanted someone making a metal horns hand gesture with a kitty cat…luckily there were enough different miniatures to pick from out there that I was able to find models for each of us (Laura's appropriate armor was the hardest to find).
Dinner Music
Weddings, like black metal, are all about atmosphere.  However, unlike black metal, this atmosphere is not typically achieved through a combination of white noise, harsh screams, and problematic imagery.  And yet…the usual string quartet thing is just so played out (even if they played some good Baroque shit) that we ended up going more towards the white noise route.  Not actual white noise, rather a set of improvised modular synthesizer ambient music played by my old friend Katy's (who was so graciously singing our wedding song) husband Ed.  And…it was amazing!  I'd loved Ed's work back from back in the day and his set was a perfect mix of EPIC, beautiful, laid-back ambience.  Sadly we didn't record the set, but you can get an idea of his style in this 15-year-old recording of his old band EVAC:
EVAC: Live at the Bottleneck, 2003
Toasts
All it takes for an EPIC toast (which we did all the toasts before the ceremony because we're contrarians like that) is to invite your college roommate to speak and then spend the whole toast on the edge of your seat hoping he won't say anything too incriminating, embarrassing, or inadvertently homophobic/sexist.
And when the speech turns out touchingly sweet and heartfelt despite the story about me cutting out a bunch of pictures of dude's dicks and hiding them around his room, you will have succeeded in an EPIC toasting ceremony.  Also, the totally fucking metal crystal toasting glasses Laura's mom got us for the occasion helped too:
What can I say but my in-laws know me…
Playlist
DJs are an unnecessary expense.  Sure, maybe your mp3 playlist won't "flow" the way a professional's would, but why pay some dude money to play a bunch of songs you don't necessarily love?  Now, as on-board as Laura was with everything to this point, there was no way we were going to be able to agree on a mutual playlist of songs for the rest of our wedding.  Not that we hated the other's music (black metal excepted), it's just hard for any two people to agree on mutual favorites.  So, we just ended up splitting the playlist in half (with an agreed veto power for any songs that were either not minor key enough, or that were too minor key).  It actually worked out pretty well, aside from a few irregularities like Dio's "We Rock" followed up by Kenny and Dolly singing "Islands in the Stream."
Check out the most minor key songs from our playlist on the latest Minor Key Monday HERE.
Wedding Song
Speaking of store-bought, bush-league, played-out wedding stuff, the standard "Here Comes the Bride" bullshit is NOT going to fly at a properly EPIC wedding.  Ideas for the song we were going to walk out to came and went, and we eventually settled on a custom version of an folk song from an obscure 1973 demo album from a band called Midwinter:
This song has everything I look for in music.  Minor key tonality, epic feel, and obscure origins that make me feel special for having "discovered" it.  Unfortunately, the original lyrics about a girl's boyfriend who kills her whole family before the two of them end things in a couple's suicide pact left a bit to be desired for a wedding.  Thus I did a rewrite of the lyrics (keeping only the "she rode on a milk white steed and he a dappled grey" part) and came up with the following wedding-friendly lyrics that told Laura and I's EPIC tale from our first meeting long ago to our sunset wedding ceremony:
Friends and Family (sung to the tune of Maids and Gentlemen)
Come all ye friends and family and hearken to this song,
An honest tale of two hearts joined by love both pure and strong.
Oh she rode on a milk white steed and he a dappled grey,
Till their path split to right and left and so they rode away.
He rode he rode a bitter road without his lady dear,
Until he felt her kind heart close as she again drew near.
My sweet, my love, my lady dear, pray take my reins in hand,
And lead us to our future life across this wild land.
She heard she heard his sincere words, and took his proffered reins,
And shared with him her road into adventuresome domains.
Her son did ride betwixt the two, his hands were held in theirs,
And where-so-ev'r the three did go, forgotten were their cares.
Oh she rode on a milk white steed and he a dappled grey,
Their little one rode at their sides upon a spirited bay.
They rode they rode on forgotten roads, they rode by the light of the moon,
Through fen and field and forest glade guided by myth and rune.
They rode past night and day again, on to the setting sun,
And at the furthest shore they swore their quest had just begun.
Come all ye friends and family, as they now plight their troth,
Here in this field ere nightfall comes we gather for their oath.
I might have gone a little too far with the whole "guided by myth and rune" part, but Laura's a chill chick, she was cool with it.  I also found out I'd been pronouncing "troth" wrong all these years, but I figured it out before I embarrassed myself with my rhyme scheme.  Lyrics in place, I just had to get someone to sing it, and luckily Ed's (who did the ambient dinner music) wife Katy graciously agreed to sing the song for the ceremony:
I said I was done with the budget stuff, but having friends like Ed and Katy who were willing to come out and basically do all the music for our wedding was appreciated to no end!
Decorations
Decorations were fairly typical with white table clothes, hanging candle jars, flowers, and what-not, and while the farm setting felt very rustic and EPIC to me, it probably also looked a little Martha Stewartish to some:
But you know what? The whole yard was beautiful, so anyone suggesting the wedding was too Martha Stewartish can fuck off, myself included:
As a final note on decorations, Brian did manage to EPIC things up a bit (and break the no presents rule) by presenting us with this handmade leather hanging scroll of our wedding song lyrics.  So, congrats Brian, everyone else can just stop bringing wedding presents to all future weddings from this point on:
The Ceremony
We decided on a few things to make the ceremony extra EPIC.  First, we did it bathed in the blood red light of a dying sun, aka, a romantic sunset (the same as the beach front proposal).  Second, we mowed a long path out into the pasture so we had the ceremony in the middle of a field which felt suitably isolated and EPIC.  And third, we didn't have any fucking preacher asking us to say our vows to each other.  Wedding vows are personal, and we didn't want anyone else standing up there telling us what to say to each other.  We kept them short, and then finished by looking forward to brief visions of our future, an idea that we borrowed (along with the music from the scene–I gave a HARD push for using the final song from Bladerunner as our ceremony closing music, but luckily cooler heads prevailed on that one) from the ending of Raising Arizona:
Yes, that final dream monologue is spoken by an imbecile, but it's genuinely touching, and we wanted to say something similar to finish our ceremony.  It all went perfectly (despite talking about our future making the vows very hard to get through without ugly crying), and we finished everything off with this little guy giving us our rings:
Benny did great, and if anyone was going to be up there with us for the ceremony, we were glad it could be him!
First Dance
I don't really go for traditions like first dances, cake cuttings, garter tosses, having an officiant, etc, but our first dance was actually kind of great considering we got my dad to play a personalized arrangment of Sun Ra's "Enlightenment" for us to kick off the dancing part of the night (seamlessly followed up by Madonna and Britney, bitch).  The sunset and chandelier helped with the EPICness too:
All we asked him was to keep it slow and keep it short…neither of us are actual "dancers," so getting out of there with our dignity intact was a high priority.
Final Thoughts
I'm not one for posting too much personal stuff on this blog (unless it involves general silliness), but my big EPIC perfect farm wedding was something that I just wanted to write about.  R. W. Fassbinder has called marriage "the most insidious trap that mankind has yet devised for itself," which, at best, means it is nothing to be taken lightly.  Of course, I balance my Fassbinder movies with an equal amount of romantic comedies, because I'm far too optimistic to ever succumb to pure cynicism.  I am simply a hopelessly romantic nihilist that has never stopped looking for that one perfect woman no matter how bleak humanity's prospects for true love might be.  And once I found her, I just kind of had to share our big day with the internet, despite my strict "no personal stuff unless it involves bathroom humor" rule.  Here's to you Laura, we did it!
I just hope I wasn't too much of a groomzilla in the process… <3