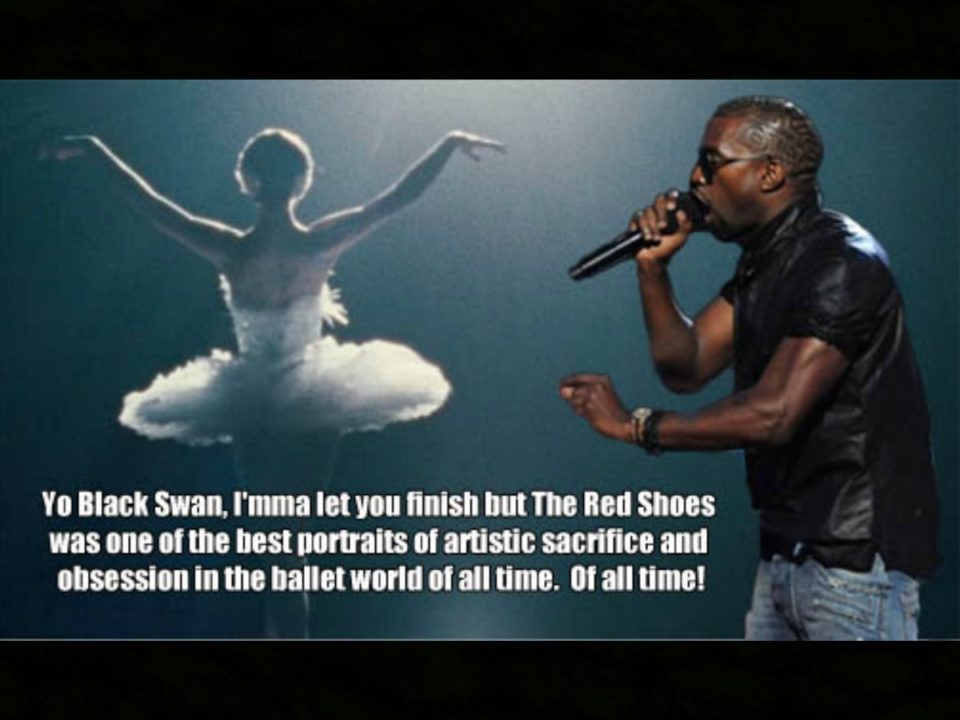 Here we are at Oscars time again, and here I am reviewing all the best picture nominees again.  Kind of reminds me of Valentine's Day, everyone knows it is a bullshit holiday and yet it still gets talked about far more than it should come February.  Still, for what it is worth, these are what the American public has been led to believe are the ten best films of 2010.
And honestly, once again, the list isn't so bad.  Granted, in my own "best of the year list" (a first for my Oscar's post this year!) I found 6 other films I would have put on this list instead.  But one of those was Jackass 3D, so what do I know?  I'd say the most glaring omission was The Ghostwriter with 0 nominations.  I understand the director is a bad man, but come on, that was easily one of the best films this year!  Also, the Let the Right One In remake was far better than it should have been (I probably even liked it better than the original).  Of course, it was also fairly redundant, so I suppose I can't argue with it getting shut out too much.
Anyway, like I said last year, this isn't my list of Oscar "predictions," this is simply what I thought of the films that did get nominated.  Of course, I also once again put them in an ordered list based on quality, because, well, that's just the way I roll.
10 – Inception
I know all this Inception hating seems kind of reactionary (you think its #10 spot on this list is bad, just look what movie I ranked directly above it on my personal list below), but that's what it gets for trying to pretend it was something more than just a big dumb action movie.
Like just about every Christopher Nolan film I've ever seen, Inception seemed to think it was far more intelligent than it actually was (not to mention it being about twice as long as it needed to be as well).  I ended up watching it for a second time recently, and by the time they had moved past the cgi elevator fight to the machine gun fight in the snow I was read for it to have been over a long time ago.
Not that it's a bad movie.  The effects and rumbling trombone score were pretty cool.  And the whole crosscutting between worlds moving in different time frames was cute.  And I can't really criticize it for being "undreamlike" since its "dreams" were really just an excuse for the zero gravity/fractured narrative set pieces.
I guess it is just that between the labored setups and overlong action scenes I feel like Inception is far to flawed to be considered one of the years 10 best.  Tron: Legacy was twice as cool and (to put it mildly) twice as stupid.  But, more importantly, it only took itself half as seriously.
9 – The Kids Are All Right
This is another film that really isn't so bad, but probably shouldn't be counted as one of the years ten best.  I mean, the script was pretty funny and the acting was all quite good (I especially liked Mark "sloppily charming" Ruffalo and Julianne "Not afraid to take my top off at 50" Moore).
However, the whole thing felt awfully manufactured to show America how well a same sex couple can raise their kids.  I don't care what the message is, I prefer my propaganda to be a little less overt.  Add in the thematically dubious message that all lesbians need is some "deep dicking" every now and then and you are left with the second (see #10) most overhyped film of the year.
8 – Toy Story 3
Toy Story 3 was pretty great (even, dare I say it, a bit epic?)  So why do I have it at number 8?  I mean, aside from it being "just a cartoon" and having the exact same plot as Toy Story 1 and 2, let's not kid ourselves here.  This is still just a slickly made collection of film elements designed to appeal to the widest audience possible.  It was a lot of fun, but I didn't detect a whole lot going on under the surface.  Try putting that whole "Lotso" backstory into a real movie and it will probably feel about as deep Colin Firth's daddy issues in The King's Speech.
7 – The Fighter
Here is the first of our biopics.  A fine movie, but aside from the focus on the bizarre family dynamic, there was nothing here you haven't seen in a hundred other boxing biopics (up to and including the big inspirational final fight).  Not to mention the fact that you could detect the slight stink of Oscarbait on this one even over the smell The King's Speech was making in the corner of the room.
And honestly, I didn't mind the formula, but I didn't end up leaving this one singing its praises from the rooftops either.  Also, I believe I detected a wee bit of mugging in Bale's performance.
6 – 127 Hours
As anyone who knows how much I liked Slumdog Millionaire is aware, try as I might, Danny Boyle's flashy directorial pyrotechnics tend to win me over despite my best efforts to resist them.  Hell, he even made me like a zombie movie! That said, this film didn't do much other than to force the viewer to wait around for 90 minutes for a horrifying arm amputation scene.
Not that it was all flash, Boyle is a pretty creative guy really, it's just, come on, is this really a movie that you would hear the synopsis of and want to see?  It definitely wasn't for me, and after having sat through it, I can't say I've changed my mind.
5 – The King's Speech
It really is a bit rich that everyone gives rom coms shit for being formulaic and predictable, but I've heard few similar complaints about The King's Speech. Again, not that I'm complaining, the "train for the big game after an initial failure" formula The King's Speech follows is a good one (even if the plot synopsis sounds even worse than that of 127 Hours).
Still, is merely being "enjoyable" enough to get a film into a top 10 of the year list?  I don't think so, if that were the case, I would have ranked Tron: Legacyeven higher on my own personal list.  I think the main problem here is that I would have preferred to see something with a bit more depth than "that Geoffery Rush's Mr Miyagi is so crazy his plan to cure the king's speech just might work!"
4 – The Black Swan
Aronofsky's films all tend to be flawed yet interesting, and this was no exception.  An energetic and darkly surreal psychological thriller, The Black Swan was also rather underwhelmingly obvious.  Everything from the over the top mother character that was borrowed from The Pianist to the lesbian sex and cuticle torture seemed to rarely if ever dip below the surface of the alarmingly thin storyline.
So why is this ranked as high as #4?  Well, partly because this list is rather weak, but also because the film does take chances creatively and visually.  As long as you don't go into it expecting the next The Red Shoes (a film that transcended its thin story instead of failing to rise above it) I can't say that this film would be a complete waste of your time.  And the emaciated Natalie Portman was quite good–I just hope she was able to put some weight back on for her thong scene in the upcoming  Your Highness.
3 – Winter's Bone
I'm a sucker for genre, and thus, this hillbilly noir was right down my alley.  Taking its structure from a classic private eye film, and then transplanting the setting into a Gummo meets Deliverance world ended up working far better than I would have expected it to.
A great deal of the credit should go to the production design that turned the Ozark backwoods into a nightmarish mythical land of meth addled rednecks and flipper babies.  And yet, importantly, it was quite believable (thanks should also go to the all around great acting).  The rednecks weren't the superhuman monsters of a film like Southern Comfort, instead, they walked the fine line between terrifying and ridiculous and never fell off into the silly side.  I haven't seen a side of America this dark since the last David Lynch film.
2 – The Social Network
There is no end to my bitching about biopics.  By harnessing the plot to a "based on a true story" anvil, the whole thing loses all potential to surprise as it lurches towards a conclusion that had been written in stone long before the script was a glimmer in the screenwriter's eye.  Thus, it should be doubly impressive that I liked The Social Network as much as I did–especially considering how its "true story" was almost as fucking boring as The King's Speech.
Part of its success (with myself) was the fact that, more than the other three biopics on this list, The Social Network was concerned with the interactions of its characters more than their deeds (yes, this includes The King's Speech).  Add in the very smart scrip, energetic direction and a score that was probably second only to the Tron: Legacy soundtrack (to my ears) and you have a movie that almost makes me want to forgive Fincher for The Curious Case of Benjamin Button.
1 – True Grit
First of all, as a John Wayne fan I must admit I've never been a huge fan of the original.  It's a decent movie, the "fill your hands" last ride was pretty well done, but let's face it, Wayne's mugging didn't deserve any praise, let alone an Oscar (not to mention how much Glen Campbell fucking sucked it up as La Beouf).
Well, the Coen brothers' remake fixed all that.  Steinfeld was perfect as Mattie (not to mention the correct age), Bridges chewed the scenery without overdoing it, and Damon was good enough that I almost forgot about the Glen Campbell travesty from the original.
But that's just what makes a good movie, not best movie of the year (which, like last year, the Coen brothers have once again captured the top spot in my list, Oscars or not).  They are known for their quirky sense of humor, but True Grit plays things pretty straight for the most part.  What was so refreshing to me about it was how classical it was as far as modern westerns go.  There were no "bad town", "end of the west" themes.  And yet the film still had something fresh to say, as all great westerns do, about courage, honor and what it takes to be a hero.  Like I said, I'm a sucker for genre, but only because it can be so effective when used correctly.
Of all the Oscar nominees, True Grit has the most to say.  An impressive feat for "just a Western."
Special Feature: Isley's best movies of 2010 list!
For those who are interested, here are the 44 movies from 2010 I did see.  I tend to avoid new indie and foreign fare since so much of it is just kind of mediocre…and mediocre film-making with delusions of grandeur annoys me far more than mediocre film-making with delusions of mediocrity.  Speaking of which, a special note on Tron: Legacy.  Yes, it was stupid and made no sense.  But it was also the most successful bit of cyberpunk atmosphere since Hackers, and thus, awesome.  Anyway, this list is roughly in order of preference…but anything past the first 5 or so was nothing to really write home about and thus, rather arbitrary (also, links redirect to the monthly movie reviews post where I initially reviewed each of these).
True Grit
The Ghostwriter
The Social Network
Winter's Bone
Let Me In
Cyrus
The American
Jackass 3D
Troll Hunter
The Trip
Cave of Forgotten Dreams
13 Assassins
The Black Swan
The King's Speech
127 Hours
The Fighter
Never Let Me Go
Toy Story 3
The Town
The Kids are All Right
Robin Hood
Shutter Island
Tron: Legacy
Moguls and Movie Stars: A History of Hollywood
Inception
Scott Pilgrim VS. the World
Due Date
Going the Distance
Iron Man 2
The Losers
Easy A
Death at a Funeral
Centurian
Love and Other Drugs
Hescher
Temple Grandin
Red
The Expendables
Despicable Me
Get Him to the Greek
Machete
Kick-Ass
Date Night
Just Wright
Hot Tub Time Machine
How Do You Know
Legion
She's Out of My League
Dear John
The Book of Eli
Alice in Wonderland
Step Up 3D
Predators
Salt
The Switch
Morning Glory
The Back-up Plan
High School
You Again
Valentine's Day
Operation Endgame
Clash of the Titans
Leap Year
Twilight: Eclipse
When in Rome