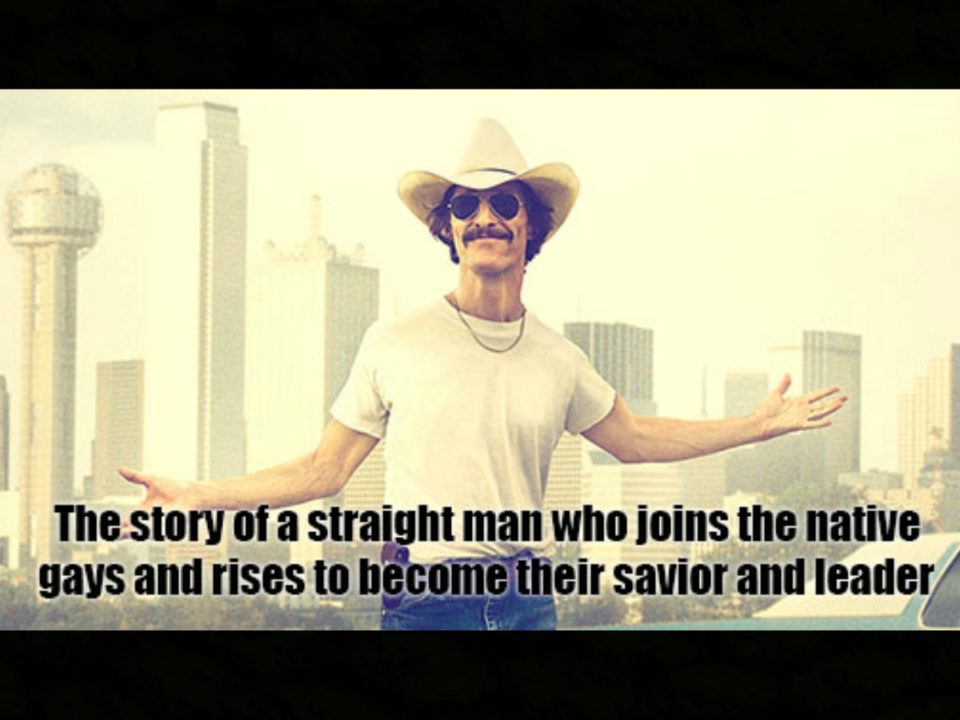 Here we are on year five of me actually watching all the shitty best picture nominations so you don't have to. This year, though a fair amount made it into my top ten list (mostly because I didn't see as many 2013 movies this year), I was overall fairly disappointed with the choices, mostly because just every fucking movie (except for my top 3 picks) was based on a fucking true story.  I've talked about this before, but by following a "true story" the narrative gets hamstrung by the facts and ends up feeling totally static and lifeless.
Of course, that's just like, my opinion man, so , let's get to a few more opinions about the supposed 9 best films of the year!
9 – Dallas Buyer's Club
This was well made, but so thematically confused (and morally dubious) that it was easily my least favorite film on the list.  First, the movie would like you to know that the FDA is FUCKING EVIL.  Why?  Because they refuse to give drugs to people without testing them first–after all, these are sick people! They can't wait for the drugs! So then the straight good ol' boy Mcconaughey, who got AIDS from some totaly hetero prostitutes, goes to Mexico to bring back untested drugs for sick people.  Cut to later in the movie and the FDA's drug they are testing, AZT, turns out to be dangerous and is killing people.  Mcconaughey is then furious that they were giving an untested drug to patients!
Meanwhile, he's bringing up quack Mexican drugs of all different kinds  to the US and is charging outrageous prices to dying men in the United States.  And, the most annoying part of the film is that somehow, he's supposed to be this awesome hero for doing that.  Finally, the movie ends with a title card claiming that AZT went on to save millions of lives after testing.  Ugh.
8 – Captain Phillips
There were some nice tense moments, but I was waiting for this one to be over almost as soon as it started.  Hanks' whitewashed Captain Phillips jumps from one deception to another as he outwits the Somali pirates and saves his crew at the same time.  It all felt kind of contrived–as if they added one too many creative liberty to the "true story" until the whole point of making it based on a true story was buried between one too many close calls.
7 – Philomena
This actually wasn't so bad, Judi Dench was very cute and Steve Coogan gets a few good snarky lines in.  Unfortunately the lost child story just felt kind of Lifetime movie to me.  There were some good character moments between the two leads, but this one was just a bit too manufactured for my taste.
6 – American Hustle
There sure was a lot of glitz and style to this one, but the longer it went on the more I felt like the substance was lacking.  Jennifer Lawrence was very good, it was all very well mounted, but I don't think it added up to much of anything at the end of the day.  I think they spent more time picking out "hilarious" wigs than they did making a screenplay with something to say.
5 – 12 Years A Slave
This is actually probably the best film on the list, cinematically speaking, so I can't be too disappointed if it wins best picture.  However, it was so fucking unpleasant that there is no way in hell I'd ever want to sit through this if I had not started this stupid "watch all the best picture nominees" tradition.  Well done, but I have no interest in watching 2 hours of rape, torture, and misery.
4 – The Wolf of Wall Street
This is my other "secret" pick for best film on the Oscar's list.  Scorsese is at the top of his game in this biopic that is actually a very successful comedy.  I don't know how he does it, but Scorsese is about the only director that can make a biopic that I care about.  Unfortunately (and the reason for its lower placement on my personal best films list), by making such a stylish and hilarious film about the world's biggest douchebag, he ended up making the world's biggest douchebag way too likeable of a character.
3 – Nebraska
This felt a little too on the button in places, but overall it was a very enjoyable dysfunctional family roadtrip film.  Dern really was great, and there were plenty of hilarious little scenes full of great small town characters.
2 – Her
This was awful hipster cute, but it thankfully had a lot to say about loneliness and relationships while it thankfully didn't let the "technology is dominating our lives" message overwhelm things.  Also, it actually had a third act, which is more than I can say for the director's collaborations with Charlie Kaufman.
1 – Gravity
People might bitch about the script, but hell, it was fine, I don't really care if Cloony wants to Cloony it up and talk to fill space for a bit, because the dialog was hardly the reason to watch this one.  It was a nonstop, edge of your seat thrill ride that brilliantly capitalized on that "swimming in deep ocean" fear of dangling by a small thread over a bottomless abyss of space.  The special effects were phenomenal too!
Special Feature: Isley's best movies of 2013 list!
For those who are interested, here are the 37+ movies from 2013 I did see, ranked in order of preference.  There really isn't a way to make a list like this internally consistent.  Are these the most well made movies of 2013?  The ones I found most entertaining? Successful as films?  Shouldn't Spring Breakers be higher?
No one can really answer those questions, this is just a list of the movies that I thought were the most successful at what they set out to do, in rough order of preference from best to worst:
Inside Llewyn Davis
Before Midnight
Spring Breakers
Gravity
Her
Nebraska
The Wolf of Wall Street
Evil Dead
This is the End
Fast & Furious Six
12 Years a Slave
Pacific Rim
The Hunger Games: Catching Fire
Star Trek Into Darkness
Jackass Presents: Bad Grandpa
Austenland
Only God Forgives
American Hustle
The Wolverine
Ender's Game
The Hobbit: The Desolation of Smaug
The Hangover Part III
The Heat
From One Second to the Next
Philomena
Captain Phillips
Iron Man 3
Man of Steel
The World's End
Thor: Dark World
Dallas Buyers Club
Monsters University
Riddick
The Last Stand
Escape Plan
I Am Britney Jean
Coffee Town