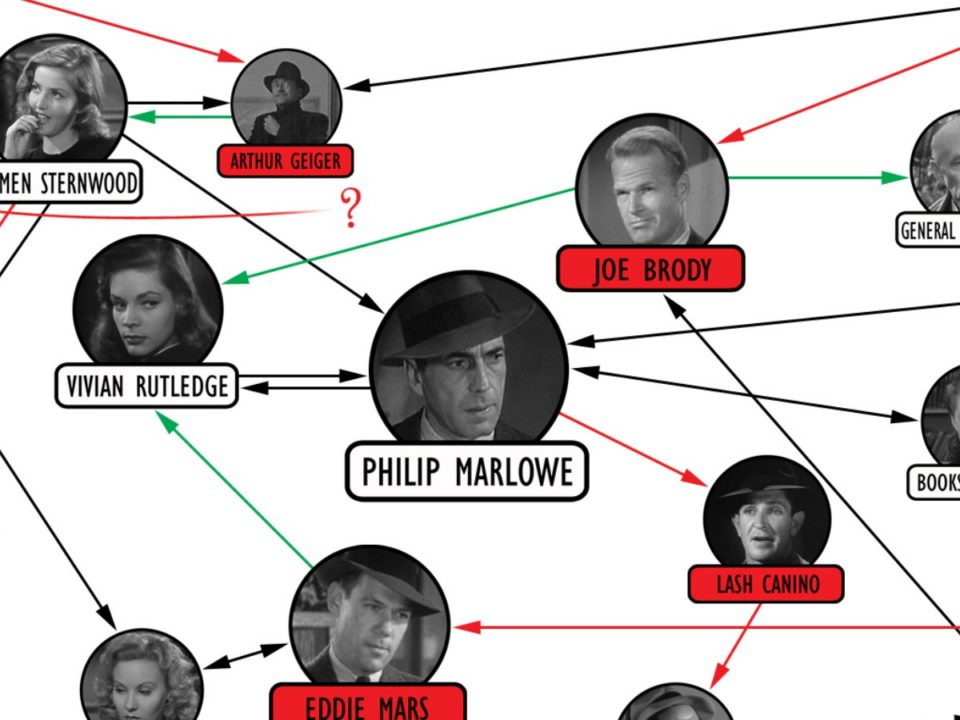 Not only is Howard Hawks one of my all time favorite directors, but I also love private eye films like Marie Antoinette loved cake. Thus it is not easily that I will admit that 1946's The Big Sleep is just a wee bit confusing.  Honestly, it's more than just a little bit confusing; I've seen it around 15 times and I can still just barely keep my head above the water when I watch it. I mean, don't get me wrong, a plot that makes the end of Primer seem like the beginning of Primer is just part of the ridiculous appeal of The Big Sleep. But I'm not here today to argue the brilliance of an unreservedly brilliant movie. I'm here today to attempt to explain the plot.
And no, I'm not going to write 20 pages of dense exposition to attempt to make sense of everything. My blog is already tl;dr enough (especially considering Middle Earth Monday is coming up next week!)  Instead, I figured I would take a different approach. They say a picture is worth a thousand words, so I made this hopefully helpful chart that shows "who killed who," "who blackmailed who," "who wanted to do who" and "who did who."  I'd advise printing this chart off on a large format printer before your next viewing of The Big Sleep so you can have plenty of room for detailed notes in the margins as the film progresses.
Anyway, here it is — The Big Sleep: Character Connections Chart:
I tried not to miss anything, and hopefully didn't let my knowledge of the book bleed over into my understanding of the film (which changes the plot in many key areas).  Most of these connections were explicitly stated in the film, though I had to resort to educated guesses a few times.  If anyone has any ideas for other murdered/blackmailed/did connections let me know, I plan on updating this as I continue to rewatch the film.
And no, I'm still not sure who killed the chauffeur Owen Taylor.  But you can tell from the implied origin of his "murdered by" arrow who I suspect.  I mean how else did Joe Brody get those pictures that he was using to blackmail Vivian that Taylor grabbed from the camera after shooting Geiger because he was blackmailing Carmen?