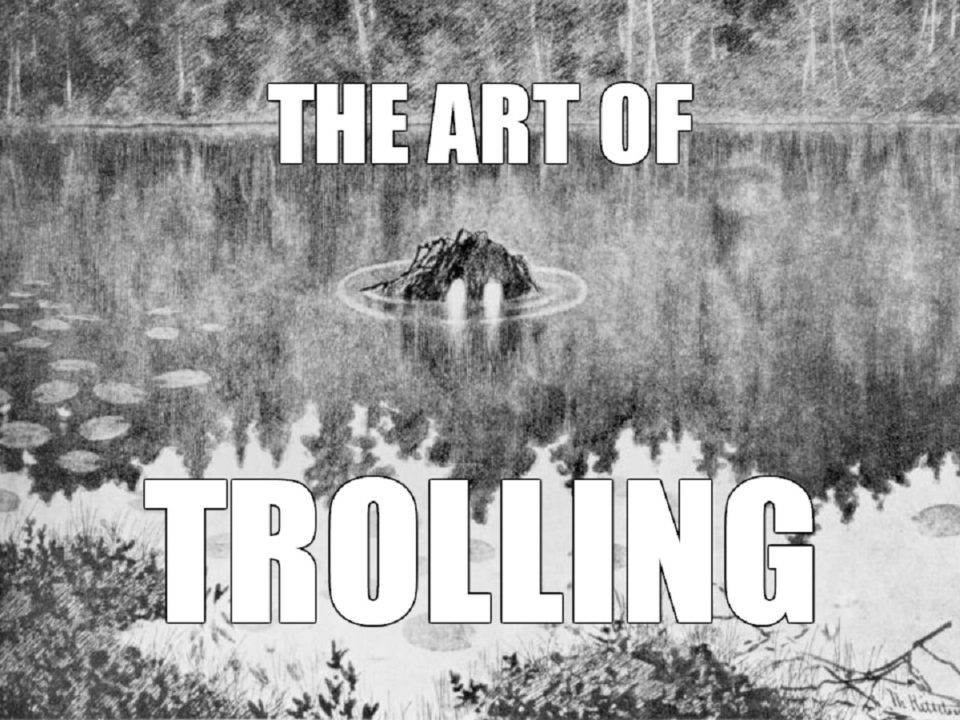 You know how, sometimes, on April Fool's Day, some asshole will come up to you and go: "Guess what, I had oatmeal this morning!" You respond with "oh, cool" (or, a "whatever" followed by a jerk-off hand motion if you've had it with their breakfast stories) only to be met with: "APRIL FOOL'S!!!! YOU IDIOT, I HAD CORN FLAKES….GOT YA!!!1!!!" You don't want to do that when trolling. And yet, if you go too far the other way, you'll quickly play yourself and find your ridiculous story outed as obvious troll-bait. Today's post examines two trolling attempts on the same forum (7 years apart), each of which has a hard time walking that fine line.
It all started when I had the idea to troll a bunch of Scotch Whisky snobs by "getting it all wrong" with regard to their favorite spirit. Elitist snobs are the best trolling target, so I came up with a douche-bro character that got gifted a bottle of expensive SUPER peaty (ie, tastes like band-aides to the uninitiated) Scotch. I posted my troll-bait to the "Whisky Chat" forums at www.whiskywhiskywhisky.com and waited for bites:
Did I get a bad bottle?
by Gwaihir_69 » 18 Sep 2012, 20:06
Hi there, just found this forum online, needed some scotch advice, this could be a minor emergency.

So I've been a long time scotch whiskey drinker. My go to drink is just a regular Jack Daniels, but I'll occasionally spring for a nice bottle of Crown on a special occasion.

Anyway, because I'm always talking about scotch I just got a supposedly really nice bottle from a relative at my bachelor party a few nights ago. I hadn't heard of it, it was from some company called Ardbeg, and it says "Supernova" on the bottle, but I've definitely never seen it on the shelves.

Well, I suppose I got pretty blackout drunk that night (my buddy dirty Steve says he's got some great pictures, I haven't had the nuts to look at them yet), so I don't remember much, but the next morning, the bottle was half gone and I had the WORST headache ever. I mean, trust me, I know from hungover, but this was like extra bad, and I started to worry it was maybe something I drank.

So I thought, maybe a little hair of the dog right? I opened up that Supernova whiskey bottle again since I didn't remember what it tasted like, and the WORST smell ever came out of the bottle. It was like bandaids soaked in swamp water and then shoved up a slow roasted rotten pigs ass as a spit to spin it over a pile of burning tar. Right away I'm thinking, ok, this bottle has gone bad. But I know that alcohol kills toxins, so I figured it might taste better than it smelled and it couldn't hurt me right?

So I pour it into a nice tall glass of ice and right away the whiskey gets all cloudy and shit. I just wrote it off to impurities in my ice, I used a tray that had been in the back of the freezer for a few months after all, the ice already smelled like freezer burnt hungryman lasagna even before I put in the whiskey. I even put twice as much coke as normal into the glass (I used the good stuff, not that sams club cola that RUINS your drink), but god, it still tasted AWFUL, like, even worse than it smelled!

I then got SUPER nauseous and ended up dumping out the rest of the glass before the bad whisky made me sicker. I have been too afraid to drink any more the last few days.

Anyway, I've been feeling a lot better, so I assume it was probably just a bad bottle of whiskey that made me so sick, but can that really be the case? I mean, can whiskey got rotten? I've been drinking scotch for a long time and I've never had a bad bottle of Jack, EVER. Is it just because this is some low budget stuff that doesn't have good quality control? Anyway, I poured some just now and right away it got all cloudy as soon as it hit the ice (also, it still smelled like swamp ass). I poured it out and didn't even taste it (fool me 3 times, shame on me right?)

Just want some advice…my buddy said it was super expensive (though I highly doubt it). Have you guys heard of this whiskey? Is there any way I could get my money back for it? Maybe if I showed the liquor store how cloudy it gets? Anyway, as sick as it made me, I'm going to play it safe and only drink it in emergency situations until I figure out what is wrong with it and why it smells so bad.

Any advice would be appreciated! Thanks!
Let's evaluate this opening statement:
The overall story of "douche-bro gets gifted snobby unusual tasting scotch and he thinks it has gone bad" is reasonably believable, but still fertile ground for the trolling to start.
Way overwritten.  If you are going to troll people into thinking you are an idiot that can't tell what good Scotch is, don't write your opening bait-post like you are writing an overlong food blog.  Coming out of the gate obviously trying to be funny will trigger everyone's troll-detection senses.
Troll-kudos to my troll alter ego (Gwaihir_69) for calling it a "minor emergency," calling Jack Daniels Scotch, and spelling whisky with an "e." It's the details that will get people.
So, how did they respond? Way too fucking politely, that's how!
bpbleus » 18 Sep 2012, 20:30
This is high quality whisky, original price tag a bit over $100.

It is supposed to become cloudy when you add water or ice. No worries there. It is also supposed to have some of the smells you described, such as band aid and tar. If the 'rotten pig' is more like bacon, ham, smoked meat once your hang-over has cleared, I'd say your whisky is perfectly fine. It's not a beginners whisky, though, and the smokey flavors are not to everybody's liking. Keep the bottle in the cabinet for a few years and try a dram once you have had a bunch of other Scotch malts. You may discover you actually like it, no matter how unlikely that seems right now.
Due to that response being entirely too reasonable, I decided I better dial it up a few notches:
Gwaihir_69 » 18 Sep 2012, 20:36
Wow, they get people to pay over $100 for stuff that smells like bandaids?? Do you think I could take it back (it's over half gone now), I've never heard of something that is supposed to be cloudy when you pour it on ice. I'm far from a new scotch drinker (I've got one wall of my party room almost completely covered with empty Jack bottles that I've hot glued to the plaster, so I think that can attest to how long I've been at this game).

Still, putting it away for a while isn't a bad idea…I've currently had it poured out on a cookie sheet overnight to try to see if I can get rid of some of the bad smells, that seems to be working so far even though now my whole house kind of smells like rotten crotch.
I'm starting to push things here. Bragging about his Jack bottles is ok, but pouring it out on a cookie sheet to air out is probably a stupid move too far when it comes to keeping this all believable.
Unfortunately, these Scotch "snobs" were proving to be far too polite and continued with the measured, sensible advice:
DavidUK » 18 Sep 2012, 21:00
Supernauseous from Supernova!! I like that!!

Peated whisky isn't to everyones taste and you definately jumped in at the deep end with the 2nd most heavily peated whisky available. I love peated whisky but even I found the Supernova too heavily peated for enjoyment.

Why not try some decent single malt whisky that isn't peated? I'm sure you've find it much more rewarding than Jack Daniels which many of us on here would find pretty awful stuff. Maybe then you can experiment with less heavily peated whiskies such as Bowmore or Springbank?

By the way, adding ice to whisky will 'kill' many of the flavours that you are ultimately paying for. Just a few drops of water will bring out the flavours nicely. Good whisky which hasn't been chill filtered WILL go cloudy with the additional of water/ice and is nothing to worry about.
To make matters worse (polite responses are about as bad as matters can get when it comes to trolling), my cookie sheet idea was proving to be a bit much:
Yello to Mello » 18 Sep 2012, 21:09
hahaha what a post!!!!

Meanwhile, they continued with the polite advice, with a troll-detectingly worrying appreciation for the jokes I'd worked into my post:
Pete Smoke » 18 Sep 2012, 21:12
If it's the 2009 release called "Stellar" then over here it would currently cost upwards of £170 from a retailer. The 2010 with "SN2010" on the label would be slightly less. Both are well made and delicious imo. Ardbeg Supernova is one of the heaviest peated whiskies ever made, and yes it tastes like iodine, medicinal, smokey, bacon, salty, etc. etc., in fact your tasting notes are surprisingly accurate for a novice well done. Being a top notch peated single malt i wouldn't think adding coke will be of any benefit. Many whiskies are chillfiltered so they don't go cloudy, but the more authentic ones aren't chillfiltered so they will g cloud up with added water or ice,

You're not likely to get your money back. And no it won't hurt you, not much anyway. Maybe Dirty Steve's pictures will cheer you up a bit.

Great OP, classic in fact.

Desperate to regain control of my quickly failing attempt to get a rise out of a bunch of increasingly un-snobby Scotch snobs, I upped the ante once more:
Gwaihir_69 » 18 Sep 2012, 21:18
Ok, I just tried it with no ice. I had to plug my nose, but I got the full shot down…BARELY. I still can't believe people drink this stuff…I felt like that chick on Game of Thrones that ate the horses heart, I just about spewed 5 times in 30 seconds after shooting it. I can't belive this but I just did a shot of Jack as a friggin CHASER it was so nasty. Here it is 5 minutes later and I can still only taste some nasty bandaid taste.

I'm going to go gargle with some puckers and see if I can get this out of my mouth.
A quick note on pop culture…that Game of Thrones reference was tired immediately after that episode aired, 7 years will not make it age any better. Anyway, this was followed by some more polite advice, and me pig-headedly continuing to try to troll:
bpbleus » 18 Sep 2012, 21:19
If the bottle were still closed and you had put it on eBay for $200, you might have sold it within an hour. There are other 'band-aid' whiskies for which people happily fork out $1000 or more. Go figure. The world is full of amazing creatures.

I was not suggesting you are new to the drinking game, but you're clearly new to the world of fine Scotch single malts (Jack's piss is made in Tennessee). Only a few of those fine malts fall in the 'band-aid' category. I suggest you get yourself an entry-level malt, such as Glenlivet 12, Glenfiddich 12, Tomatin 12 or (maybe best) Balvenie Doublewood, pour 1 oz/ 3cl in a cognac or lacking that a red wine glass (tumblers are an absolute no-no), sniff it for a few minutes before you take tiny sips while you read Johannes' malt adventures on maltmadness.com (a bit dated, but still unsurpassed) or watch Ralfy's youtube videos (if you can stand him).
Gwaihir_69 » 18 Sep 2012, 21:21
Does it really matter what glass you use for shooting it?

Pete Smoke » 18 Sep 2012, 21:24
Now you're making me want to open a bottle. [Your tasting notes] sound fantastic.

Gwaihir_69 » 18 Sep 2012, 21:25
I'll sell you the rest of this one…$50?
Pete Smoke » 18 Sep 2012, 21:27
I'm a long way from you, besides, i want you to drink some more, then tell us about it.
Now, any reasonable person would have just given up here. But I figured I just needed to push it a little harder:
Gwaihir_69 » 18 Sep 2012, 21:33
Eh, Dirty Steve just texted me that he's got a great pic of them pouring it down a stripper's ass crack into my mouth, so you probably don't want this bottle anyway. Of course, that explains why I must have thought it was ok that it tasted so funny at the bachelor party.
Which was met with the only suitable response:
joshZie » 18 Sep 2012, 21:35
http://en.wikipedia.org/wiki/Troll_(Internet)
­And there it was…I went one stripper ass-crack shot too far and got myself outed. Here's another troll lesson, once you ARE outed, don't keep trying to troll, it just comes off as sad, even if you do have a few more good zingers in the pipeline:
bpbleus » 18 Sep 2012, 21:41
Besides that sales are strictly forbidden on this forum, I'd gladly give you $50 for the remainder if you hadn't improved it with your cookie sheet method (regardless of the oven temperature).

As a a rule of thumb, tumblers + ice kill the flavors of the whisky and should only be used for spirits you don't want to smell – cheap stuff, that is. Apparently, they don't work for powerhouses such as Ardbegs, but they'll effectively annihilate more delicate spirits. Use anything bulb shaped of appropriate size to get started on your malt journey.
Gwaihir_69 » 18 Sep 2012, 21:44
Oh, I missed the "tiny sips" part. Man, I don't know…I keep spilling it trying to fill up my shot glass from the cookie sheet, but I've been sipping out of the edge of the cookie sheet and I gotta admit, I'm about to give up. It at least doesn't smell as bad anymore when I used the cookie sheet (I guess the type of glass does make a difference), but god, the taste…

I try not to get it on my tongue, that seems to help, but it's just kind of one long dry heave as I've managed to choke down at least 4 sips so far. Also, I think this was one of my hamburger sheets, and that is definitely NOT helping the flavor.
After a few more "Yeah, this guy has to be a troll" comments, and I finally threw in the towel:
Gwaihir_69 » 18 Sep 2012, 22:08
Ok, I am officially done. Maybe you guys like this stuff, and more power to you, but there is no way I'll EVER learn to like this. I'm going back to scotches I know I enjoy like Jack. I managed to get about half of the cookie sheet back into the bottle (spilled the rest all over my mom's table cloth, there's gonna be hell to pay for that), so I've got a good fourth of a bottle left. Maybe I'll try to regift it (as long as Dirty Steve doesn't leak those pictures of the bottle in that stripper's ass). Thanks for at least trying to help, but my advice to you guys is to get a friggin taste bud check-up if this swill actually tastes good to you.

Goodbye.

(I've at least got a pretty mean buzz going right now, I'll give the supernova that).
Always leave an "OK, I'm officially done posting" post…never give them the satisfaction of admitting you were trolling!
7 Years Later
­Cut to 7 years later, and I figure I'd poke my head in and try again. This time I was going to dial back the butt-chugging stuff and see if I couldn't come up with a more plausible, but still ridiculous story.
MAJOR Scotch faux pas…what would you have done?
by Gwaihir_69 » 10 Jan 2019, 16:32
At a recent work party at my boss' house I got to talking with the head honcho himself and it came up that he's a scotch guy. I've learned a lot in the last decade since I discovered this board, and he was happy to talk scotch with me, I even managed to convince him to let me try a rare Balvenie 40 year I saw in his extensive collection. I thought I'd lucked out getting a chance to try something like that, but to my horror, he returned with two (tumbler) glasses of the Balvenie, each FULL OF ICE.

I don't know about you guys, but I'd just as soon drop a steaming deuce in my Glencairn than a single cube of ice. I didn't want to offend him, so when a coworker came up to talk to us, I discreetly poured my ruined scotch into a nearby houseplant.

At least I thought it was discreet…turns out my boss saw the whole thing. I tried to explain to him that ice dulls the flavors and only a fucking barbarian (not in those *exact* words) would put ice in a fine scotch, but he was pretty furious. Now he's been giving me the cold shoulder all week at work.

Should I try again to educate him? I feel like if I can break through he'll see what he did wrong…I don't necessarily need an apology, but I also don't need him being all butthurt at me for being the only sensible adult in the room.

Thoughts?
So, I kept it shorter, but it still sounds like a comedy piece (what can I say, the image of "dropping a deuce" in a Glencairn was too good to pass up). Still, I like the balance of "this story is believable" and "you are fucking insane." Let's see how it was received:
Mr Tattie Heid » 10 Jan 2019, 20:44
I wouldn't call pouring a dram from a $6,000 bottle of whisky into a potted plant sensible, even if it was drowned with ice. From your point of view, he ruined it; from his, you wasted $300 or so worth of rare malt (which you "convinced" him to let you try). It's too late now, but what you ought to have done was drink it and do your best to be appreciative of his generosity; at the very least, it's an opportunity for you to try to understand why some–hell, a lot–of people enjoy their whisky this way. It's not wrong; it's just not what you or I would do. And the next time he offered you a dram, you could be sure to ask for it neat.

All you can do now is apologize for letting your own sense of "correctness" lead you to be so wasteful and unappreciative, and beg for forgiveness. Good luck.

For the record, I would have been every bit as horrified as you were. But the issue here is not whisky, it's basic etiquette.
mongo » 10 Jan 2019, 21:34
ditto. i can't believe you poured it out. perhaps/probably you wouldn't have enjoyed it as much or at all but it was a very nice gesture of him to pour you any at all. if anything, the fault is yours for not specifying that you would like it neat.
Now this was more like it! They are still being reasonably polite at my self righteousness, but they at least seemed to buy the story. So, I forged ahead:
Gwaihir_69 » 10 Jan 2019, 21:39
First of all, don't try to tell me what he did was forgivable–I've been drinking Scotch for almost 7 years now, and have learned a few things with all those drams! Number one: getting your whisky anywhere NEAR an ice cube is grounds for revoking your Scotch card, end of story. This isn't a matter of basic etiquette, it's a matter of principle!

Look at it this way, he has basically been pouring his $6,000 bottle of whisky down that potted plant every time he puts it in the wrong glass, let alone adding ice! The way I see it, he has no right to complain about anyone wasting his Scotch if that's how he has been treating it.

My friend Steve says I should let it go, but I honestly think I am going to take his juvenile behavior to HR at this point–maybe they can make him see some sense.
Not only did I attempt to keep my douche-bro character canonical (I assume he learned to be come a scotch snob after lurking on the forum for seven years after his initial Supernova post), but I also left some low hanging fruit for elitists anxious to inform me that 7 years of drinking scotch don't mean shit.
Mr Tattie Heid » 10 Jan 2019, 21:50
You're going to get yourself fired.

What he does with his own whisky is his business, and needs no forgiveness, no matter what you think of it.

I'm starting to wonder if you're trolling us.
asmazda » 10 Jan 2019, 21:52
Not sure why you bother to post this when you clearly have made up your mind and aren't open to consider anybody else's view… which frankly so far not a single person thinks what you did was appropriate. I wouldn't have done what you did even if it was a total stranger. If it was my boss… well let's just say that makes it a no brainer. Sorry we aren't telling you what you want to hear!
And there it is, failure again. Third response and I'm already outed as a troll–honestly, I'm starting to wonder if I'm any good at this trolling stuff. Still, some people were still biting, so I figured I'd try a few more responses, specifically in response to them having the GALL to suggest I should have specified I liked it neat:
Gwaihir_69 » 10 Jan 2019, 21:56
SERIOUSLY?? Do you also specify that you would like your steaks medium rare? Or that you would like a gooseneck kettle used with your pour-over coffee?? There are some things that just don't need to be said.
­I was starting to get ridiculous, and was accordingly met with a "welp, no sense reasoning with you" response. To which I responded with one of my favorite troll baits–misunderstand them to actually be agreeing with you:
mongo » 10 Jan 2019, 22:23
i am beginning to think that the problem here may be more fundamental…
Gwaihir_69 » 10 Jan 2019, 22:29
Thank you! It really is just a basic concept: if you are going to have fine Scotch, treat it right!
Unfortunately, Mongo didn't take the bait. By now my entire troll attempt was continuing to crumble due to a few fundamental problems:
The forum was fairly inactive and I was only interacting with a few users.
I was unable to successfully implement a twist beyond the initial "guy acts like an asshole to his boss and doesn't realize it."
The WhiskyWhiskyWhisky forum users are far to polite to be successfully trolled.
Thus, I made one last attempt to incorporate a twist that would provoke a reaction…my plan to "righteously" steal a $6000 bottle of scotch from my boss because he didn't "deserve" it:
Gwaihir_69 » 10 Jan 2019, 23:10
Honestly, you guys (and my friend Steve)(and the fact that I live in a no-cause firing state) have convinced me to let this go. Thank you for your support Mongo, but it sounds like my boss will never see the error of his ways. I will attempt a general apology, and hopefully that will smooth things over.

And, since he's obviously not using it, his 40-year Balvenie bottle is going to conveniently "disappear" at our next quarterly party. It's the least I can do if he's going to be that irresponsible! 

Thanks for the advice guys (those of you who supported me, anyway)!
What were the responses to this last effort?
mongo » 10 Jan 2019, 23:36
it has truly been my privilege to support you.
Mr Tattie Heid » 10 Jan 2019, 23:49
Well, that was amusing.
Peat Sampras » 11 Jan 2019, 15:45
The last (and only other) thread the OP started was about him drinking Ardbeg Supernova out of the ass crack of a stripper…

http://www.whiskywhiskywhisky.com/forum/viewtopic.php?f=2&t=6590#p111077
­Getting owned hard with a return troll, an acknowledgement that I was having a laugh, and, finally, hard evidence that I was a troll. Scotch forum 2, Isley 0 (Sure, there were a few more lengthy replies explaining why what I did was so wrong, but overall, the game was up).
Bottom line, keep your trolls simple, avoid the temptation to rush straight to the ridiculous, and, whatever you do, don't troll the www.whiskywhiskywhisky.com scotch forums. Those motherfuckers are far too polite.