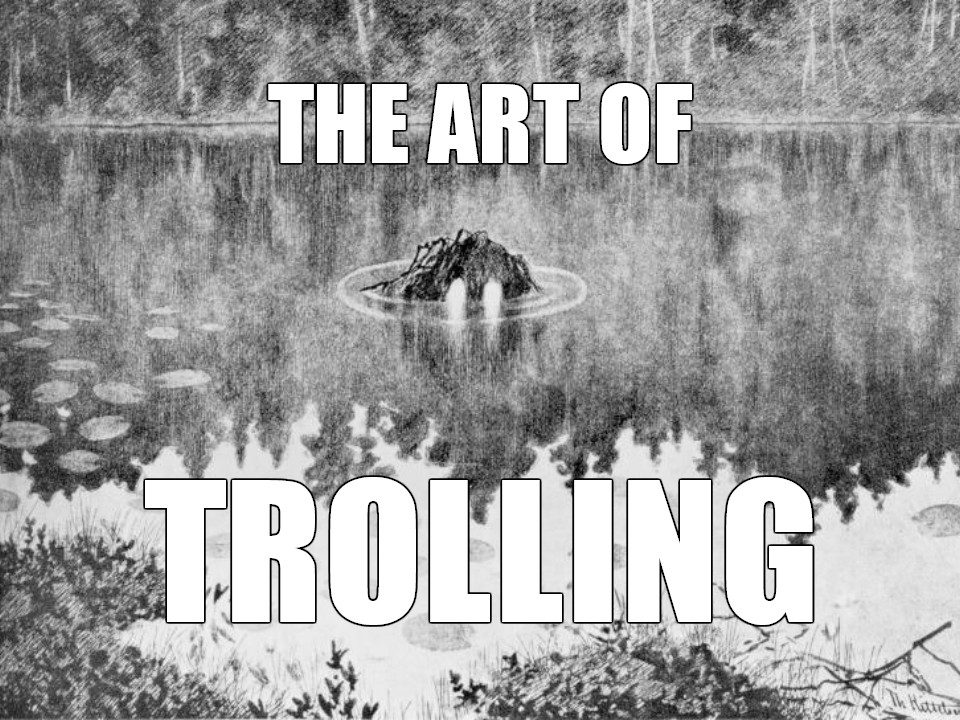 In my younger days, you know, before I had a good job that I had to, like, take seriously, I worked a fair amount of customer service gigs.  Which, considering my "the customer is only right as long as they treat me with respect, dignity, and the appropriate amount of reverent deference" approach to customer service, it is a miracle I kept any of these jobs longer than a week.  But keep them I did, and, over ten years of treading the delicate line between subtle contempt and outright hostility, I learned a few lessons in the art of trolling, the most important of which I will share here today.
To start, it is helpful to remember WHY we troll, so let's do a quick refresher on the two basic tenants of trolling:
Your sole goal is to provoke anger and/or frustration in your target.
If you yourself become angry, or invested in the argument at any level, you have lost.
Now, just like there are those assassins that have RULES as to who they target, I too have RULES about who I troll.  Everyone knows that without rules you just end up on 4chan with the rest of the internet's most extreme sociopaths.  My rule? No innocents.  Thankfully, my definition of "innocent" does not include anyone who willingly attempts to argue on the internet, so, the "season" online remains, largely, "open."  It's the fucking wild west out there, if you walk into Dodge City, you better expect to be diving out of the way of a few bullets.  In the civilized "real world" on the other hand, lack of anonymity ensures a slightly stricter definition of "innocents."  Basically, if you are going to fuck with someone, they better deserve it–otherwise you are just an asshole fucking with someone.
So, for those that deserve it, there is no better way to fuck with someone (especially in a customer service situation) than to play dumb.  This tactic won't ALWAYS work, some customers just want to see the world burn, and playing dumb will give them an outlet to heap abuse on you, which, was their endgame all along.  That said, MOST customers who decide to abandon civility in their interactions with you do so because they NEED something from you.  And THIS is the situation where today's trolling tactic is the most useful.
As long as you remember rule number 2, and, as long as you are sure that the scales of trolling are tipping towards maximum customer frustration over the delight the customer is getting from heaping abuse on you, playing dumb is the PERFECT trolling setup for customer service.  It even gives you a perfect out for those times where they ask to speak to your manager.  After all, you were being perfectly polite…just look how this dude is trembling with rage over here, obviously HE is the one with the anger issues!
To illustrate the finer points of the "play dumb" trolling strategy, I give you a real life example that I recorded word for word seconds after the caller hung up in a fit of rage (knowing that, someday, I would appreciate a transcript of what had just transpired).  This was from an information line job I had years ago, where the caller had two phone numbers he wanted me to do a "reverse look-up" on in order to see what names they belonged to.
Customer: Alright, I need you to look up two phone numbers and I don't got a lot of time, so let's make this snappy!
Now, he's trying to rush me, and his vocal tone is bordering on the rude already, but, there's nothing too blatantly mean there, so I decide to give this one a pass and remain polite.  But you are on my thin ice unidentified old man!
Me: Sure thing, what's the first number?

Customer: I need you to look up [muffled digits] and tell me whose number that is.

Me: I'm sorry, what was the number again?

Customer: Boy, get the cotton out of your damn ears! Christ! EIGHT.  FOUR.  THREE.  THREE ONES. AND A THREE.
So, I legit did not understand the number when he first said it to me.  And, rather than show the slightest modicum of understanding for someone who is trying to help him out, dude goes straight to heaping abuse.  Not a problem though, this is exactly the kind of situation I've been training for.
Me: Ok, 843, but I'm sorry, I didn't get the rest, can you repeat that?  I'm so sorry!
Now, you want to make sure to be extra polite here.  Get your ego out of the equation…this person needs something from you, the more they believe that you are TRYING to help them, the longer you will be able to string them on.  This DOES have the potential to backfire if they change their tune and apologize in the face of your submissive politeness…which then means you rolled over and showed your belly (doesn't matter that it was a ruse) to someone who ended up being sorry they were mean, and then NOBODY gets to leave the interaction feeling good about their choices for human interaction for the day.
Customer: I will repeat this for a third time.  Listen very carefully boy, because there will NOT be a fourth time. EIGHT.  FOUR.  THREE.  You getting that boy??

Me: Yes, got it.

Customer: THREE ONES. AND A THREE.

Me: I'm sorry, it must just be a bad connection or something, I'm so so sorry, but, can you repeat that a fourth time?
This was the trickiest part of the conversation for a few reasons.  First, the realization that you are willfully pissing off an old dude, in the twilight of his life, who was probably just having a bad day will start to make you feel a little bad.  But you know what? Fuck that dude, white guys like me aren't used to getting called "boy" by anyone, it hurts our delicate feelings to be treated so unfairly, so, again, he brought this on himself.  The other tricky part at this point is that I am going to need to vary up my game or he's just going to straight hang up in frustration.  Luckily, he both REALLY wanted this reverse lookup, and gave me an opening to vary my attack at the same time.
Customer: OH FOR FUCK'S….EIGHT FOUR THREE THREE ONES AND A THREE!

Me: Ah, I think I see the issue here sir, a full phone number needs to be seven digits long, 843-313 isn't a phone number,  you need one more digit on there, are you sure you are reading the last four numbers correctly?
I call this point of trolling "the turn."  It is essentially the same attack as "I can't hear you," but if you include a subtle variation on it, like misunderstanding his bizarre way of saying 1113 as "313," you can trip up that part of their brain that says "this conversation is hopeless, just hang up."
Customer: IT'S A FULL PHONE NUMBER, THE LAST FOUR DIGITS ARE THREE ONES AND A THREE!

Me: Sir, I'm sorry, but 313 just isn't enough numbers!  Can you just give me the last four numbers.

Customer: THREE ONES. AND. A. THREE.
I assume there was some part of his brain that realized if he just said "one, one, one, three" he could maybe be understood (he would not have been, but that's aside from the point), but stubbornness made him double down and insist on saying it his original way.  I was not letting him off the hook that easily.
Me: I am so so sorry, I don't know what to tell you, 313 just isn't enough digits for the last four digits of a phone number.  Maybe we can try one of your other numbers and see if it is an actual phone number?
At this point in the interaction, you have pushed them as far as they are liable to be pushed, so you pretty much have to throw in a turn at every exchange to keep them coming back for more.  The passive aggressive "if it is an actual phone number" line was probably a step too far, but I couldn't resist.
Customer: [unintelligle cursing] ALL RIGHT, FINE, BUT LET ME TELL YOU BOY, I'M ABOUT DONE WITH THIS CONVERSATION, I SWEAR TO CHRIST IF YOU DON'T START OPENING UP YOUR EARS I'M ABOUT TO LOSE MY TEMPER HERE!  MY OTHER NUMBER IS EIGHT. FOUR. THREE. THREE. ONE. TWO. SEVEN.  LOOK IT UP! NOW!
There are few things I am more sure of than the fact that there is no higher power manipulating the gears of this universe behind the scenes.  But, every now and then, when the troll gods open up their bountiful scaled arms and give me a gift like that, even my rock solid atheism can develop a few cracks.  Barely containing my excitement at being given such a gift, I responded the only acceptable way one can respond after somehow being given a number that had a "three one" in it.
Me: Oh shoot, now we've gone too far the other way.  843-11127 is TOO MANY numbers, a phone number should only have 7 digits, do you think maybe you have a list of numbers that aren't actually phone numbers?

Customer: [unintelligible static screaming followed by a dial tone]
Yes, he sounded like an older dude, so, he was probably past the point in his life where he was capable of learning life lessons like "don't be a dick to those you need something from," but still, not my problem.  Either way, a perfect target for the "play dumb" approach to customer service trolling.  Try it yourself!  It might not solve anything, but it is a perfect asshole reflector that magically redirects all the frustration a customer had hoped to pile onto you right back to the source!