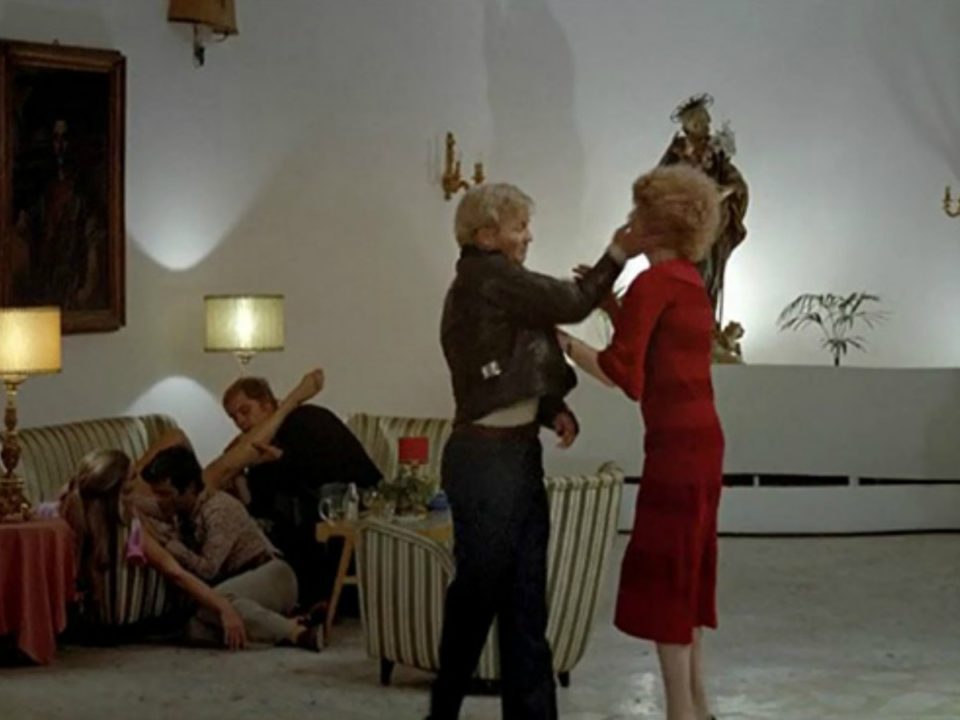 German director R.W. Fassbinder has always been fascinated with the human desire for love and the soul crushing games of power that the human desire for love wreaks on those who attempt to be loved. In today's film, the bridge between his earlier masterpieces (which began in 1969 with Love is Colder than Death) and his more "mature" middle period (which lasted from The Merchant of the Four Seasons in 1971 to In a Year with 13 Moons in 1978), this theme slams down on the viewer like a hammer to the nards.  Sure, on the surface this might seem to be one of those (so often insufferably pretentious) "films about filmmaking," but it's not necessarily about that any more than Hoop Dreams is about basketball.
It might seem a bit cheeky for a 26 year old director to make "a film about filmmaking," but considering Fassbinder had already produced 10 full length features of uncommon brilliance in the 2 short years that he had been making films, I think the impulse can be forgiven. Ostensibly the story of the making of Fassbinder's previous film Whity, only with different members of Fassbinder's close knit "commune" (this commune of crew and actors was part of the reason he was able to make so many films in such a short period of time) playing each other.  And, if even half this film was based on real events, then the filming of Whity must have been the bitchiest, most drama-filled slap-fest of a film set of all time.
I suppose you would call this film a comedy, it will definitely elicit plenty of disbelieving chortles as the entire cast and crew attempts to sob, slap, and screw their way through a Cuba Libre infused haze of unrequited longing for everyone but those who could actually love them back.  It's telling that in the last quarter of the film, when they actually begin shooting the movie, the narrative takes on a fractured tone, like Fassbinder cut up the final couple of reels and only picked out the most pertinent 5-10 second clips for his final cut. It actually manages to keep narrative cohesion while at the same time suggesting that Fassbinder's memories of the actual making of Whity were not nearly as clear as the background drama on the set that makes up the majority of Beware of a Holy Whore.
This can seem like a very opaque movie at first.  Gorgeously shot by Michael Balhaus though it is, I'm sure it can be quite a strange experience for a new viewer.  And yet, repeated viewings have only increased its power, bringing out new details with each viewing until I, like Fassbinder, have to wonder if it is not his best film.
And really, to understand the film, you don't have to look any further than the opening monologue by fellow German director Werner Schroeter about a Disney cartoon short he once saw:
Then there's the story of Wee Willy, the gangster.

Goofy wants to be a children's nurse so he borrows some clothes from his Aunt Anna: a red-and-white checked calico dress and a big hat. And he tries his luck as a kindergarten teacher, not very successfully though, because the kids all say they've never seen such a queer old doll. Goofy gets beaten up by the kids and flings his gear in the trash can.

At that moment, an escaped convict comes by: Wee Willy, the gangster. He's no bigger than a 3-year-old girl. He finds Goofy's gear in the trash can and puts it on. On his way home, Goofy bumps into Wee Willy wearing Aunt Anna's dress. "Poor little homeless mite," Goofy thinks and takes the little girl home.

He dishes up pheasant and partridges and a whole goose, and Wee Willy stuffs himself full. Goofy's pretty surprised at the little girl's appetite. But he's mighty pleased, too and thumps his fists on the table. Wee Willy behaves terribly, but at last Goofy finds joy looking after a child.

During the night, the house is surrounded by gangsters. No, not by gangsters, by police. They storm the house and find Wee Willy. They recognize him, despite the gear he's wearing. Goofy's amazed and asks what they want of a poor little girl. "This is terrible! What has she done? Poor little orphan!" The police inform him that it's Wee Willy, a wanted criminal.

And as the police carry Willy out, explosive as a hand grenade, Goofy says: "It must have been a shock for the poor little girl to find out she's a crook."
I've never heard a more heartbreaking tale of the way humanity will bring itself to the brink of destruction due to the simple desire to love and be loved back.  Everyone can see that Goofy's love of Wee Willie the Gangster is laughably futile, just as it is to attempt to love someone like the beast of a director "Jeff."  And yet Goofy, like the characters in Beware of a Holy Whore is blinded by his own desires and is thus left entirely at the mercy of Wee Willy the Gangster.  Fassbinder's doomed protagonists are always the agents of their own doom.  But if there was ever an understandable path to self destruction, surely it must lie somewhere in the quest for love.