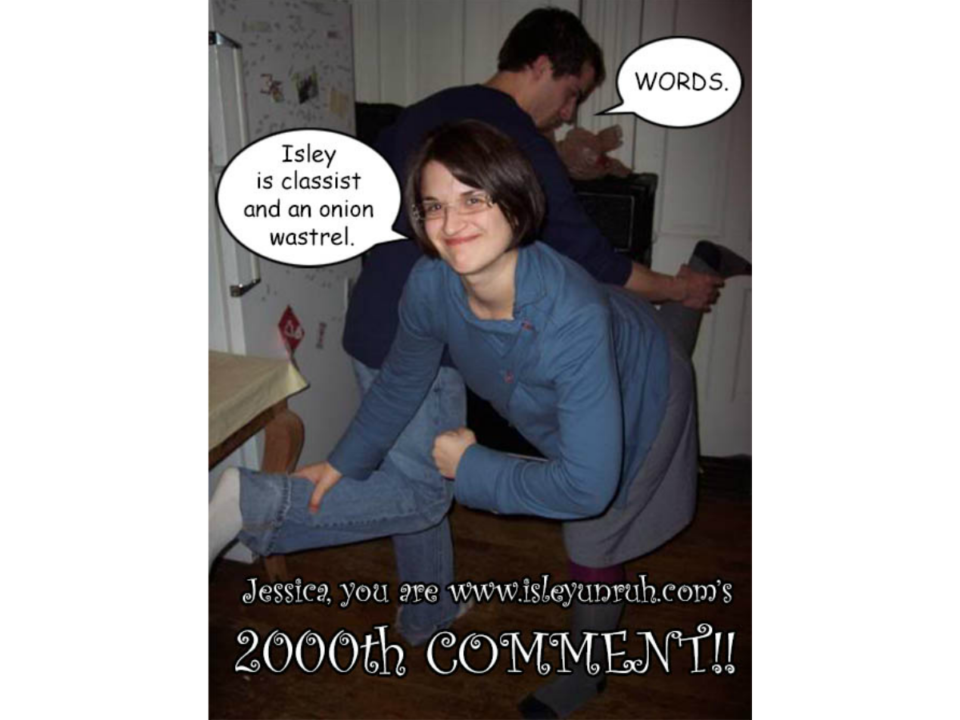 Hey everyone! It's another www.isleyunruh.com party!  Once again, this website has hit a comment milestone, and I'm here to congratulate Jessica from www.ablogisatreat.com fame for being the lucky commenter!  [Cue confetti, drumline, break dancers, and giant novelty check]
First off, I have to apologize, there were enough complaints about the appetizers last time that I decided, fuck it, I'm not serving any food this time.  You can all thank Sweet Johnny B for ruining it for everyone by saying my blended molasses peanut butter raisin carob powder oatmeal was gross.  He is why we can't have nice things.
Up next, I did a quick google image search for "2000 gif" in order to try to find a nice animation of the number 2000 with like fireworks and shit going off around it to use for this post.  Instead I got distracted by this gif on the first page or results:
That's my girl Britney Spears (as they say on Spring Breakers, "an angel on this earth if there ever was one") at the 2000 VMA music awards.  And, in case you think that gif is just a bit of gratuitous T&A to liven up this party after last time's blended oatmeal debacle (GIVE IT A REST SWEET JOHNNY B), think again.  You see, it has become a tradition at these parties to play a song for the person of honor, and what better song for the SECOND X-thousanth Blog Comment Blog Post Party than the actual song Brit-Brit played at the 2000 VMA Music Awards, "Oops I Did it Again":
Oops, you did it again Jessica, you commented on my blog, and now you've got fame.  I'm sure Brian is jealous right now, last time all he got was Ronnie James Dio singing "This Bud's for You."  Actually, listening to that Dio novelty song again, I'd say they are both about equally awesome, so there shouldn't be any hurt feelings from either of you.
Let's move on to the comment number 2000 itself, a great example of a heartwarming story couple with razor sharp wit and a decent ice burn or two that is just plain classic Jessica.   At 10:11 AM on July 2nd, 2014, Jessica left the following historic comment on my recent Infrequently Occuring 5th Monday post about how people shouldn't cook with the ass of the onion:
I was just scrolling through this post WAITING for the onion-ass entry. I remember like…seven years ago? Nine years ago? A million years ago because we are all very old, I am suddenly realizing? I was making a nice innocuous meal with Isley and I didn't cut off enough of the onion-ass and he shook his head and re-did it for me and informed me that that was how you could tell who grew up a poor kid.

We all learned something that day. (That Isley is classist and an onion wastrel.)
In my defense, I believe this was back when I lived on Mississippi St (which means it was more than 10 years ago, Jessica, you old biddy [2]), and was a young man eager to put my past as a poor kid who ate onion ass tainted salmon patties (to clarify, I mean, "onion-ass tainted salmon patties") behind me.  So, now, over a decade late, I apologize for rubbing your face in your poor roots.  I do not, however, apologize for being an onion wastrel.  If it means I never again have to bite into the ass of an onion, then, onion wastrel 4 LYFE!
Finally, I'd like to give a shout out to the near misses!
First, I think we can all breathe a collective sigh of relief that Brian and I's flame war over on the Arghoslent post did not spill over into the 2000th comment.  In the course of that debacle, I ended up defending racism and Brian ended up defending rapists (I might be slightly paraphrasing).  So, in the interest of clearing the air, Brian, I am sorry, Arghoslent are some shitty dudes, and I will now make the solemn promise to…quit discussing them quite so much on the internet.
Second, NoJoy had a close call when he corrected both my Sindarin and my sketchy geography on the hastily written Middle-earth Monday 54: Cirith Ungold [sic] with:
Great post. I have a couple of minor nitpicks. You say "Cirith Ungold" once. And I'm not sure what you mean when you say the cleft "led to the top of the Tower of Cirith Ungol." Neither the gate with the Watchers nor the undergate is at the top of the tower.
Sorry NoJoy, comment 1996 just wasn't quite there…maybe, provided Middle-earth Monday 94 has enough errors, we'll see you for the 3000th comment celebration!
Finally, the most heartbreaking near miss was Shena.  Even though I blatantly trolled her by putting up a picture of her favorite Dim Sum dish, chicken feet, as the pejorative image header, her outraged comment was only comment #1998:
It's a good thing you didn't include chicken feet on this list because we would have had words.
Obviously my microphone dropping rejoinder left Shena momentarily at a loss for those words:
There is nothing that chicken feet do that chicken wings do not do better. So yes, based on the main photo, chicken feet are implicitly on this list.
Because, Shena's delay in formulating a comeback gave Jessica the opportunity to jump into the conversation for the kill steal before Shena finally came up with the internet equivalent of "Oh YEAH???" for comment # "who cares because someone already took 2000":
WORDS
It was a close race everyone, but I'm afraid you all just missed out on the fame that comes from leaving the right blog comment at the right time.