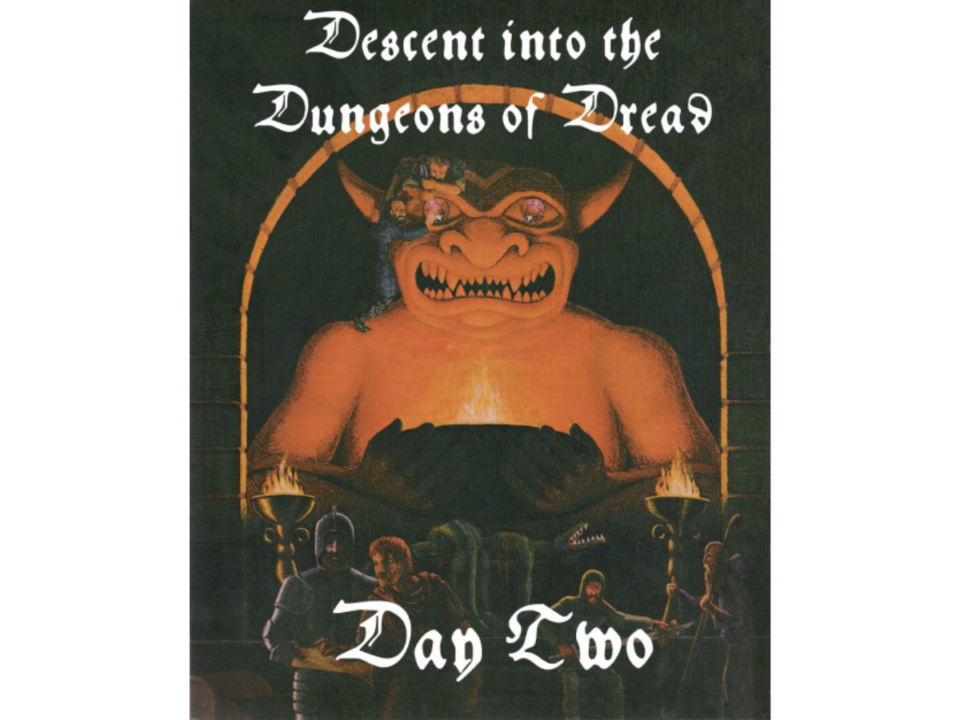 I was recently asked to take part in an epic 50 hour long marathon game of Dungeons & Dragons in Washington DC. Sadly, I was not able to attend. Thus, I was forced to send my nerd alter-ego Eugene Pendergrass in my place. The results were not pretty. This was day two:
9:43 AM – Sweet Crom…I feel like I've been dumped in a Sarlacc pit and spat out the other end. I awoke in a pile of Mountain Dew moistened Cheeto sludge that appears to have once been inside me. I'm not sure which end it came out of during my slumber of the dead. Our archer is sitting a corner rocking back and forth and whimpering softly. As a group, we seem to be waking up more due to the Blazing Saddlesesque cacaphony of dreaded Cheeto-farts than any logical result of a good night's sleep. Still, this enlarged Minotaur and room full of werebears isn't going to fight itself. I suppose it's time to find my Cheeto stained stones.
9:57 AM – Our Samurai is insisting on a shower before we start again. Or, as I like to call it, "a precious waste of game time for no positive gain." These loins shall not be cleaned until these dungeons are cleaned.
11:30 AM – It has been brought to my attention that I have a rather significant scratch across the tip of my nose. I can only assume that it happened while I was in some type of fugue state during our fight last night with the werelions/tigers/bears. I suspect everyone and our cleric.
11:39 AM – In more pertinent news, the werebears have finally killed the giant giant Minotaur we released among them. Now they are fighting us again. They appeared unfazed by my mage hand/linen sheet "ghost" trick.
11:58 AM – Undaunted by the failure of my ghost trick, I have dropped my crossbow and begun attacking one of the werebears via mage hand with the linen sheet itself. It seems mildly annoyed. Nailed it.
12:30 PM – A linen sheet has less hit points than I had hoped. Time for plan B: let our fighters finish off the werebears.
1:12 PM – We found the friends of the doppleganger in the depths of the werebear's cavern. Was the doppleganger among them? Have we finally gotten to the bottom of the mystery of the dark doppleganger of dread? Sadly no, our princess is apparently in another castle.
1:18 PM – Time for loot division again. Disappointingly the magical items are all boring armor and saving throw boosts. Fortunately I have already taken the lion's share of the good magical items with my mummified mage hand and bottle of air, so I've only voiced minor complaints in this particular argument.
1:59 PM – The wolves have broken into the dungeon. I'm out of spells. Time for the Brave Sir Robin defense.
2:40 PM – The sound of the battle with the werewolves, wereapes and the last weretiger sounds truly fearsome from my hiding place beneath the corpses of the swarm of rats that I am currently cowering under.
3:06 PM – The battle is still raging…I hope that the prisoners we rescued from the werebears who are standing over my hiding place will be sufficient to protect me from any werewolves that might break through.
3:14 PM – Note to self: when you let prisoners rescued from a dungeon full of were-creatures guard your hiding spot, you have only yourself to blame when they turn into werewolves and attack you in the middle of a battle.
4:42 PM – While the rest of my party rushed to my rescue to fend off my new werewolf attackers I managed to crawl to safety. I waited outside in the forest for the battle to finish up. It took long enough I was able to craft a rather magnificent basket from some reeds that grew outside the dungeon. It sounds like the battle is finishing up. I'm sure my party will be impressed with such a fine use of the craft skill and the money it will bring our adventuring group.
4:51 PM – Despite my lengthy explanation of how we could make more money than all the gold and equipment they found in the werewolf lord's chamber if we all spent a year making baskets and selling them at my woodshop back in town, I could detect nothing but disdain from my party members in reaction to my newly crafted basket. I don't know why I even try. We're heading back to town to level up. I plan on taking the most useless abilities I can find as a minor revenge.
7:29 PM – My plans of a career in cabinet making dashed, our party has decided to help out the local town with their snake cult problem. I'd make a "sounds like my Friday night" joke, but this is, in fact, my Friday night.
7:36 PM – Waaaait a minute. A snake cult? With shape changing cultists in robes? Obsessed with steel? Following the sign of "two snakes facing each other"? I see what you did there DM. And I approve.
7:57 PM – We have decided to knock out some cultists and take their robes so we can sneak into the snake cult temple. I better not end up on a Tree of Woe™ for this one.
8:01 PM – My party members have decided to go with the "Chewbacca" plan in order to sneak our dinosaur animal companion into the snake cult. I may be warming up to these guys after all.
8:37 PM – Our "Chewbacca Plan" has fallen apart after our thief attempted to "Indiana Jones" a closing portcullis. We"re probably going to get "Thulsa Doomed" now.
8:41 PM – Further disaster has been averted by our summoner "Hans Soloing" the upstairs guards who were telepathically asking what the commotion was.
11:19 PM – We have been fighting snake cultists for the last two and a half hours. Or more accurately, we have been fighting them for the last half hour and arguing about rules for the last 2 hours. Yes, I believe crossing the 24 hour mark has pushed tensions to the breaking point. But like Samwise Gamgee piggybacking Frodo into Mordor, we will carry on anyway.
1:02 AM – Five hours of us taking on the snake cult and we only just now made a "Two snakes coming together…facing each other!" reference (it was me of course–and I hope the Samurai who keeps stealing my references feels appropriately owned). Either way, five hours before someone said that? We really must be tired.
1:26 AM – Finally I have something to do in combat! We have encountered the chamber of Thulsa Doom (er…the king of the snake cultists). While my party made themselves busy fighting off hordes of Yuan-ti and other snake-kin, I found a stash of barrels of burning oil and gunpowder. It's taken me the better part of 10 combat rounds, but I have made a giant ball of burning oil barrels and sacks of gunpowder. When the time comes I will light it on fire, toss it onto the altar of reptilian evil and save the day!
2:21 AM – Rules arguments have brought our game to a standstill. I don't mind a healthy discussion, but I will not brook ignorance, not on my watch. Thus, I have taken to making the Dungeon Master say he agrees with me out loud or I threaten to continue "discussing" our particular rules disagreement until he sees the light. And he is so bull-headed he actually refuses to kowtow to my obviously superior wisdom! Thus, we have spent the last two hours discussing how much damage my burning oil and gunpowder bomb will do. Our Dungeon Master says it will do 20d6. I claim that 30d4 would be much more representative. He is actually becoming childish enough to ignore my repeated commands to say he agrees with me out loud. I think I may be wearing him down.
2:37 AM – We have finally agreed on the damage! After resorting to plugging my ears and shouting "ahnananananaa!" my DM has agreed to my 30d6 damage. I hope he knows that this means I have won. I'm up next in initiative order, I can't wait to throw this bomb!
2:42 AM – I apparently didn't think about how heavy I was making this thing and was unable to make my strength check to lift the burning oil and gunpowder bomb. I've never been so disappointed. I had already lit it unfortunately, and because it was situated on a load bearing pillar, we ended the night running away from a collapsing dungeon that unfortunately swallowed up all of our loot along with the final snake cultist king. We all agreed that perhaps a few hours sleep wouldn't hurt. At least I won the rules argument.
Check back tomorrow for DAY THREE!