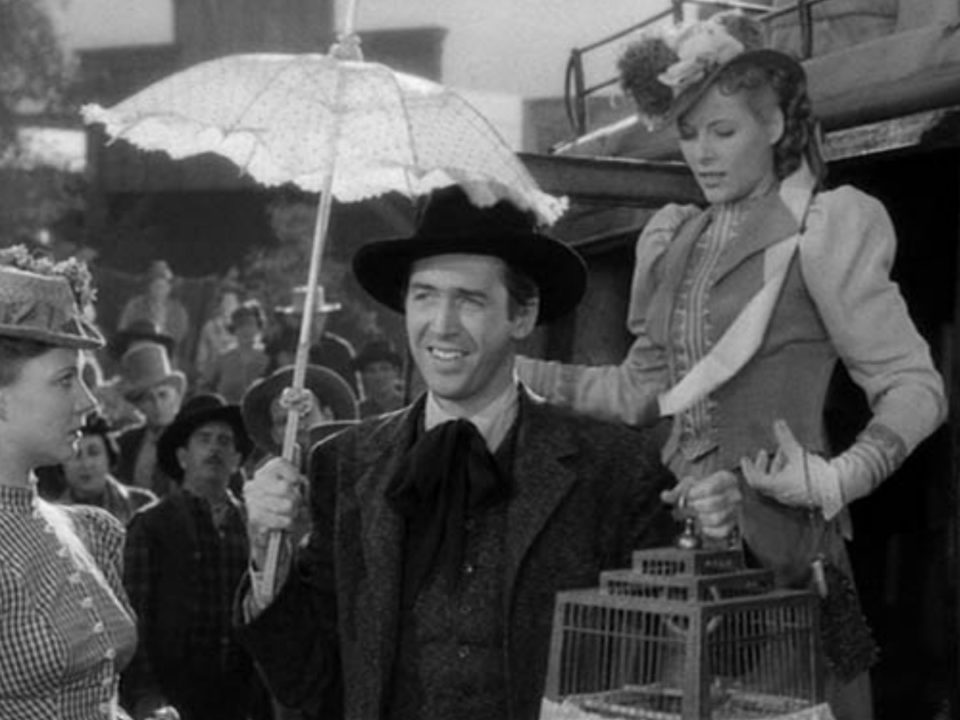 As one of the first, and most famous, "pacifist westerns," it is tempting to discuss Destry Rides Again in terms of the fascinatingly contradictory tenants of that genre.  However, because I've already discussed pacifist westerns, I figured that today I would instead discuss what it takes to be a "classic western," something of which today's film is unquestionably one of the most notable examples.
When I say "classic western," I don't necessarily mean a film of high artistic worth that has withstood the test of time better than most (though this most definitely holds true for Destry Rides Again).  I'm instead talking about those American western films that saw the world in black and white, where shades of grey were for book learned easterners and the untamed frontier held the promise of all that America could be.  A classical western will never look at the real life consequences of violence, not even the supposedly "pacifist" classical westerns.
Honestly, to call Destry Rides Again a "pacifist" western is rather disingenuous. Yes, the hero carries no gun, and preaches the benefits of non-violence.  But that is only because he is so comfortable in his capability for violence that he doesn't need to prove it to anyone, least of all the viewer.  We know that no man that self-assured is going to walk into a situation that is beyond his abilities.  Not in a classical western.  Thus, we sit back and wait for that moment when he finally lets loose and kicks some ass.
The classical western can seem naive and simplistic on paper.  Yet another tale of bad men stealing land to profit when the railroad (or in this case, cattle) comes through.  Yet another tale of a righteous sheriff cleaning up the town with his six shooter (though, in this case, the sheriff pretends not to need a gun at first) so the good townsfolk, who had been cowed by the bad townsfolk, might be left to live their lives to their fullest American potential.  Yes, a film described like that sounds like it would pale horribly in comparison to much more nuanced revisionist western masterpieces like McCabe and Mrs. Miller or Pat Garret and Billy the Kid.
And yet, Destry Rides Again holds up just fine in comparison.  There is an archetypal myth-making joy in the best examples of the classic western, something that touches something inherently American in the viewer.  Westerns, after all, are the closest thing we as Americans have to an origin story, and when you produce them with the full power of the Hollywood machine, operating during a period where it was cranking out more masterpieces per year than any country or time period before or since, you are going to end up with something special.
Destry Rides Again, is simply a brilliant work of cinema.  It is at the same time funny, action packed, dramatic and even makes room for a few songs without ever seeming disjointed.  This is not merely a competent B-movie like so many of the pre-Stagecoach (a movie released the same year as Destry Rides Again) westerns of the 1930s, Destry Rides Again is fantastic film for any genre.  There isn't a single part of this production, from the spot-on performances, to the hilarious script, to the brilliant cinematography that is not the equal of the best work from Hollywood's best years. It might not approach anywhere near the same depth of insight into the pacifist western genre as does a film like The Man Who Shot Liberty Valance, but I'd be hard pressed to say Destry Rides Again is not just as good as that John Ford classic western anyway.