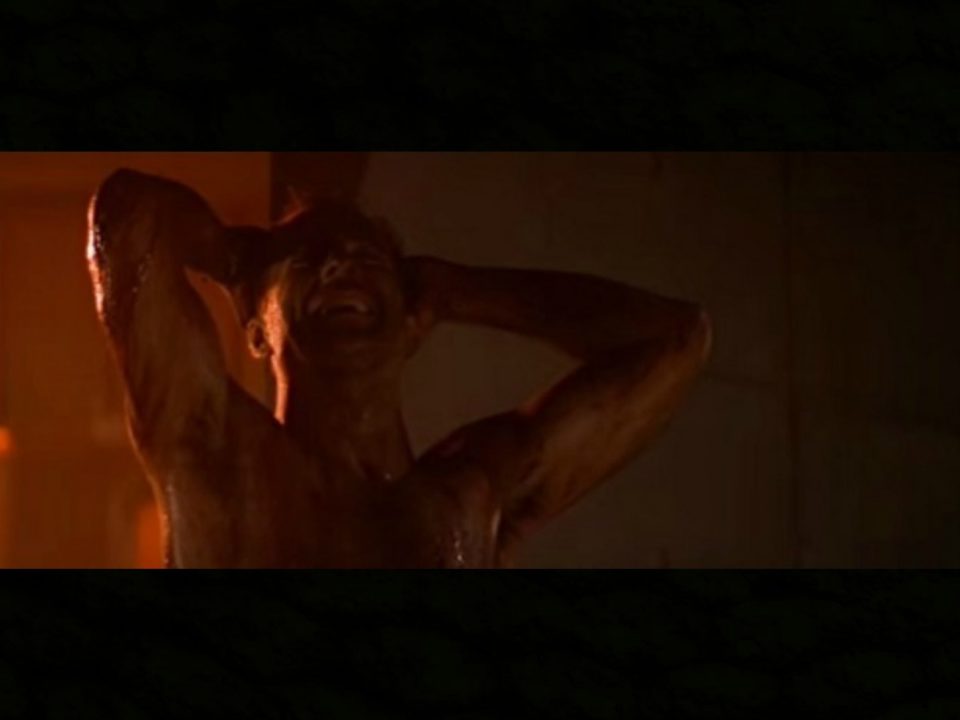 Last month I talked about one of the first two movies I owned on VHS as a child.  I figured it was only fitting to talk about the other movie today, the action movie to end all action movies, DIE HARD.  Many consider action movies merely a guilty pleasure, a cinematic genre that must be sheepishly justified in a conversation by shrugging and saying "I don't know, explosions are kind of sweet sometimes."  Thankfully, Die Hard is out there to let those of us that feel as though we need the cinematic approval of our peers to sleep at night.  I mean, after all, who hasn't responded to an "I don't watch that action movie shit" with a "yes, but what about Die Hard?"
Action movies, at their core, appeal to that part of our ancient lizard brain that has been conditioned to get half a chub at the thought of a bit of the old ultraviolence.  Perhaps this instinct is there so that we don't simply collapse in a limp puddle of feces and terror at the first sign of danger.  I'm not saying that *I* would necessarily WANT to tie a fire hose around my waist and jump off a skyscraper only to swing through a window on a lower floor before a helicopter exploded above me—but, come on, it would be pretty fucking badass if I did, right?
Of course, cinematically speaking, a movie that ONLY has explosions and face punching is going to be an exhausting and dramatically inert experience.  And believe me, plenty of directors have tried the "more is more" approach.  This is one thing that Die Hard gets spectacularly right, it absolutely NAILS the pacing.  I can sit here and rattle off every single one of its MANY action set pieces, but, for every pulse pounding bit of elevator shaft hijinks, there is a subdued scene of the cokehead calling Hans "Boobie," or the dad from Family Matters claiming yellow dye #5 is just what a growing boy needs.
I really can't say enough good things about the script here.  Beyond being simply a master class in pacing, it is really just a master class in how to write a screenplay.  That opening scene: John McClane gets told, while exiting his plane, to make "fists with his toes" by some wimp that has probably never even seen a Western, let alone blown the smoke off his gun after shooting two bad guys with his last two bullets.  Not only does it establish, that, even while relaxing in a hotel, our hero can only unwind by making a "fist," it also sets up one of the central conflicts of the film, the simple fact that McClane has bare feet.
Not that basic foreshadowing like John screaming "Glass!? Who gives a fuck about glass??" before glass becomes a very real issue for him a few scenes later is worthy of this much adulation.  Still, the more you look at this movie, the more you realize that the script really is firing on all cylinders–which is quite refreshing since most scripts don't stand up to that much scrutiny.
I've brought this up before, but just because a film is well constructed, doesn't mean it will be one of my favorite movies.  So, why, aside from the obvious fact that it is full of many badass things, is Die Hard one of my favorite movies?
The main reason for this is that it combines two of my favorite action movie tropes: the one man army, and the capacity of the human body for abuse.  Taken separately, and you've got some boring, one note shit, but combine them and you've got the last word in badassery. Sure, John McClane is a bad motherfucker, and he singlehandedly takes out an entire tower full of "terrorists."  And yet he can get hurt too…and as the movie progresses, and that wife-beater gets more torn and bloodstained, McClane refuses to give up.  Hell, it's the title of the movie–John McClane, dies HARD. You can see this kind of thing everywhere–like this one assassin book I read where the main guy gives himself a shot of adrenaline to the heart and a blood transfusion (on account of losing so much blood while fighting assassins) in a car while driving himself to fight even more assassins.  Or like that fight scene at the end of the second episode of that Netflix Daredevil series.  Heroes fighting through inhumane levels of abuse not only humanizes them, but also really raises the stakes in what would otherwise be a consequence free fistfight.
Of course, it has to be realistically done.  The viewer must see the effects of this abuse, they have to see the hero struggling to make that sack of meat and bones that is threatening to collapse on them at any moment stay on its feet for just a bit longer.  It's a triumph of the human spirit, and speaks to levels of untapped will that we like to think exists within  us all.  Even though, in reality, I would be out for the count at the first piece of broken glass.