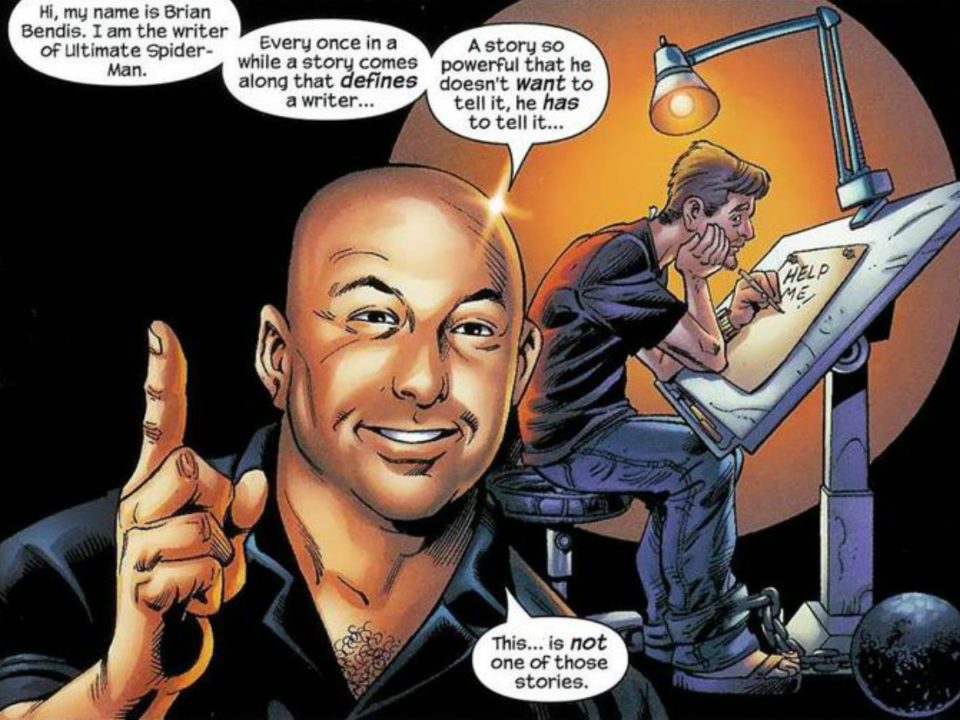 I've noticed that my "mainstream super hero" comic reading has come to be dominated by the books put out by Marvel. DC still has some good titles. All Star Superman is great even without having read the old school Superman books it is paying homage to. Blue Beetle is very good, Booster Gold is pretty good, and I like to pretend I understand what Morrison is doing with his run on Batman (oh and Catwoman is supposed to be very good too). Still, come Wednesday, there are always many more titles that I'm excited about from Marvel than DC. So, here are some of my favorite Marvel series from some of my favorite writers for those casual comic readers who are looking for a new series to check out.
Ultimate Spider-Man (Brian Michael Bendis) – This is an "alternate" Spider-man series (the "ultimate" line being new takes on classic stories). Spider-man is still in high school here dealing with "teen" issues, but the book is much more sophisticated than most of the other "teen hero" books that I have read. Don't get me wrong, school, authority, girlfriends, etc all commonly factor into the plot, but they are all tastefully and maturely handled with typically nice Bendis dialogue. For instance, the recent arc where Spider-man, Johnny Storm, Ice-man, Kitty Pride, Mary Jane and friends all have a beach party with lots of DRAMA is nowhere nearly as cheesy as it might sound.
New Avengers (Brian Michael Bendis) – This series is pretty heavily tied into the big "events" of the Marvel Universe's main continuity. It is still not hard to jump into since the events are pretty easy to get a handle on. Basically the government made a law saying that superheroes have to "register" and work under government supervision in the crossover storyline "Civil War". Some of the "street" heroes thought that was just not right so they went underground to continue fighting crime as fugitives. The team consists of Dr. Strange, Wolverine, Spider-man, Luke Cage, Iron Fist, Hawkeye, Echo and Spider-Woman. The storylines are relaxed allowing time for lots of great dialogue and character interaction to go along with the interesting array of team members. All in all, this is my current favorite "team" book.
Mighty Avengers (Brian Michael Bendis) – This is a much more typical team book featuring more powerful team members and bigger threats than in New Avengers. Mighty Avengers features the other half of the Avengers who decided to register with the government. The team consists of Iron Man, Wasp, Ms. Marvel, Wonder Man, Black Widow, Sentry and Ares. The storylines in this book focus more on dealing with whatever the current dire emergency is more than character development, though with its use of thought bubbles (the first mainstream book to reintroduce them in a while?) there are still plenty of nice character moments. While there aren't as many team members in Mighty Avengers that immediately interest me, there are still some pretty epic moments in this series.
Daredevil (Ed Brubaker) – One of the (many) great things about Daredevil is how self contained the book is. Huge crossover events in the Marvel Universe come and go without having an effect on any of the Daredevil storylines, allowing the writers to tell their own stories their own way. Brubaker took over the story after Bendis' gritty and realistic multi year run dealing with Daredevil's secret identity being revealed and culminating with his incarceration. It is a testament to Brubaker's skill that he was able to follow up one of the all time best runs on Daredevil ever without missing a beat. The Devil in Cell Block D storyline is probably one of my favorite comic stories of the past few years (Daredevil, Kingpin, Bullseye, Punisher…all in the same prison…Fight! Fight! Fight!). While not every arc is quite up to that level of awesomeness, Daredevil is still one of my very favorite comics.
Captain America (Ed Brubaker) – As I've said before, I never thought I'd like Captain America much before I got into comics. But Brubaker's run on the series has been a big reason he is one of my favorite characters. An even greater testament to Brubaker's skill is the fact that he was able to keep the book just as interesting even with the title character having been dead for almost a year (the new Captain America was recently revealed). This is a nice espionage book with tons of intrigue and cliffhanger endings. Along with Daredevil, Captain America is a wonderfully gritty series.
Astonishing X-Men (Joss Whedon) – This book is not quite at the level of the others on this list–I suspect there is not a lot going on beneath the surface if you look too deeply. But damn if I don't get as excited as a New Avengers week when I realize that a new issue of Astonishing X-Men is out! This is a classic team of X-men (Cyclops, Wolverine, Kitty Pryde, Colossus, Emma Frost and Beast among others) in a big fun book with great art. Whedon really manages to make me giggle in almost every issue (though at times his Whedonisms can get a bit tiresome–I'm not sure Beast would say something like "less talky, more runny!") But all complaints aside, seriously, this book is a lot of fun. The storyline where Wolverine reverted to his pampered 8 year old Victorian self and was running around afraid of a feral Beast (he got better) is just one example of how awesome this book can be.
Punisher MAX (Garth Ennis) – This "MAX" version of Punisher is essentially an alternate take on Punisher in a world without superheroes. Punisher is still a Vietnam Vet in this version and is thus in his 50's. Reading a lot of these issues in a row will definitely leave you with a sick feeling in your stomach as this is probably the most violent comic I have ever read (I've seen more gruesome panels I suppose, but the realism of the series really makes the violence hit a lot harder). That said, this is a very intelligent, complex take on a seemingly one dimensional character. Factor in writer Garth Ennis operating in top form with excellent pacing and his usual sense of how to write something "totally badass" and you have a book that I keep coming back to no matter how many intestines get pulled out or noses get torn off with pliers.
Incredible Hercules (Greg Pak) – Planet Hulk (Pak's previous comic that involved Hulk being exiled by some of earth's heroes onto a barbaric planet full of monsters) was pretty good though I thought it was a bit of a mess at times. World War Hulk (Pak's recent crossover "event" book that covered Hulk finding a way to return to earth and kick the asses of all the heroes responsible for exiling him) was pretty much awesome for a book that easily could have been repetitive and lame. Now, with Hulk captured (or something) Pak has started writing a Hercules book. Yeah, the greek demigod (he's walking around in the Marvel Universe). The book pretty much involves Hercules and this kid with super intelligence on the run from the government for aiding the Hulk. Ares (yes, that Ares) is around being a dick and the book itself is way better than I though a Hercules series would be. Only a few issues in but I think it is great so far!
Fantastic Four (Mark Millar) – Mark Millar has a reputation for writing big dumb books. And that may be true, but I'd like to clarify that he writes really good big dumb books. His run on Ultimates 1 and 2 was just awesome (even better than my current favorite big dumb series, Astonishing X-Men). His trick is that he cuts the totally badass action scenes with nice character moments (along with having a deft hand with the plotting). He is only one issue into his run on Fantastic Four, but I can already tell that this run is most likely going to kick some ass. We'll see!
So, this was a quick look at my personal favorite superhero books from the Marvel Universe. There are lots of other series I read regularly (Iron Fist, Runaways, Iron Man, X-Factor and Uncanny X-Men to name a few) that all range from excellent to mostly excellent. In case the DC fans want to cry foul, a lot of this Marvel love could just be because everything Brubaker and Bendis write seems to be gold (except for Uncanny X-men which is just silver)…as you'll notice, over half of my favorite books are from these two guys.
Of course, I might just be reading mostly Marvel these days because their "universe" is so much easier to get into with the way DC has been making their big events into train wrecks of continuity. Even something like New Avengers, which is heavily tied into the Marvel Universe continuity would not be too hard for a newbie to pick up (after they wikipedia'ed the powers of the team members of course). But that is a post for another day!