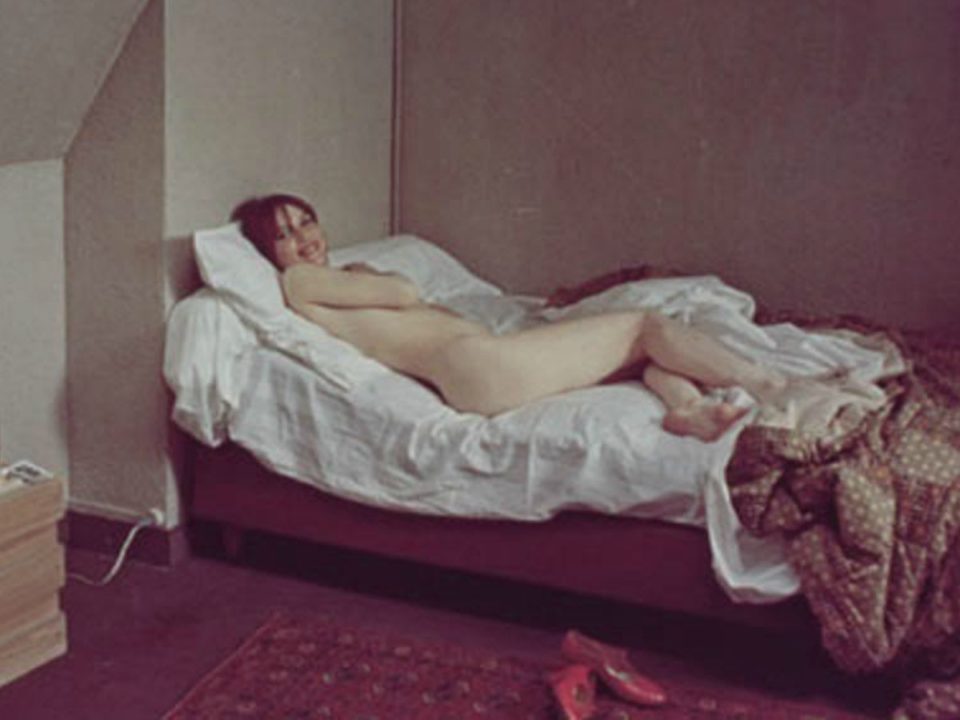 I should point out (in reference to the picture for this post) that there is not typically a lot of nudity/sex (there is some, just not a lot) in Rohmer films.  So, while that image might not sum up *everything* there is to know about a Rohmer film, what can I say…I kind of like that picture for some reason…sue me! 😉
I really haven't done any "director overviews" so I figured I should start with Eric Rohmer, my favorite French director (and that is saying A LOT considering the amount of talent that country has produced), hell, French nothing, I think it is safe to say he is my favorite director of all time. I like this guy so much that every movie I make for the foreseeable future will be most strongly influenced by his style (which, simple as it seems, it not simple at all to recreate). Though I should point out that as with Tarkovsky, Herzog and my many other favorites; Rohmer just happens to have something in his films that I "connect" with very strongly, I'm not saying everyone else should as well, but definitely give him a chance and see if he works for you too.
First, like Bresson, he is a disarmingly "simple" director. Camera movement is usually restricted to the very basics, it is hard for me to remember many crane shots, or complicated tracking shots, and often the camera is just stationary. Nester Alemendros, his cinematographer during the first half of his long career, is similarly never flashy but always a master craftsman (he shot Days of Heaven after all…mostly). Dialog is extremely "naturalistic", you believe you are eavesdropping on a conversation rather than listening to actors reading a script (sometimes his movies will be largely improvised as well). Cuts are usually longer rather than shorter, and the people are always the focus of each frame. I always appreciate an artist making the most of his craft using only the most basic of tools, and with Rohmer I can't imagine him making his movies any other way.
On the surface, most of his films deal with the same subject matter (the love lives of young attractive people) and seem to all be very "talky". This is the main strike against him according to his detractors. As Gene Hackman's character said [in reference to Rohmer] in the movie Night Moves "I saw one of his films once; it was like watching paint dry."
But the (dare I say) "Magic" of Rohmer is how he can take such a seemingly simple formula and come up with movies of such complexity. Rohmer's movies are not just about whether or not someone will figure out their boyfriend is cheating on them, or who will fall to temptation, or any other typical "love story" angles. At their heart, his movies are about human interaction and human motivations in all their infinite intricacies. The delight (yeah, I said that too!) in watching a Rohmer film is all in the small gestures and hidden (even to the subject) motivations that tell so much more than any dialog ever could. A glance, a slight, a touch and how the recipient reacts are just as important as any of the lengthy philosophical debates his characters might have. A typical Rohmer film might be centered around a love triangle, but rather than have the movie be about "A likes B, but B likes C and C likes A, how will it turn out and what will they do!???" it is much more interested in all the subconscious (and conscious) decisions and their motivators (greed, envy, lust, etc, etc). A might choose C in the end, but in a Rohmer movie you will be more interested in WHY they chose who they did, then that they did.
Yeah, all that is great, but why is he my FAVORITE director?? It is really hard to explain. All the analysis aside, when I sit down to watch a Rohmer film, it starts slow (and, I'll admit, stays slow) but there is always a point somewhere about halfway through where I realize that I have become utterly engrossed in the experience. It is then that I think to myself "Rohmer you old dog, you've done it again by Jove!" Another amazing thing about him is that he has been steadily making films for 55 years and they are just as fresh today as they were when he started. The newer films lack none of the "rawness" of his early films, and his early films lack none of the "polish" of his later ones. Perhaps this is the sign of a true master; Rohmer continues to crank out one superlative movie after another while the quality does not waver. I can't think of any director who can be compared to Rohmer, Rohmer is just unique. Also, I have no idea how an 87 year old man knows so much about the love lives of twenty-somethings but he sure does (I guess we were all young once eh?)
For anyone who wants to check out some of his movies, here are some quick reviews of most of his major films. The short version (since there is a lot to read here): check out Pauline at the Beach first…it's a really good starting point and a great movie. If you like it, scan through these reviews until you find something that sounds interesting. And remember, he doesn't make bad movies:
Six Moral Tales
(Rohmer liked to work in series, his six moral tales (newly released on criterion collection!) all loosely involve their central characters dealing with temptation).
The Girl at the Monceau Bakery and Suzanne's Carreer (1963) – These two short films start the Six Moral Tales series. They are both very entertaining (and quintessentially "Rohmerish") if not quite up to the level of his longer, more complex, films that would follow.
La Collectionneuse (1967) – Two men on holidays (one awesome thing about Rohmer films…characters seem to always be on holidays…I'll be very sad when I finally get to Europe and everything isn't always like this: typical day in France), get tangled up with a totally hot chick who shares their vacation house. This is one of the best Rohmer films, full of insight and complex human interaction (though from here on out they pretty much always have that, so I'll quit repeating it every review).
My Night with Maude (1969) – A very moral man desperately tries to resist the overwhelming allure of a woman he ends up being forced to spend the night with. This was Rohmer's first big success. It is filmed in Black and White, much philosophy is discussed and Maude is totally sexy. The guy is a bit of a pansy, but overall, another of Rohmer's best.
Claire's Knee (1970) – An engaged 35 year old man goes after two teenage girls to the amusement of his middle aged female friend. Great movie, though the main character's preening attitude (well, mostly the beard) can be tough to take. The girls are not as hot as the other moral tale movies either (well, mostly just too young).
Chloe in the Afternoon (1972) – A married man tries to resist the impossibly hot Chloe, who he has taken to hanging out with during the afternoons. This is another of my favorite Rohmer films (perhaps my all time favorite?) I'm not sure if it's just because I think Chloe is so hot though…
Comedies and Proverbs
(Rohmer's second big series, these films are all loosely based on a famous proverb. Again they are all of uniformly high quality).
The Aviator's Wife (1980) — "It is impossible to think about nothing." – A man obsesses about whether or not his girlfriend cheated on him. The first of the series, this is also probably Rohmer's most structurally stark film. Basically three or so long conversations make up the entirety of the movie. Though the characters are not super likeable (the guy especially is kind of a "whiney bitch") I really like this one a lot.
A Good Marriage (1982) — "Can anyone refrain from building castles in Spain?" – A naïve woman builds up a man in her head without knowing for sure is their relationship is a sure thing. Another great Rohmer film. It also features a "growed up" character from Claire's Knee (12 years older) in the main role. And has an awesome early techno eurotrash song in it!
Pauline at the Beach (1983) — "He who talks too much will hurt himself." – A 15 year old girl witnesses the shenanigans caused by her fickle older companions while on holidays. This is usually the Rohmer film I recommend people to start with. A lot more happens in the plot than usual, yet the long conversations and insight into human interactions are not lessened in the least. A great movie and Amanda Langlet (Pauline) really is something else.
Full Moon in Paris (1984) — "He who has two women loses his soul, he who has two houses loses his mind." – A woman tries to decide between two men. I don't think this movie is quite as good as the others in this series, but it could be because the woman is pretty annoying to me. Still, a delightful film!
The Green Ray (Summer) (1986) — "Ah, for the days/that set our hearts ablaze" – A whiney woman tries to decide what to do for her holidays. While the main character in this film is kind of annoying, this is also one of Rohmer's best films. The conversations are even more improvisational, and the final scene involving the green ray is just perfect cinema.
Boyfriends and Girlfriends (1987) — "My friends' friends are my friends." – A group of young men and women all fall for each other at different times. Another great film, though the characters are not super likeable.
Tales of the Four Seasons
(Rohmer's final (for now) series, this one simply has a movie for each season).
A Tale of Springtime (1990) – An interesting example of filmmaking around a very slight story. But Rohmer can get away with that, I imagine him saying "I do not need your "stories" to make my movies…I am beyond mere plot developments!" I say it works though others have scoffed at this one (the narrative climax involves a lost necklace).
A Winter's Tale (1992) – A story about a chance encounter and lost love, this is just one of the many examples of how amazing it is that a guy in his 70's is still making movies this good. A very moving story.
A Summer's Tale (1996) – The dialogue seems more improvised and free here, in a movie about a guy on vacation waiting for his girlfriend to arrive. Amanda Langlet from Pauline at the Beach (13 years older) appears to shake things up. Many women show up and the plot gets quite tortuous for a Rohmer film. I enjoyed this one quite a bit.
Autumn Tale (1998) – This is perhaps the first Rohmer tale where older women become the focus of the attention. Still great though not my favorite of the four seasons. It also features one of the girls from Claire's Knee (28 years older).
Historical Films
(Rohmer periodically made historical films. I prefer his "Young people in France" films, but these are still worthwhile).
The Marquis of O (1976) – I must admit that I actually haven't seen this one. Still, it is nice to know there is one Rohmer film out there for me to watch for the first time! (Of course he is still making movies…here's to hoping he'll start a new series!) Anyway, from what I have heard it is a fine film but not his best historical piece.
Perceval (1978) – A very strange movie based on the Arthurian character. Filmed like a medieval stage play with stylized sets that extend far beyond the confines of a normal stage. I thought it was great, but I'm a sucker for medieval music…and Rohmer films. I've never seen anything else quite like it.
The Lady and the Duke (2001) – Set during the French Revolution, this film is the true story of a woman who finds herself on opposite sides of the Revolution from an old friend of hers. A straightforward film with the unusual (especially for Rohmer) technique of superimposing the actors over painted exteriors. It was pretty good though I don't like it as much as his normal output.
Triple Agent (2004) – Tells the true story of a "triple agent" during WW2. The French, Germans and Russians were kept guessing as to his allegiances. Again, it is a straightforward film that shows Rohmer's cute fascination with solving banal everyday mysteries. I liked The Lady and the Duke a bit better though we do see Amanda Langlet from Pauline at the beach again (21 years older).
Other Films
(Rohmer made a few films outside of his historical output and series. Most of them don't seem to be available on DVD (and one just came out in this year…he's still making films regularly at 87!)
Rendezvous in Paris (1995) – From what I know, the only other Rohmer film in print that I haven't already talked about, this one is classic Rohmer. Three very free spirited (improvisational dialog, handheld camera) stories about Paris, all the highlights of a Rohmer film are here. Highly recommended (just like all the rest!)