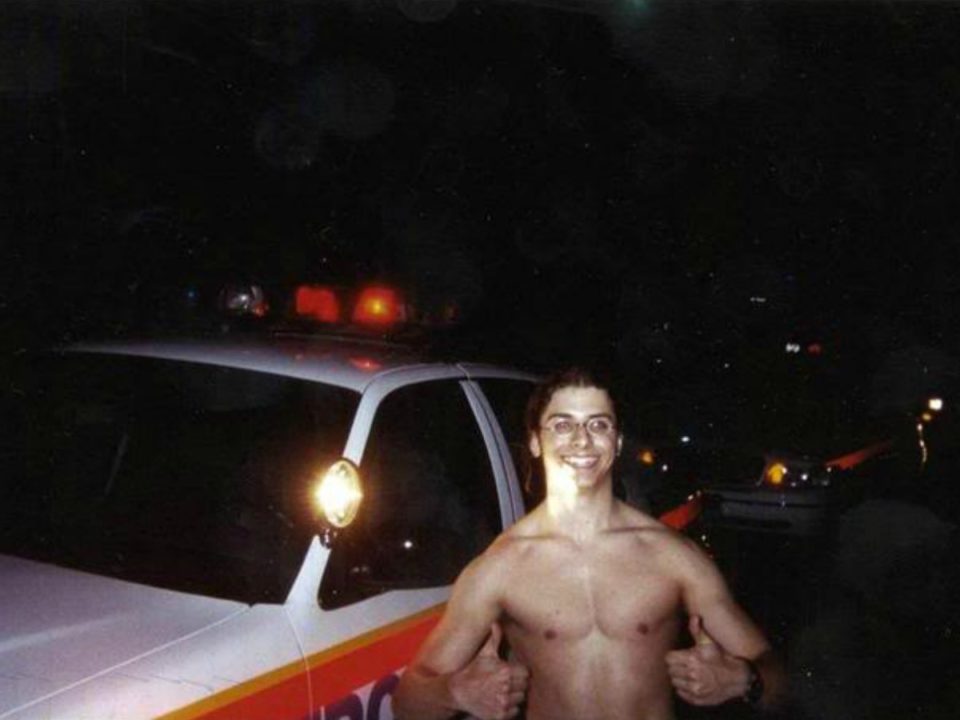 Being a rambunctious sort, my past is full of tales of derring-do and mischievous insubordination. In this series I will examine specific instances of orneriness from my past so that you, the reader, might understand Isley's special relationship with authority just a little bit better.
Today's rousing tale is that old chestnut, the burning couch story. There has been a lot of misinformation around this story for a while, so I'd like to finally collect all the facts in one handy place right here. So without further ado, here is the timeline (the exact times are my best guesses) for the REAL story of that fateful night:
10:03 PM – Big Mikey (a relatively well behaved Stephenson man) and Mormon [edit: more likely Christian Steve, parens still apply] (a young man who left the hall decidedly less innocent than when he arrived) decide that it would be fairly epic to light the absolutely filthy party room (room without any beds where us nerds would nightly party like 20th level dual class barbarian/rogues) couch on fire and then throw it off the fire escape.
10:17 PM – Big Mikey and christian Steve, after getting the couch out to the fire escape [edit: and securing Eckert's oft used blowtorch] realize that they wouldn't mind coming back to the hall next year.
10:19 PM – They outline their plan to me, a guy who already couldn't come back to the halls due to once again doubling the incident report limit, and was trying to think of a way to go out in a blaze of glory (so to speak) anyway.
10:20 PM – I run out onto the third floor fire escape with my jug of lighter fluid and a lighter in hand. Hall Proctor Nick (a nice guy who should not have been in a position of authority and usually ended up playing the role of "Piggy" in our nightly Lord of the Flies reenactments) was sitting on the couch with arms crossed. I failed to conceal my jug of lighter fluid in time.
10:23 PM – After much argument Nick proclaims that he will not leave the fire escape for the rest of the night in order to prevent the couch being lit on fire.
10:32 PM – I throw a large desk from the third floor supply closet down four flights of interior stairs. Nick still doesn't leave his post by the couch.
10:47 PM – I throw a large Molotov cocktail (in this case an old 40 filled with lighter fluid) is thrown out the bathroom window. This time when I run out to tell Nick the basketball court is on fire, he is unable to ignore the merry glow from the other side of the building and runs to get a water hose.
10:48 PM – I soak the couch with the rest of the lighter fluid and light it on fire. At this point Nick returns from around the building forcing me to prematurely launch the flaming couch over the side of the fire escape. The impact sadly puts the fire out. Nick looks stunned. Someone (I don't believe it was me) shouts: "Let's bring it up and light it again!!!"
10:50 PM – Two minutes later, I am locked in a vicious tug of war with the smoldering couch. Nick is trying to prevent my hall mates and I from carrying it back up the fire escape. When he jumps onto the couch and is then thrown off he decides he has finally had enough. He runs inside, calls the police and then goes to the bar next door to our hall and is not seen again until later.
11:09 PM – By the time the police arrive we have managed to get the still smoldering, lighter fluid soaked couch wedged so tightly into the fire escape at the second floor level that it can not be budged (which we were told later was apparently a "fire hazard"). The mood of my hall mates at this point can best be described as "DEFCON -3". The requests from the police to remove the couch are met with taunts and catcalls.
11:14 PM – In between ignoring my father's advice to not taunt police officers I find time for a quick "thumbs up" photo shoot in front of some of the police cars. Fire truck sirens are on their way. Some hall members have found our frequently used "Welcome Fire Department!" sign and are waiting in the front lawn.
11:15 PM – The policeman bring in the asshole who was yelling shit and posing with his thumbs up in front of their cars for questioning. Nick has returned by this time and informs them that they do in fact have their man.
11:37 PM – After professing my innocence over and over (and since Nick didn't actually SEE me douse the couch and light it on fire) I am temporarily released from further questioning. Evil egg-shaped Assistant (to the) Director of Student Housing Jen Wamelink (Jennifer Wamelink) has arrived in bathrobe and slippers by this point looking even more frumpy than usual.
11:38 PM – Big Mikey is taken in for questioning. His resolve is untested and we all fear for the worst.
11: 53 PM – Big Mikey emerges from the police car looking shaken. After a heated exchange with Jen Wamelink, Assistant to the Director of Student Housing, the police leave due to lack of evidence. Big Mikey is henceforth known as "The Rock". The fire department finish spraying down the couch with foam and leave soon after.
12:14 AM – Despite the lack of hard evidence against me, I am still unceremoniously asked to leave the hall and "not come back". "Um, but this is where I live" is apparently not good enough this time.
12:15 AM – I am standing outside the hall without having had time to even grab my toothbrush. I call Old Man Adams (who had gotten kicked out of Stephenson much earlier and was at his girlfriend's in Jayhawk Towers) and say "I got kicked out of Stephenson, can I stay there tonight?" He says without a hint of surprise in his voice, "sure, I'll see you in a bit".
So, with those details, let's see what the official University of Kansas police report (obtained with no small amount of effort by a compatriot) had to say about it:
All I have to say is that if one person who had actually seen me light the couch on fire ratted me out I might have been kicked out of school that night. So Big Mikey, I owe you one wherever you are!