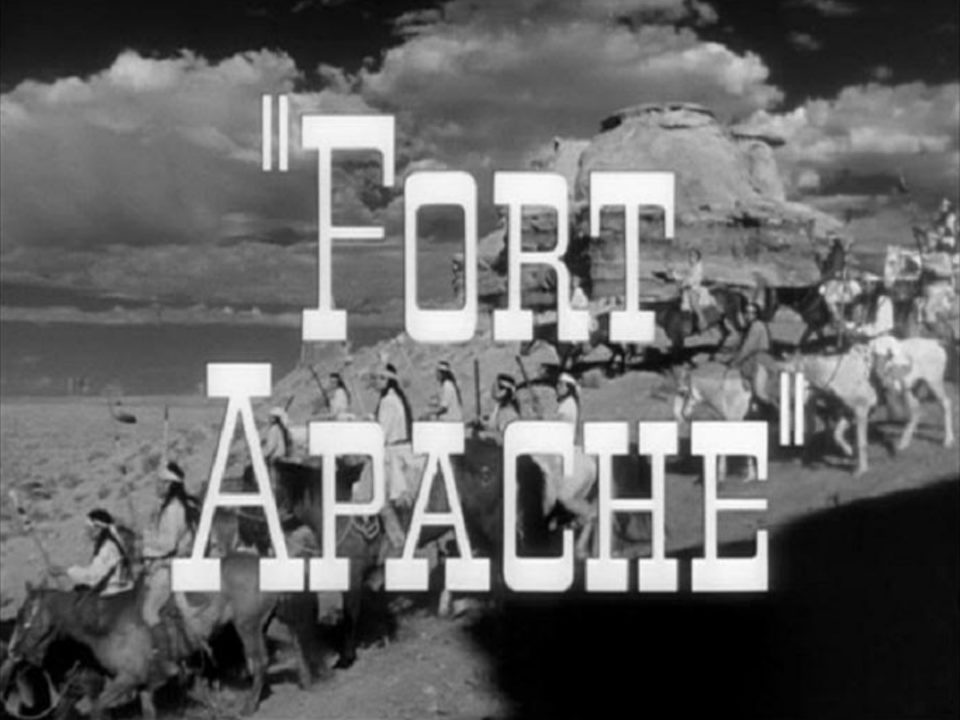 This review is full of spoilers, so if you like classic westerns crossed with classic war films, Fort Apache is fine cinema and you should watch it first. Check it out and then come back to check out this post if the ending outrages you!
Fort Apache is the first movie in John Ford's cavalry trilogy. A strange mix or westerns and war films, the movies in the Cavalry trilogy are all fine films (though not as close to my heart as "pure" westerns) and Fort Apache may be my favorite. Though having a rambling plot and a bit of the usual Fordian flaws (most notably the somewhat overdone comedic elements), it is still a strong and assured piece of film-making. Along with The Man Who Shot Liberty Valance, it is also John Ford's strongest statement of his "when the legend becomes fact, print the legend" philosophy.
In Fort Apache, pompous military big wig Henry Fonda's Colonel Thursday gets transferred to Fort Apache, a cavalry outpost on the edge of the frontier. The cavalry is an integral part of the "old west". The furthest cavalry outpost is a borderland between the lawless frontier and civilization "back east"; it is a place where the soldiers occupy a hazy territory between military drones and cowboys. Colonel Thursday, still smarting from his perceived exile to such an inauspicious outpost, decides he is going to clean up Fort Apache and get some of the military recognition he feels he so rightfully deserves in the process.
Fonda plays Thursday well, he was quite good at portraying a man slightly ill at ease with his surroundings, and in Fort Apache it becomes an endearing attribute to a man who is otherwise an insufferable douche-bag.
Thursday carries himself with the air of someone who no longer imagines that he could make a poor decision. He scolds the troops he commands for not strictly following military dress codes, thinks of the local Indians as dull witted savages and at all times looks for opportunities to further his own career.
Fort Apache actually takes a rather enlightened view of the Indians (the usual Western staple "bad guys"). Cochise, the leader of the Apaches is portrayed as an honorable man not cowing to the corrupt government policies towards his people. When John Wayne's character is sent to Cochise to talk peace, the two treat each other as equals and Cochise agrees to bring his people back from Mexico to discuss a treaty with Thursday. Yet when Thursday finally does meet with Cochise he reveals that it was all a ploy to get the Apache back on US soil and that he had no intentions of discussing things as equals.
The movie builds to this point where Thursday's final decision to charge the Apache defenses though outnumbered four to one leads to his entire brigade being annihilated. John Wayne refuses and is sent away as a "coward" while the rest of the brigade are forced to "follow orders" that lead to their deaths. It was a horrible decision made by a glory seeking commander who was entirely in the wrong.
Yet a strange thing happens in the next scene. John Wayne is back east and being questioned about what it was like being part of such a brave last stand. And he is going along with it! Thursday's suicidal fool's charge that senselessly destroyed an entire brigade is now being celebrated as a heroic battle against a heathen Apache horde. As stated above, it is John Ford's favorite concept: when given the choice between legend and fact, "print the legend".
This is a lot harder to take when attached to an authority figure making poor decisions (check out the film The Man Who Shot Liberty Valance to see the same concept applied to a sympathetic character), but Ford's philosophy doesn't change. Our myths, our legends, our heroes are incredibly important to our culture. Telling the true story of "Thursday's Charge" would do more harm than good to our nation's psyche. The strength of our cultural identity depends on having a strong mythological foundation to root our national pride in.
Let's face it, right or wrong, the Indians were in trouble the minute Columbus landed in the "West Indies". By the time the entity of America had come to be, there was no way they were going to keep their land. Cochise in this film was in the right, or course he was; his people were being mistreated and denied their basic human rights by a larger and more powerful government. But as is always the case, "might" (not "right") makes right. America was far stronger and was nothing was going to stop its steamroller of manifest destiny.
So John Wayne's character, a supposed friend of Cochise allowed the nation to think of Thursday as the hero, and even use his memory to inspire the cavalry to drive the last of the Indians off their land. Perhaps he knew it was inevitable and realized the value of a nation moving ahead with a clear conscience rather than being fractured by guilt over actions that were inevitable.
This isn't a pretty picture here and leaves the viewer unsettled (my dad hates this movie). But I can't help but be intrigued by the complex implications of the final scene. The "chain of command", "follow orders at all cost" nature of the military is a bizarre construct that always unsettles me. Surely in a system like that, accountability is going to be supremely important. And what about learning from our mistakes? Won't this just keep happening until someone is held accountable for their actions? These are common thoughts when watching this movie, the viewer wants Thursday to be punished. Instead he emerges a hero (though, importantly, not in the viewer's eyes).
I think what Ford is probably trying to say is that Colonel Thursday fucked up. But American's don't fuck up, and even if they do they don't wallow in guilt, they just try their best to live up to the heroes of their legends. Thursday's fuck up was more valuable twisted into another legend to strengthen our cultural identity. Was this the correct decision? I don't think the answer is clear no matter how much the way this movie ends might unsettle us.