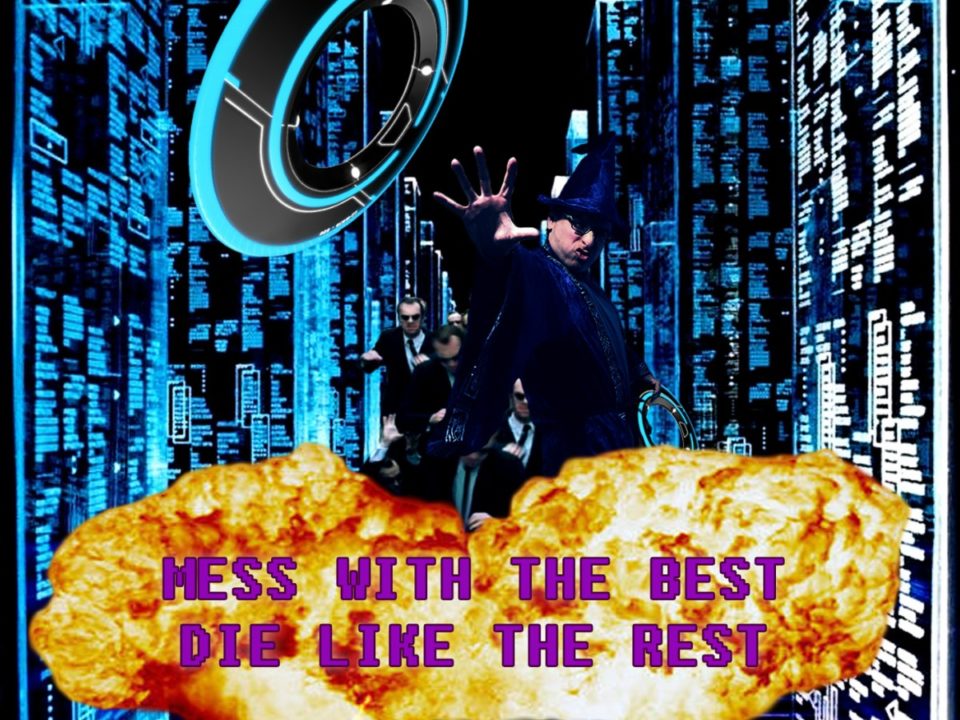 From the ashes a fire shall be woken,
A light from the shadows shall spring;
Renewed shall be site that was broken,
The server again can you ping.
Russian hackers might be the reason our democracy can no longer have nice things, but this website is one thing that they have been unable to completely ruin for all future generations.  That's right, exactly one year from the day of my last post, I have reclaimed my website from the ignominious clutches of Cyb3r_5w0rd in a battle that surely rivaled the final epic confrontation between Maiar atop frost-blasted Zirakzigil (see the cover photo for a relatively accurate depiction of how it all went down).  Of course, by "epic confrontation," I actually mean I just begged my buddy Chris to put in far more man-hours than anyone would reasonably be expected to put in cleaning up corrupted code for someone else's silly website full of narrow Tolkien and metal references.
Either way, thanks to Chris' 1337 white-hat haxor skills, www.isleyunruh.com is back and here to stay! I figure this time maybe I'll actually update wordpress more than once every few years…that and I'll take Chris' carefully prepared memo to heart and quit using secretlovesexgod as my go-to password for everything.
So, what have I been up to in the last year of radio silence?  I've stayed fairly busy…I finally got my Master's in Film (my thesis was ok, but I still like my original blog post version better), I then moved on from the juvenile detention center gig and got a completely-unrelated-to-film job as an accountant, (as they say on Animal House, 5 years of grad school, down the drain), I got engaged (I'm currently attempting not to be a groomzilla as I plan my perfectly epic wedding), and I've continued to add hobbies at a frightening pace considering my rapidly dwindling stores of free time.  Which, that said, I still have some big plans for this website.
If you look around, you might notice a few changes around here.  First of all, it is long overdue, but my site is now fully mobile friendly.  Also, I even shelled out to get one of those fancy "pay" themes that actually looks like a professional made it instead of sticking with my old theme that looked like something someone cobbled together after a year's worth of practice on their old Myspace profile.
Those adorb dancing frogs you see front and center are now the unofficial logo of www.isleyunruh.com (I may add text down the road…we'll see).  You might recognize them from the infamous 18th century "Dictionnaire Infernal" by Jacques Collin de Plancy (or, you know, from my Sabbat hoodie).  The frogs are kind of the perfect combination of juvenile demon shit and classy medieval-looking art that rather perfectly captures the subject matter of this site.  There is also now a rotating list of "spotlight posts" across the top–these are posts I found noteworthy and representative from my past content, and are a great place to start if you are in the mood to reread some of your favorite www.isleyunruh.com classics for the fifth time.
By far the longest (aside from the work Chris put in) task undertaken in getting this site ready for the public again was my decision to go back through and adjust the tense (from past to present) in the 1600+ movie reviews I've written over the years (which ended up as a massive 80,000 word block of text that was three times the size of the non-blog post version of my thesis).  When I started these reviews I wrote them as though I had just watched the movie and was reporting what I thought about it.  The perfectionist in me has been wanting to update them to, a more appropriate for film reviews, present tense for a few years now.  The upshot of all this is that I now have them all in one place, painstakingly alphabetized for your perusal.  I still don't know exactly what to do with them, if any other 1337 coders out there have ideas on how I can organize them for best user experience, I'm all ears.
Also, taking advantage of new wordpress features, I've organized all my Minor Key Monday posts into a bunch of different playlists, so for those of you feeling a distinct lack of sorrowful mixtapes in your life, I've got you covered on that front too (with plenty more planned down the road).
As for my weekly "Monday" features, for the time being, they are mostly on "hold" (to be revisited at those times that I feel like it).  It was a great way to force me to keep my blog active while I was in grad school with a job and a family, but too often my output was rushed and uninspired.  Looking back over my pre-Monday feature output, the content was much more varied and engaged, so I'll attempt to go forward with a less restrictive post format.
On the other hand, I apparently can't function without a deadline, so we'll see how well that plan works.  Until then, I'm super hyped to be back, and I'll be posting again soon with some easy "best of" posts!