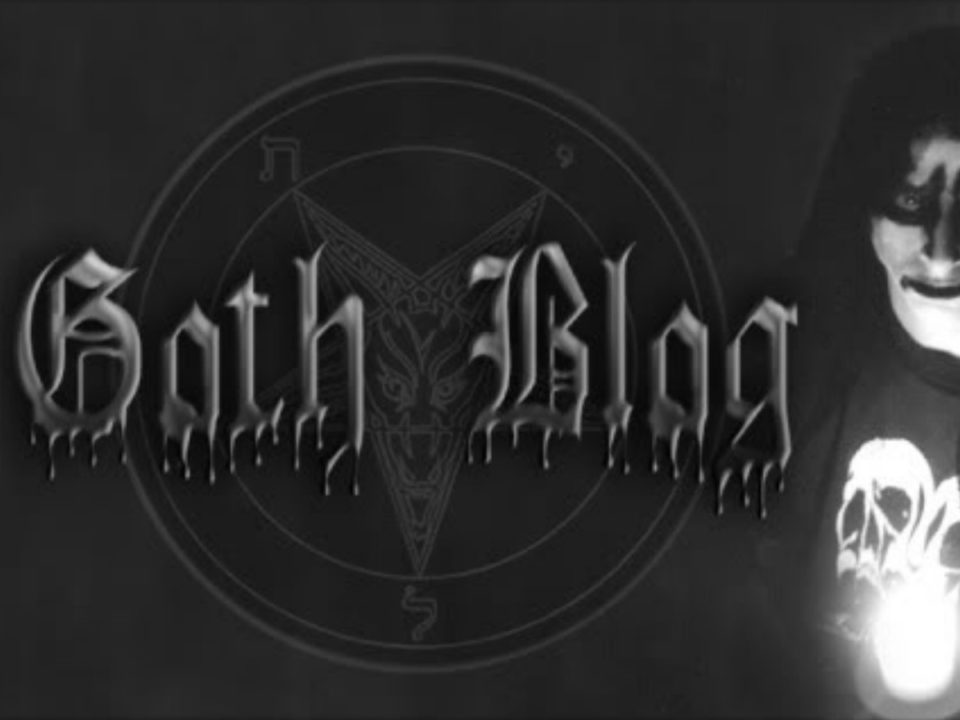 Here is the first installment of GOTH Blog as well as the first chapter in the ongoing "Tales of Center Valley" saga (as well as the first blog post I'd ever written on the internets!) So if you are looking to read something rather silly that is full of black nail polish, nerdy references, capes, teen drama and plenty of horrible poetry, then look no further, the Goth Opera starts here!
November 24th, 2005
My sadness knows no bounds as I have found that my great suffering must be channeled through an unfamiliar medium–the "internet".
I would not be here had my previous diary not met an inglorious fate at the hands of my older brother Chet.  How I loathe him from the murky depths of my soul! To bring my journal to our school and read it to his oafish friends is one thing, but to show my most precious thoughts to the object of my undying affection, the woman among the girls of my school, Thorn; that was unforgivable.
So I have left such easily stolen vessels for my thoughts and turned to the vast grey emptiness known only as cyberspace.  Could this be as bleak of a landscape as the far realms of the astral plane?  Only the cruel fingers of time will tell.
Nonetheless, I am finally here after the ordeal of my new account registration. A voice of my own and a spot in a forest glade to post my thoughts. It was everything I wanted. Why do I still feel so hollow?
I do not like your "e" "mail". I long for the days of horseback and wax seals.
8:13 PM
November 27th, 2005
My newest creation is finally ready for viewing! I typically shudder to think of using something as potentially jovial as an exclamation mark, but my sorrow has reached near giddy proportions with my newest poem. It is to you my comrades in pain that I will show it first–not counting my dark mistress Thorn; she is always my dearest compatriot (and I hope someday to earn her return affection).
As a brief aside, I must admit that the scorn she has heaped upon me of late is richly deserved. It must have been some absinth like delirium that caused me to so foolishly suggest we go to something as banal as a "dance" together.
And yet her derision at my newest poetic offering has only served to make me lust for her all the more. That said, I can only hope it will fall more approvingly upon your ears:
THAT WHICH ONCE WAS
O were I back to the elder days,
The times in the past now sung in lays.
For could I but see
The sweet fairys tree,
And once again run
Neath the golden sun,
I might lay down my head
Upon my downy sweet bed,
And never again be
Subject to cruel misery.
Having posted I may now return to my shadows–and wait for the blissful release of my nightly slumber (in times like these the early bedtimes of "school nights" are more a [demonic] blessing than curse)
9:32 PM
December 4th, 2005
It is now 12:30 AM and I have been stricken by one of my horrid fits of insomnia. In eight and a half short hours I will have to rise to face the cursed sun once more. To avoid the dread of that thought I have composed a new mighty poem. Ay, no mere poem is this, Tis a battle cry for the ages!!!! (My disconcerting use of exclamation marks continues…I must remember to avoid their use around Thorn)
Anyway, here is my new offering, it sounds MUCH better when accompanied by my recorder as it is meant to be performed. Also try to imagine the clanging of sword in a grim battlefield!
A BATTLE HYMN FOR OUR/ALL TIME
A thousand mailed soldiers take the field
wrathful malice hate and steel!
Charging on stallions in the sunrise,
Evil will triumph, while good dies!
A thousand lances glint in the light,
thundering hooves, fierce war cries!
Enemy hordes will find their demise,
Bone crunching cries, blood and death!
And now I might slowly drift to sleep, aided only by my warrior thoughts and the gentle strains of Enya from my boombox.
12:47 AM
December 17th, 2005
I know that joy is for the weak, but you will have to permit me this one lapse! My English teacher, who by his tepid book selections for our class (no Poe? no Lovecraft?? no Rimbaud???) has proven himself to be the enemy of all things unholy in this world, has decided to give us the assignment of composing our very own poem to be READ TO THE CLASS!
Oh the sadistic glee that welled up in my heart upon his pronouncement…he does not yet know his folly! Yes, in answer to your questions, Thorn is in the class, and yes, a poem is the thing to capture the heart of my dark queen! Not only will I utterly smash the right thinking, cHRISTIAN indoctrinated minds of my peers with my soon to be composed poem, nay…war cry!, I will also have Thorn laying at my feet like the limpid pool of a slain gelatinous cube (2nd edition rules). Would that Wednesday were upon us already so that I might bathe in those dark waters!
And I am off, like a plague wind, only I am bearing far more than death and devastation this day; the black wings of love ride upon this storm!
3:42 PM
January 1st, 2006
Since I have received countless messages from the faithful readers of my journal anxious to hear tales of my greatest tribute to Thorn, I suppose some kind of explanation as to my prolonged absence is in order. The simplest way to put it is that I have been in retreat licking the wounds of a broken (albeit black) heart.
But now, upon the dawn of a new year, I feel prepared to talk of my most devastating defeat.
To start at the beginning, I had decided to write a sonnet for my English teacher's ill conceived poetry assignment. So after working on my mightiest poem yet all night, I came to school prepared to crush my classmates and win the heart of Thorn at the same time!
Sadly, in what was to be a series of setbacks in my blackest (in an unfortunate sense of the word) day ever, my boom box shorted out in the morning and I was forced to take my younger sister's pink "Barbie beach party" boom box instead (much to my classmate's mirth and my chagrin).
I ignored the simian grunting of my classmates and boldly strode to the center of the room directly in front of Thorn's desk.  Unfortunately, no sooner had I begun to read to the epic strains of my prerecorded recorder music then disaster struck. But let us look at the poem first–soon you too will be astonished that I did not ride out of school that day on a mighty stallion with my fair wench Thorn at my side!
And here it is:
OF BLOOD AND LUST IN A TIME BEFORE TIME
In darkest times where elves lay bound and chained,
And Faerie-dust gleamed dull in obscured light,
The sheep swarmed in a land where folly reigned,
Twas there I suffered through the endless night.
For ages I had slept in mist filled skies,
Till I was woken by a sounding horn.
I gazed in wonder at your lusty thighs,
And saw the bugler was my one true Thorn.
As steel on steel did our eyes boldly meet,
And so we sprang upon our craven peers.
Their screams were proof of ultimate defeat,
And with great mirth we embraced in their tears.
Passion flared as our bloody work was done,
My sword then found its sheath and we were one.
Yea verily, take a moment dear reader to collect yourself after that poetic onslaught. So what was the result of such a mighty verse? Well, at the mention of her name, Thorn came running up and kicked me in the codpiece (which I had specially made for the day), of course this only served to increase the gales of laughter that had been freely flowing since I started my recorder tape. To make matters worse, my teacher tried to make me stop reading as Thorn continued to kick at me (though I did detect a certain tenderness in her attacks). By the time I had finished shouting out the final rhyming couplet, I had been dragged to the door while Mr. Robinson the football coach helped to take me to the principal's.  I am proud to say that he will at least be needing a new strap for his whistle after throwing himself in the path of my fury.  And had I worn a shorter cape that day I do not think that even he would have been able to keep a hold of me.
As it stands now, I am not allowed to speak to Thorn, talk of a sexual harassment suit is being discussed, my parents had to come take me home, and we have an appointment with the school guidance counselor.
I would be utterly crushed were I not so sure that with my words I had sown the putrescent seed of my love deep within Thorn's bosom that day.
5:57 PM
Fear not faithful Goth Blog readers, our hero will return in GOTH Blog 2 – A Bittersweet Brew.