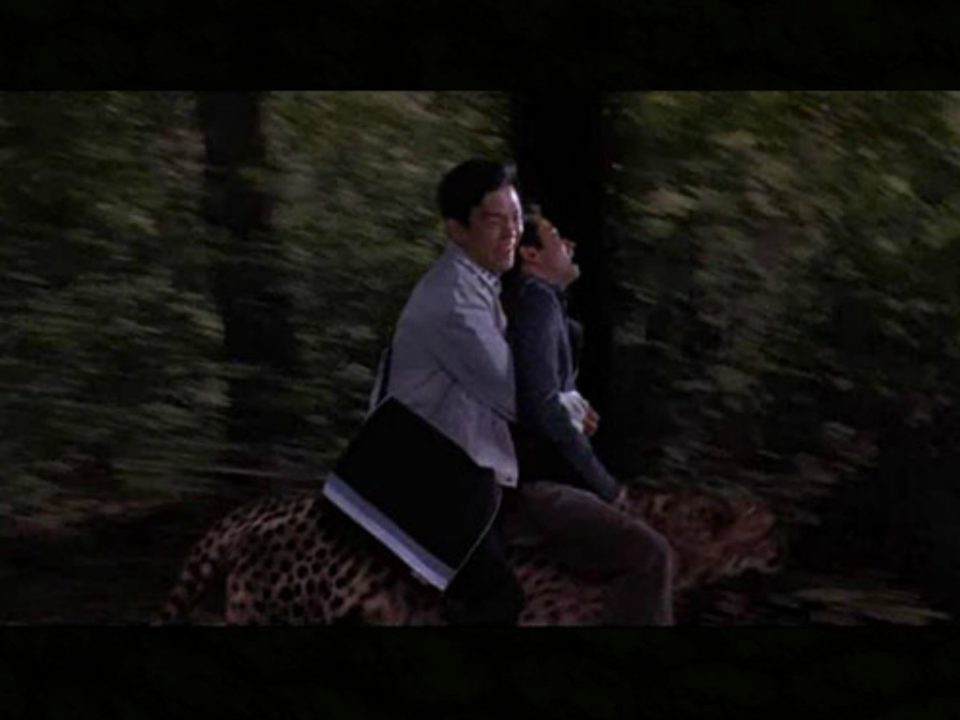 I've talked about stoner comedies before, and I've talked about "one crazy night" movies before, today I'll talk about a movie that is both.  Obviously, as the perfect mixture of film genres, Harold & Kumar Go to White Castle must be my favorite movie of all time, right?  Well, if it's not quite my favorite film, it's at least high time I finally own up to how much I really do enjoy this movie.
Though this film is little more than an episodic collection of bizarre and surreal encounters, I don't think you can really hold that against it.  First, there's nothing wrong with being episodic, and second, if there was ever a narrative structure that was made for a stoner comedy, it would be an episodic one.  The heroes of a stoner comedy wander around in a short attention span pot daze from one increasingly idiotic misadventure to the next, and they don't care how they got from point A to point B any more than the viewer does.
As is always the case for these types of movies, the episodic narrative is given structure via our heroes' quest for more pot.  Yes, one could claim that this movie is technically about our heroes' quest for White Castle, but without their constant, disastrous side trips for more pot, it would be a simple matter to fulfill their primary goal of "driving to White Castle."
The marijuana haze that hangs over Harold and Kumar throughout the film helps sell the more surreal moments–whether it's the cop that materializes out of nowhere, or that whole bit of inspired madness with the Cheetah.  Yes, pretty much everything that happens in this movie is utterly ludicrous, but, importantly, Harold & Kumar play it straight.  They never let their performances drift into the same silly lands through which they are questing, and thus the movie pulls the impressive feat of making you believe, not just in Harold & Kumar, but in the story as well.
The believable, unique, and interesting characterization from the leads aside, the real reason this movie is getting featured on MFM is the simple fact that it is very, very funny.  Whether it's throwaway jokes like the slow motion pterodactyl screech during the convenience store EXTREME kayaking scene, or more sophisticated humor like the "Battleshits" scene, you won't find many moments in this film that don't leave you giggling like a teenager all hopped up on the weed.
Even the racial humor, which was by no means subtle, somehow came off as more clever than overbearing.  And that's saying a lot coming from me–the guy who claims Save the Last Dance (only a matter of time until that one gets featured here too) is the only movie ever to approach race in a way that doesn't feel preachy.
But really, I can write as much as I want, but I think the best way to prove the  brilliance of this film is to simply point out the simple fact that they went ahead and put that Cheetah riding scene in the script–and then made it work!