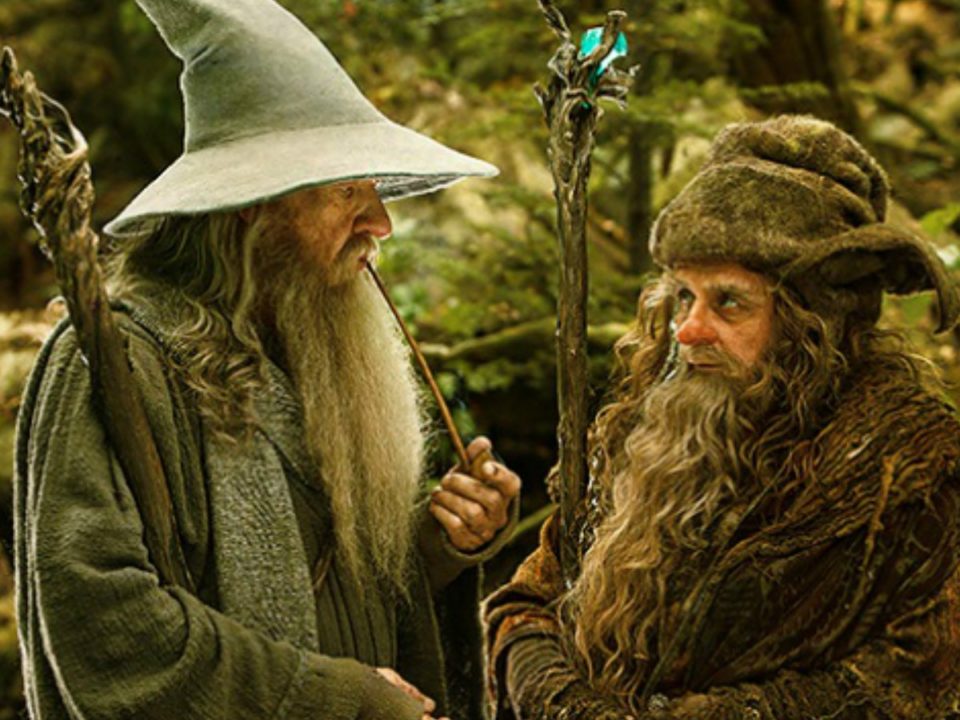 Even the most cursory of looks around my website will tell you that I'm a bit of a Tolkien fan. So obviously I should have no shortage of opinions on the recent Tolkien adaptations right? And yet, whenever I'm asked about The Lord of the Rings trilogy, I can usually only come up with a halfhearted "yeah, it's alright I guess."  To be fair, the Lord of the Rings movies were well-made, and had a lot of nice touches.  But they were also full of modern Hollywood excess: unnecessary fight scenes, elephant surfing elves, overly slapsticky humor, overly dramatic and hushed elvish language sections, and a general bloat that was not helped in any way by the extended editions.  Still, I suppose I can do better than "yeah, it was alright."  So, because a friend was nice enough to share one of her free tickets to a preview screening of The Hobbit with me (an event that may have been attended in costume), I figured I'd try to go into a bit more detail here today about Peter Jackson's newest movie.
To start, the book version of The Hobbit is not flawless.  I mean, don't get me wrong, it's awesome, but it has its issues.  It's quite episodic, each chapter can at times feel like its own individual story rather than part of a more coherent whole.  13 fucking Dwarves really is way too many to learn the personalities of each beyond "well, there are young ones, the leader and a fat one."  A lot of the time it doesn't even make much sense, with constant implausible coincidences (Thror wrote his map in a special ink that could only be viewed one night every couple hundred years?), Gandalf ex-machina interventions (no wonder Tolkien finally sent him off to Dol Guldur), and talking animals (not to mention coin purses). And, finally, it presents a  much less detailed world than you will find in The Lord of the Rings (not that this is necessarily a strike against it for a lot of people).
Of course, The Hobbit was not supposed to be the same kind of book as The Lord of the Rings.  It was written for a younger audience, and should be evaluated by different criteria.  The same was not necessarily true of the film version, which was not trying to be a stand-alone children's movie, but rather a prequel that attempted to maintain the same general tone as The Lord of the Rings films that came before it (albeit, without such a heavy emphasis on epic end of the world stuff).
Honestly, I'm fine with this approach for the movie. The Lord of the Rings, aside from the Tom Bombadil section, was a serious, serious book.  So, for the book versions, it could be quite jarring to read The Hobbit with all its asides about how the game of golf was invented when you really just wanted another journey to grim and overcast Middle Earth. Unfortunately, either out of a misplaced enthusiasm for the sacredness of the text, or, more likely, out of an attempt to appeal to the broadest possible market, the film version of The Hobbit tries to have it both ways.  It darkens up the story while at the same time leaving in all the silly stuff.  Yes, in case you were wondering, the Dwarves did indeed sing the "Crack the Glasses, Chip the Plates" song.
This is exactly the kind of thing I hate about every animated film I've ever seen, the steadfast insistence on shoehorning in an obvious joke at every opportunity.  Consider the scene in which the Dwarves have just somehow survived a suspension of disbelief destroying fall through hundreds of feet of goblin caverns.  One says "that could have been worse," only to have a giant fat goblin king land on top of them seconds later to which he says "you've GOT to be kidding me!"  Not only is that not even all that funny, but it made me think I was watching some Pixar movie rather than a tale of the perilous realms of Middle Earth (though, considering that the film is all but completely animated anyway, I suppose there isn't much difference).  Again, some of the jokes were funny, but the tonal shifts caused by stuff like Radagast taking cross-eyed bong rips really undermined the atmosphere of the film.
It wasn't just the jokes that made the movie seem cartoonish.  I complained about Super Legolas in The Lord of the Rings, and sadly, the cgi gone wild is no more believable in The Hobbit.  The previously mentioned escape from Goblin Caverns sequence was the primary offender here, where the action got so ridiculous that about 30 seconds into the sequence I was praying it would end just so I could quit rolling my eyes and return to being invested in the movie.  But that wasn't the only sequence, what about Radagast the Brown's cringe inducing rabbit sled?  As a child I've attempted to push a sled through "not enough snow" before, so to ask me to believe that a herd of rabbits of slightly unusual size could pull a sled through a fucking forest was utterly ludicrous.  And yet in the film, the sled zips back and forth like the animated bit of fiction that it is, for no other purpose than to give the viewer a new action scene.  Or the scene with the battling giants.  Sure, it was impressively mounted, only to be undone by deciding to put the Dwarves ON one of the giant's fucking legs for half the battle.  I've played Shadow of the Colossus, with nothing to hang on to, they would have been thrown to their deaths seconds after the giant started moving.  If I had to pick one thing that cools me on the Lord of the Rings films and The Hobbit, it is silliness such as this.
As for the changes from the text, I am actually trying to be mostly ok with them.  Adaptations are just that, and they should not slave to follow the books exactly as long as the spirit remains the same.  At least that is my official stance on adaptations. Unfortunately for my official stance on adaptations, The Lord of the Rings, with one of the most developed backstories in literary history, is a much different beast when it comes to deviations from Tolkien's detailed history of Middle Earth. Part of the fun is knowing that when Thorin says he wandered Middle Earth like Kane in Kung Fu, you can think to yourself "ah, yes, like when you lived in Dunland for a while before settling in the Ered Luin!"
In fact, I had written a whole bunch of stuff about how it irked me how they retconned the death of the orc Azog in The Battle of Azanulbizar, or how they changed they way in which Gandalf acquired Thror's map, or even some of the geographical inconsistencies, but I should save all that for the inevitable open letter from my alter ego Eugene Pendergrass. I realize that I am a bit more than a casual fictional historian, and, if I had to be honest, the changes they made in the movie version of The Hobbit mostly seemed designed to give more weight to the concluding Battle of Five Armies (which I imagine will be at least 2 hours of the final movie's 4 hour running time) while at the same time attempting to create a less episodic story.  Honestly, if anything, that probably could have changed even more things and it would have been an even stronger movie, much as it irks me to say so.
As for the extra scenes involving the upcoming attack on Dol Guldur (the inclusion of which was the justification for splitting the film into a ridiculous 3 movies), the opposite is true: the movie would have been much stronger without them.  Of course, with a total run time of around 9 hours, The Hobbit will be more of a TV series than a movie, and, when viewed that way, it works fine as one of the B plots I guess.  Still, Radagast and his dumb as shit rabbit sled really felt like a bad DVD extra rather than a valuable part of the movie.
A quick note on the 48 frames per second and 3D.  The 48fps was ok I guess, sure things looked a little fake, but this was an animated movie for the most part, so, whatever, it still looked better than Lord of the Rings due to technological advances.  In fact, some scenes looked so good (especially the cgi landscapes) that I would actually like to see this again in a non-3D format so I can actually appreciate them.  That's right, I haven't changed the opinion I've had since I first saw Avatar: 3D needs to die a quick, yet painful, death.  It was just as distracting and fake looking as it always is in The Hobbit, and, I don't know if this was due to the 3D or not, every camera pan was almost unwatchably blurry.
The Hobbit, despite my complaints, wasn't a bad film.  They did a decent job of telling a child's story in a Lord of the Rings style. Much of the CGI work was quite nice.  Freeman was great as Bilbo.  The "Must away ere break of day" song was actually really kind of awesome. Where it failed was in its tendency towards lowbrow slapstick, the utterly ridiculous suspension of disbelief shattering action sequences, and they addition of 20 too many superfluous scenes.
Yes, it was as bloated as a one-piece-of-pie-too-many thanksgiving stomach, but, with the end result due to have roughly the same running time as the first season of Game of Thrones (a bit of media I quite enjoyed) I can't really claim that, structurally, The Hobbit was any worse as an overall narrative.  Just enjoy it for what it is, an overlong, often stupid narrative with some enjoyable bits that is good for a watch or maybe even two.  Of course, that's coming from a guy whose idea of an ideal Middle Earth movie would be a couple of dudes in cloaks walking around a desolate landscape on a cloudy day for a couple hours talking about how that which once was is now gone while a black metal/Astor Piazzolla soundtrack plays in the background.  So what do I know?