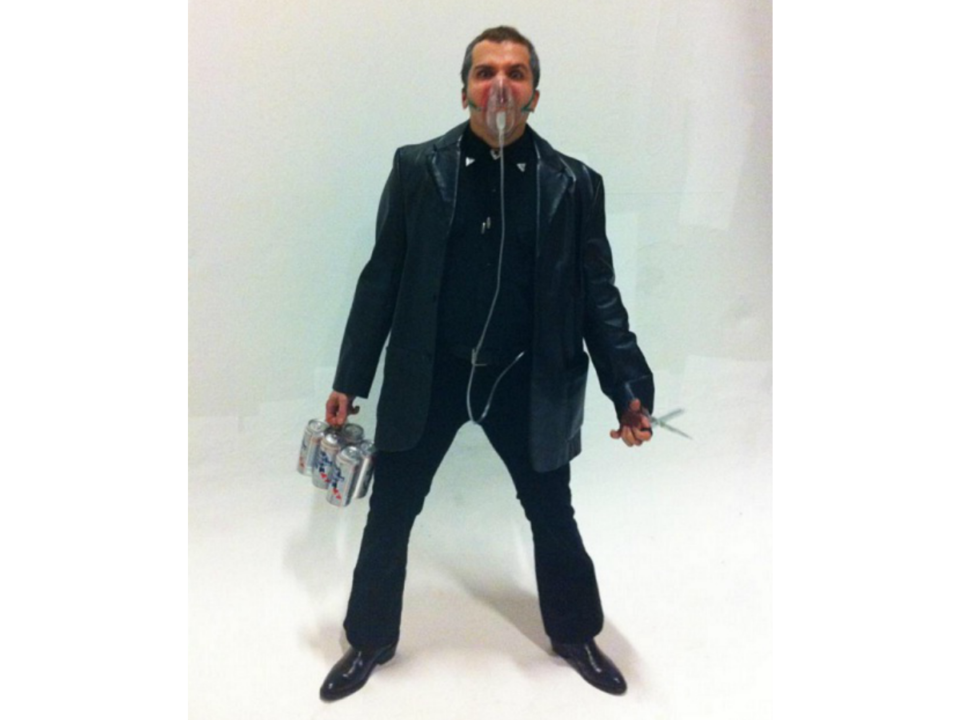 I've kind of started a tradition of dressing up as a movie character every year for Halloween, so, in the spirit of the season, I figured I'd go ahead and walk you through how to make my costume from last year, Frank Booth from Blue Velvet.  Just be warned, if anyone has seen the movie, they will refer to your costume as "a rapist" for the rest of the night.
Ok, to really make a decent Frank Booth costume, you will need the following key elements:
A black leather blazer
A grey and black striped (or just black) button up collared shirt with silver triangles on the collar
A black and silver bolo necklace
Black pants
Black cowboy boots
An oxygen mask
Grey hair dye
Accessories (PBR, scissors, lipstick, wedding ring)
You can cut some corners in a few areas, but those are the main elements of any good Frank Booth costume.  Let's start at the top of the list.
Frank Booth's Jacket
This is really one of the most important elements of your costume.  It is also probably the hardest/most expensive to find.  You see, Frank Booth is a classy man, and not just any leather jacket will do.  A "biker style" jacket is right out, as would be any leather jacket with a zipper of any kind.  You basically need a suit coat, only in black leather.  I was lucky enough to find a perfect one at a used clothing store.  Because it was originally from Banana Republic, I probably paid more than I should have for a one time costume, but it was too perfect to pass up.
Shirt
The shirt is just your standard dress shirt with a few alterations.  At first, I was looking all over for the black and grey striped shirt that I remembered him wearing:
But upon rewatching the movie, in Frank's first scene he is clearly wearing a simple all black shirt:
Black collared shirts are easy to find, so I wouldn't worry about just going with a black shirt.
The only addition (for both shirts) you will need to make is to add the metal triangles to the tips of the collars (the middle triangle is part of his bolo tie):
I just used aluminum foil carefully folded around the tips of the collar in the shape of a triangle and a stapler to hold it in place–it actually worked surprisingly well.
Necklace
This was also kind of hard to find, at least as long as you don't want to blow money on a bolo tie and collar tip set.  I was lucky enough to find some long metal beads for the ends, and then fashioned together a central triangle out of some old scrap metal, but I'd recommend making the necklace out of foil just like you did the collar tips.
Pants
Any black pants will do, though I did manage to find a 6 dollar pair of BLACK VELVET pants, which were, once again, far too tight.
Boots
Frank Booth wears cowboy boots, so if you want to be truly authentic, you'll need a pair for your costume.  Besides, who DOESN'T need a pair of casual black cowboy boots amirite?
Oxygen Mask
So, like I do every year, I waited until the last possible minute to put my costume together.  I figured I could just pick up an oxygen mask pretty much anywhere.  How wrong I was.  First of all, regular drug stores didn't have anything close to a Frank Booth style oxygen mask:
But there were a few medical supply stores in town and I figured I could easily pick one up there.  I figured wrong.  I happily brought the oxygen mask I was looking for up to the counter, and was met with a VERY disproving look when I told them I didn't have a prescription.  I didn't seem to help my case by telling them it was for a costume.
Thus, I was forced to buy THIS mask from amazon for like $1 + $10 rush shipping.
Hair Dye
I got THIS temporary spray in hair dye from a Halloween shop in town to spra the sides of my hair.  It was disappointingly light, but I kept spraying it on (while periodically pausing to wipe all the silver mist from the sides of my face) and go a decent Reed Richards look going on.
Accessories
These are the things that will push your costume to the next level.  First of all, a few Pabst BLUE RIBBON beers will really help sell the Frank Booth lifestyle.  Also, a pair of scissors would be nice (even a piece of blue velvet to creepily moan and chew on if you really want to push the envelope).  As you can see from the oxygen mask picture, Frank is apparently married, so a wedding band is required.  Keep some lipstick handy to smear all around (and if you drink enough it will be handy to do an impromptu Silence of the Lamb's "mangina" dance with which to amuse your fellow party-goers late in the evening).
Finally, I got one of those cans of compressed air to affix to my belt so I could reach back and slowly let some out to make the hissing nitrous sound that was in the background of all of Frank's nitrous scenes.  It actually worked really well.  Just, don't make the mistake I did.  Don't actually connect the oxygen mask tube to your can of compressed air.  That's called huffing and, as I found out, it tastes horrible.