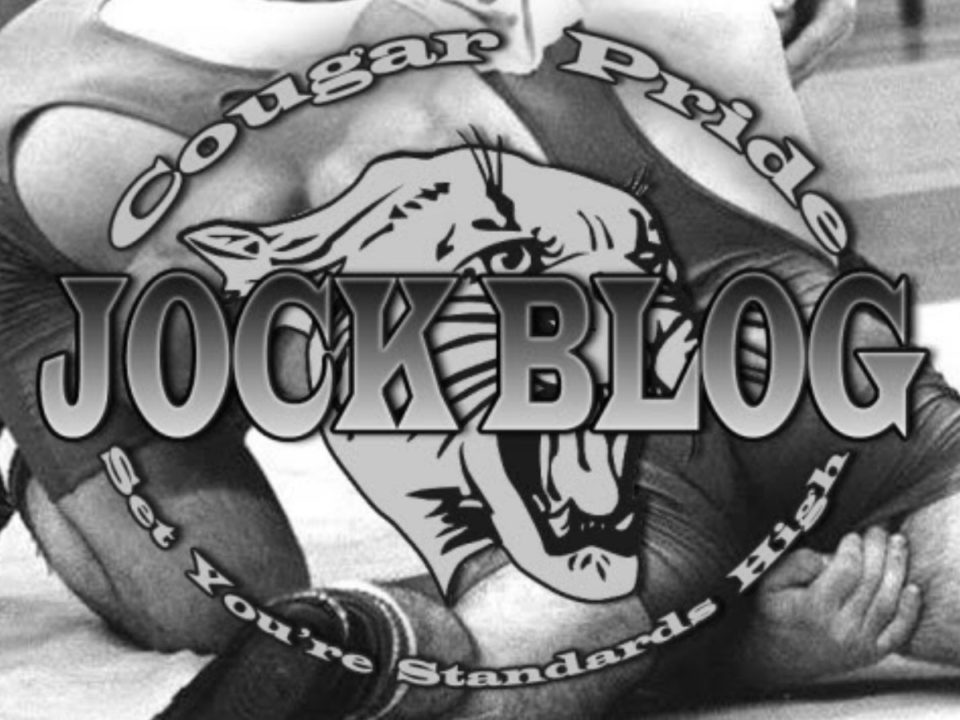 From the pages of Goth Blog comes the spinoff everyone has been clamoring for: JOCK Blog! That's right, you will now periodically be subjected to the wacky adventures of everyone's favorite jock older brother, Chet! But enough of my yappin, let's get on with the Jock Blog!
(Warning, this is not for the weak stomached. I have culled knowledge gained from years of close contact with jocks in their natural habitat into what is actually a mostly hyperbole free post based on actual events. So yeah, jocks are filthy filthy people. You have been warned.)
Monday, October 23rd
So I'm supposed to keep an online journal for my english class. I guess we just have to keep a record of stuff we do, and, at the end of the semester we just get a grade for having written anything. Mrs. O'Hare said that we wouldn't get graded bad on mispelled words, and stuff which is fine by me, and also that we could write about whatever we want. The whole thing seems a little gay, but it sounds easier than writing a paper or something.
So yeah I'm Chet, I'm a senior so that means, I'm pretty much top dog at my high school. I could pull a lot of wool on account of because I'm on the football team, and the wresteling team, but I've got a girlfreind Margo and she says I'm not alowed to. A lot of the guys make fun of me for not going after the gash anymore, but Margo says waiting makes it better in the long run, so maybe she knows what she's talking about. Plus Margo says we are in love, which she says is beter than easy stink or something.
I got a sister Chloe in the 5th grade, and a brother Christian (though he want's everyone to call him "Khaine") a grade below me. He's kind of a joke, I always get a lot of flak at school about him, cause he dresses like something that crawled out of Marylin Mansons buthole, but nobody can realy say much to me, cause I'll whip their ass. So anyways, my brothers kinda a homo, but hes still my brother, so I'll fuck anyone up that tries to say I'm a homo too.
Anyways, not a lot to report today. I guess we had kind of a mystery in 5th period International Relations class. Dane was telling us he nailed Judy in his car over lunch. None of us realy know if we should beleive him though because Dane always lies about that stuff (like the time he said he fingerbanged Mrs Grubenheimer in the teacher's lounge). Anyway, he was pretty insistint, so maybe.
Chris finally agreed to smell Danes fingers as proof, but said they just kind of smelled like balls, and Doritos. But, then Eddie said that when he fingered his second cousin at a family reunion picnic, his fingers kind of smelled like Doritos too. So finally I smelled Danes fingers also sos we could have a third opinion. They sure didn't smell normal, I'll say that for sure, so I figure maybe he at least gave her the ol two finger slot rumba.
I was just thinking, this journal thing ain't so bad, maybe writing isn't just for gays. I bet all this will be cool to print out, and read in like 20 years from now when me, and the guys are all hanging out at the Kwik Shop or something.
11:23 PM
Tuesday, October 24th
Today fucking sucked. It was the first day of wresteling practice and me and a few of the guys were all fucking around in the lockerroom. I was pissing into the locker vents down in the freshmen section, when Dane started talking about how he learned some new kind of exercise, called a "german situp" at the summer wresteling camp he went to.
Well my grandpa is always talking about how germans are all bad motherfuckers cause they invaded America, or something when he was a kid. I figure anyone who has the sac to invade America might know something about strength training, so I asked him how to do one.
Then Dane started in about how their super hard, and I probably couldn't even do one, and how even he could only do four! Well I knew if that cream pie eating motherfucker could do four, I could at least do five, so it was on like donkey kong.
So I get down to do a situp, and Billy and Jordan got a towel, and held it over my face from the sides, saying I was supposed to sit up, even with the towel holding me down. So I start straining as hard as I could, and suddenly Billy and Jordan pulled the towel off, and I slammed facefirst into Dane's hairy bare ass.
That fucker had bent over me with buttcheeks spread while the towel was over my face!!
Well needless to say, Dane was going to get the fronteer style ass whipping of his life until Benny came in and asked what was going on. So I was all "we're trying to do german situps…but their realy hard, you probably couldn't even do one."
I think you can guess what happened next:, it was awesome! We're totally going to get Eddie tomorrow!
8:13 PM
Wednesday, October 25th
Haha, today me and the guys got Eddie to do a german situp after shop class. I can't beleive he fell for it! Guess it wasn't that hard, we told him Benny did three last night, and everyone knows Eddie still don't like it that Benny stayed runningback, even after Eddie's 2 game suspension for his MIP charge was over. Those two are always swinging they're cocks, when their around eachother.
Sucked though, cause coach walked in the backroom while Jordan and Benny were holding the towel over Eddie's face, with my bare ass hanging over him…which also sucked, cause Eddie wasn't realy trying to situp yet when they yanked the towel away, so as german situps go, it coulda been better.
Course, on the other hand, when we got Benny last night that fucker practicully bruised my butthole with his big stupid face, so maybe it was for the best. Anyway, on account of because coach caught us, and on account of because he had already warned us about droping our pants in his class earlier in the semester, we all had to run laps before practice for "grabassing".
It was still funny (though when I write it out, the whole thing sounds a lot gayer than it actually was). You just woulda had to been there. Least coach made Eddie run laps too, for bein dumbass enough to fall for the german situp trick. Sometimes coach is kind of cool for a guy who is kind of a douche.
7:25 PM
Thursday, October 26th
Coach had a team meeting about the german situps today. I guess Eddie got Chris, who then got Todd Berkfeld over lunch, and then Todd told his mom, and she called the school. Not that I blame Todd for freakin out, Chris is the one always throwing dingleberries in the shower after all, but still, total pussy move telling you're mom.
Anyways, coach said we were all acting like a bunch of Kansas City faggots, and didn't want to hear no more mom's called, but that we should make sure Todd knew what a pussy move it was telling his mom in the first place, and that we should help him get the sand out of his vagina. Todd's on the basketball team, but hes only JV, so's we can at least redbelly him without anyone getting to pissed. Not that any of those basketball pussy's could mess with us anyways.
Anyways, practice kinda sucked after that, since coach was all mad. He made Chris be in the pit, and we all had to practice butt drags on him. Coach kept yelling "check the oil! Three nuckles deep!" Chris didn't have it too bad tho…everyone knows about his dingleberries, so no one was realy getting up in there.
I told my girlfreind Margo all about it later, and she basicaly said we sounded like a bunch of homos. I told her it was just wresteling, and moves like checking the oil had been around since anceint Greece (you can learn some cool stuff on the internet). And I think we can all agree, after seeing 300 and Sparticus that there's nothing gay about the greeks.
10:41 PM
Friday, October 27th
Holy shit, shit got crazy today! So I told you all how coach told us all not to do any more german situps? Well, we were in the locker room after school, and Mr. Robinson the gym teacher was desanitising the lockers in the freshmen section. I can't beleive it but someone said something about a german situp, and Mr. Robinson said "what's a german situp"? Now I know you can't just ignore something like that under normal situations, but hes a frickin teacher!
So what does Chris do?? That DUMBASS starts in "oh, their realy hard, you probably couldn't do one…" I can't beleive how stupid that guy is, I mean you have to have a death wish to try to german situp a teacher.
So anyway I helped hold the towel over Mr. Robinson's face with Benny, while Chris get's his ass out. Cept I guess Chris has been having trouble cutting weight, and took too much exlax over lunch, so when we pulled the towel away, and Mr. Robinson slammed into his ass, Chris just kind of accidentally sprayed dook everywhere.
Well when coach found out, he literally killed Chris. He would have kicked him off the team too, cept our only other light heavywait is a fat tub of shit that doesn't know a high crotch from a leg ride. Instead coach made the whole team do sprawls for like forty minutes on account of because Chris fucked up. We had to, like, spell out words for every sprawl like, "F-I-H-T-I-N-G C-O-U-G-A-R-S A-R-E N-O-T F-A-G-O-T-S", and stuff.
We would have only had to do 20 minutes of sprawls, but people kept not knowing how to spell the words, and then Eddie's dumb ass thought you spelled "winers" in "W-E A-R-E W-I-N-E-R-S" with an "h", and coach said that was the final straw, sos we all had to start over.
Anyway, the way word has been traveling about Mr. Robinson getting a single bareled shotgun blast of shitshot in the face, I don't think we'll be able to trick anyone into a german situp anytime soon. We may have to go back to cat braining people, but that one kind of got ruined when people started flicking you're nuts before you could pull em back in you're pants. One thing is for sure, that is that the salad days of german situps is over.
6:20 PM
That's it for now, but Jock Blog will be back in Jock Blog 2 – A Tale of Poo!