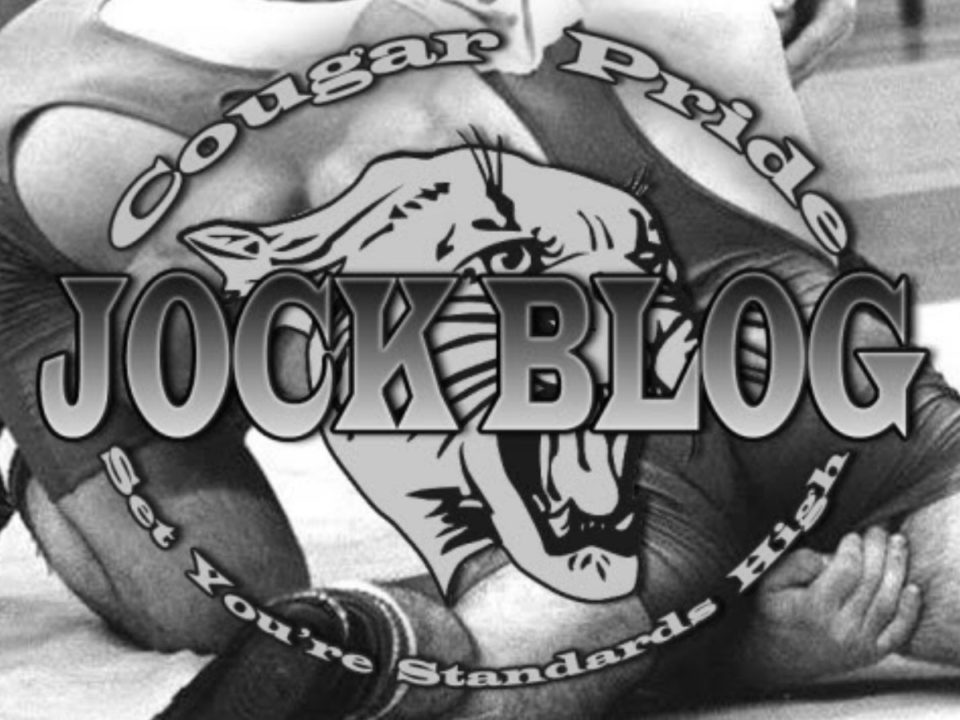 From the pages of Goth Blog, here is the fifth installment of everyone's favorite spinoff: Jock Blog 5 – The Testicular Dive! That's right, more wacky adventures from Khaine's jock older brother, Chet!
(Warning, this is not for the weak stomached. I have culled knowledge gained from years of close contact with jocks in their natural habitat into what is actually a mostly hyperbole free post based on actual events. So yeah, jocks are filthy filthy people. You have been warned.)
Previously in Jock Blog:
Jock Blog 1 – A rash of "German Situps" sweeps the wrestling team.  The fun is over when Chris is unable to control his ex-laxed bowels while tricking the assistant coach into doing one.
Jock Blog 2 – Eddie and Benny's feud over who was a better runningback comes to a head when Eddie frames a rival school in Shadyville for his trashing of Benny's sweet 1978 El Camino.  Sadly, the boys' plans for revenge against Shadyville end on a brown note.
Jock Blog 3 – The gang accidentally on purpose (but with the best intentions) destroys Center Valley High School's September 11th memorial tree.  The mysterious tree destroyers being labeled terrorists by the school,  Margo breaking up with Chet, the gymnasium mysteriously burning down and having a cat shit prank backfire in their faces just made a bad week worse.
Jock Blog 4 – Chet's fecal-centric friend Chris, much to everyone's delight, discovers a large supply of nutty bars and a way to spy on the girl's bathroom.  The fun is ended when Chet, after discovering that Margo is now dating Ethan, takes a header into an in-use toilet.
Monday, November 20
You know, getting shitblasted isn't as fun as it might sound.  I mean, sure, its balls ass hilarious, when it happens to someone else, but after getting a face full of shit the last 3 weeks in a row, I'm making a Thanksgiving resolution.  This week, if I DO end up getting shitblasted, I'm at least gonna make sure it's defenitely not gonna be my face.
I guess I got shit on my mind cause cause of today after practice Chris was telling us about how weird exiotic people from all over the world shit while we were showering after practice.  It didn't start out so informative though, it just started out gross at first.  The reason I say it started out gross was because the gross thing was that Chris dropped a brick in the shower like it was nothing.  Well, after that we was all calling Chris a fagbot for bricking in the shower and trying to towel snap the turd away from us but Chris was all telling us it was no big deal.
See, he said that we all piss in the shower.  And he is right, we have had some good piss fights in the shower even, but that's because it just goes down the drain.  Well Chris said his dad went on a business trip to China and that he told him that over there everyone shits in the shower too as well as pissing in it also.  That kind of got us to stop and think about that on account of because China beat us in the Vietnam war, those little slanty poontanged basterds might be on to something.
But there was still the problem of the drain.  Eddie made the point again that his point was that shiting wasn't like pissing because it didn't just go down the drain.  That's when Chris showed us why the Chinese was briliant, because his dad told him they just "heel it" down the drain.  And it's cool cause heels can't get germs or anything since your always walking on them instead of eating with them.
Well after that some of us was gonna try heeling our own shits too, but Chris must have been eating a lot of peenut butter that day cause the shit that Chris heeled kind of plugged up the drain and the shower room started to overflow with shit water before we could try heeling it.
But all you homos that do gay shit like read faggy journals online and are reading this now don't need to worry.  I got out with only a few shit splashes on my feet. One day down without getting shitblasted in the face, four to go!
5:27 PM
Tuesday, November 21
A lot of people dont understand why us guys always gotta be showing each other our junk.  It's not anything faggy like when girls have slumber partys and motorboat eachother, it's a lot more manely than that.
First of all, we don't show each other our twigs, just our berries.  See, everyone knows that you don't go around showing your dicks.  I mean, it's ok to take a quick glance in the bathroom or shower room just to compare dick sizes, but otherwise you are on the road to gay town.  But balls, balls are frickin hilarious on account of because they look like cat brains that had been soaked in a bathtub for a couple hours and then rolled around in a lint trap.  This is also the reason why we call showing our balls to eachother catbraining.
But most importantly when you trick the other guy into looking at you you are making the other guy into a homo cause you got him to look at  your junk, and if he is a homo than that makes you less of a homo. And if you are on the wresteling team and spend all day checking oil and taking names, anything that makes you less of a homo is a good thing.
Besides, like our coach is always saying when we're practicing butt drags and stuff in practice. "It's only gay if your balls touch.  Up till then it's just lockerroom horseplay."  I don't know where he got that from, probably one of those Greek philosophers like that Socrates guy from the Bill and Ted movie, but they was wise words and all us guys agreed they was definitely true.
Anyway, it had been a while since anyone had gotten a good catbraining, but today Dane photocopied his nuts in the staff lounge when all the teachers having a meeting in the auditorium, and it kind of turned into a full on catbrain explosion from there.  It's gotten to the point that all of us is walking around looking at the ceiling during passing periods cause you never know who has their balls out ready to make you into a homo for looking at them accidentally.  I just hope no one gets the idea to hide in the ceiling tiles and dangle some ceiling nuts down at us.  Cause I've seen enough nuts today to last me the rest of the week.
3:55 PM
Wednesday, November 22
Today a thing happened that all us guys agreed not to tell anyone about, but I figure faggy journals like this is as good as a place as any to talk about stuff like this.
It all started with catbraining, and it ended with catbraining, so I guess it was catbrains that then got us in the situation we is in right now.  See things had been staying prety hot and heavy with me, and Ethan on account of because I want to kick his ass still, but I figured just cause he's a girl stealing homo don't mean he can't play the catbrain game too.  So me and the guys worked out a plan where Chris was gonna catbrain him when they was in the shower after practice and when Ethan turned around on account of because he didn't want to see Chrises balls he would see me standing on a chair at the shower entrance with my balls out at eye level.  I bet you can't beleive that such a sweet plan could go wrong, but that is just what hapened when we did the plan.
At first it was working great.  See, getting catbrained in the shower is kind of like going to a youth alive meeting, and meeting some easy stink–it always happens, but you also always never see it coming.  So Chris held a shampoo bottle over his junk and was all "has you ever seen a shampoo bottle this dirty?", and when Ethan looked Chris pulled it away from his balls to reviel that there was, in fact, balls behind the shampoo bottle.
Well, while they was doing that I had pulled a chair over to the shower exit, and when Chris pulled the shampoo bottle away, I just barely had time to pull my balls out of my zipper.  This is where things started to go wrong fast.
See, Ethan turned around so fast he almost teabagged his nose.  And, well, he just kind of lost it, and pushed me out of the way, and my chair slipped out, and I hit the ground, and got the wind knocked out of me, or I would have kicked his ass naked, or not.  But, Ethan was still all seeing balls, and was so pissed off he was going too do the ultimate sign of disrespect to me.
No, not mixing piss and jizz in a cup, and throwing it on a door, he was gonna cocksmack me.
Well I was all trying to get my breath back, and I couldn't get my balls back in on account of because they had gotten stuck on my zipper.  And this is when the horrible thing happened.  Ethan slipped on some water as he was running over for the cocksmack and slid out of control and landed on top of me.
And, diary, I can barely even bring myself to say it, but our balls touched.
I can't say for sure cause I think I was in shock as soon as it happened, but a lot of the guys say they saw a spark from our nuts touching and the lights flickered.  We were all thinking the exact same thing, about coaches prophylactic words: "It's only gay if your balls touch.  Up till then it's just lockerroom horseplay."
I finally got to my feet and looked around the horified room until I met eyes with Ethan.  It was like looking into a big gay mirror. So I just slowly backed away from the guys and out of the lockeroom that was now full of a horible silence that no amount of hilarious nuts could ever fill.
7:50 PM
Thursday, November 23rd
So if I thought yesterday was bad, today I felt even worse.  I just couldn't believe something as awesome as catbraining and cock smacking had turned so gay so fast.  I wished I'd never heard my coaches philosophical law about touchin nuts.  I and Ethan couldn't even look at each other all day.
Just when I was at my lowest point, and I was not sure how I was getting out of this one, Dane told me he knew a way to get out of this one.  He said that we had to touch our dick heads together and that would cancel out the ball touches and that was the only way.
I know what your thinking, that sounds even gayer right?  Well I thought so to, but then Benny said that his brother had some porno called Maximum Preversian 11: Anal Gas, and that there was one chick in it that took three dicks in her ass all at once.  Well that started an argrument, cause Dane said that that was too many legs all around one ass to have that many guys butfuck someone at the same time.  But Benny said that one of the guys was a midget and another only had one leg anyway.  We was all arguing about it and Dane was drawing up some pictures when Benny said we were missing the point, and the point we was missing was that if that wasn't gay then maybe touching dickheads really was the way out of our problem.
I have to admit he had a point, there was nothing gay about that porno, and those guys dicks were most likely touching since regular sex is better without a condom, so triple anal must be better without one to.
Chris, who is usually only smart about shiting, turned out to be smart about dick head touching to cause he said that maybe it was so gay it actually wasn't gay but in fact not gay instead.  We all agreed that was probably true, besides, none of us had ever heard "It's not gay unless your dicks touch" afterall.
Anyway, this is the way that I agreed to mash dickheads together with Ethan tomorow after practice.
11:23 PM
Friday, November 24
I got shitblasted in the face today.
The thing that happened today that made me get shitblasted was that when you mix catbraining, dick head touching, and heeling it that's just the universes way of finding a way to shitblast you.
Well all the guys was pretty excited about us mashing our dickheads together after wresteling practice tonight.  Benny even bought one of those disposable cameras, and probably would have used it till I said I would touch my balls to anyone else's balls that tried to take a picture.  Well that stopped him right there.  I mean, I know I was only going to have the gay for a few more minutes any way, butt still no one wanted me to give it to them before I got rid of it .
We was gonna do it in the shower where it had first hapened, but Chris had just heeled about 4 plates of thanksgiving dinner down the shower drain and it still smelled pretty awful in there even though it didn't look like the drain was pluged up this time.
So we was gonna do it in the locker room.  I asked for a bit of privacy first to get my head in the game, which the guys understood.  But really I just wanted to chub it up a bit…I was pretty nervous and figured it probably looked like an empty tube of chapstick down there, and I didn't want Ethan thinking that he was armpit drillin my old lady any better than I used to.  Anyway, I was able to get it from like six oclock to seven fourty five or so, which I figured was as good as I was going to manage in the circumstances.  So I came out of the stall, pants around my ankles and ready to touch my cock to some other dude's cock in order to leave the gay mark I had on me behind for good.
Well, we both had our eyes shut so there were a few missed jabs before I felt the sickening squish of dickhead on mine.  At that same moment I heard all the other guys yell "FAGS!"  I opened my eyes to see that Eddie had a fire extinguisher, and was spraying us down right as Benny snapped a picture with that camera he bought.
That's when things went from horribly gay to worse.  See, I don't think Eddie realized how much was in the fire extinguisher, but it filled the whole lockerroom with a horrible sour cloud of white dust.  I couldn't breathe at all, and realized I only had two choices.  Either run, pants around my ankles, for the door, even though a pantsless Ethan stood somewhere in the cloud of smoke in front of me and I risked a second ball touch in one week, or stay where I was and suffocate.  As I tried to decide what to do, a third option reviled itself to my mind.  The shower drain was still there, and it was a pipe that was full of air that the fire extinguisher hadn't gotten to yet.  I could put my mouth right over it and breath through that until the fire extinguisher smoke settled.  But it was also full of Chrises thanksgiving shit.  Still, between gay, death or shit, I guess I'll pick shit every time.
So, as I lay there waiting for the fire extinguisher cloud to settle, wiping the flecks of corn shit and undigested walnuts off my cheek, and breathing the shit air from the drain, I had to admit, even though I technically ended up shit blasting myself in the face, it was at least good to not be a homo any more.
6:32 PM