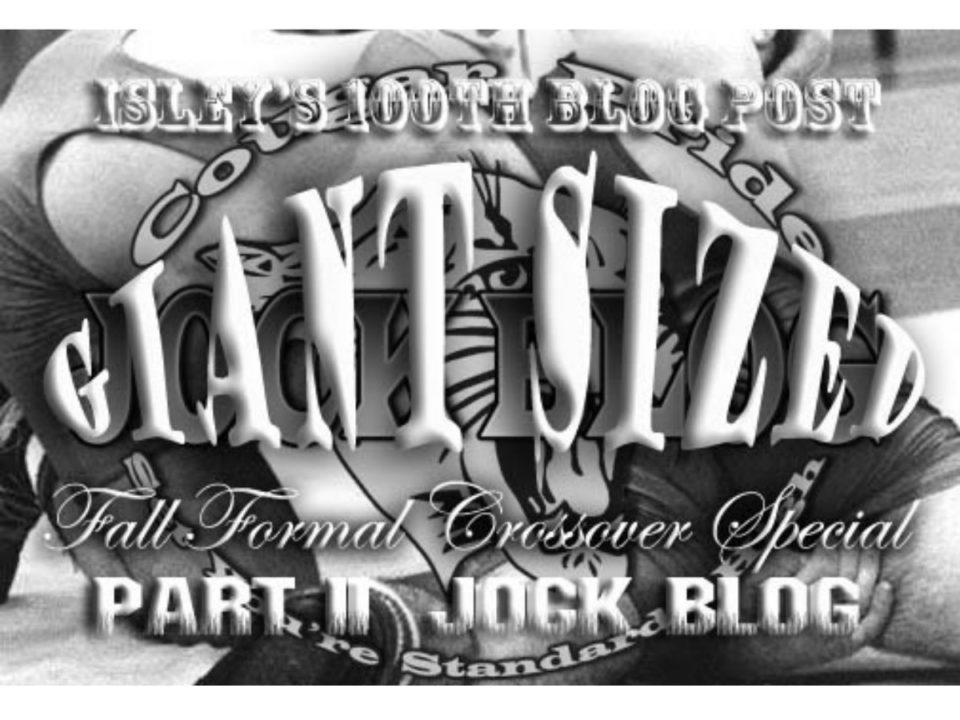 Exciting conclusion week continues with the second finale to the last three weeks worth of story lines!  This time around we see what Khaine's wacky older brother Chet has been up to.  When we last left him he was determined to destroy the formal with his friend Dane and the help of a bunch of buckets of catshit and rotten milk. 
Anyway, as usual, the weak stomached may want to read ahead with caution, because as always: Jocks are filthy filthy people.  But in the words of that dude on Star Trek, "Don't take my word for it…"
Sunday, November 12
So to start with, all I have to say, as an introduction, was that that was the best Fall Formal ever.  I mean, yeah, I didn't have no date, and yeah, Dane and I went to fuck it up instead of standing around like a couple of tools waiting for the Formal to be over so's our dates finally give it up (since getting dressed up makes chicks horny), but all things being what they is, it was the most fun we'd had since that shitfight in my moms car the other week!
Of course there is a serious not fun after effect to the fun and that is that jew terrorists also burnt down our gimnasium.  But to tell this story I have probably better start at the beginning of the start of things.
See me and Dane got to the school a little bit after 6:00 when most of the people had already got to the formal, and what we figured we was gonna do was, to dump all those buckets of catshit and rotten milk all around the doors to the dance, so that when everyone was ready to leave they'd have to walk though about the nastyest thing ever.  Sounds pretty sweet dont it?
But this is the part where things started to get fucked up and by fucked up I mean awesome.  Dane and I was getting ready to grab our buckets of catshit, when we heard someone coming.  So we hid behind the dumpster, in case it was a teacher or something but it turned out to be some dude carrying these two big coolers.
And, well, we got a black kid in our school, so I've seen plenty of black people before, and know what they look like, and this guy wasn't black, but he wasn't white either if you know what I'm saying.  All of a sudden a cop car pulls up and officer Engleberry and a few other local bacon eaters jump out and started waving they're guns and saying "put down the cooler you greek motherfucker!" and stuff.
And when they said that I KNEW he wasn't a white guy and asked Dane what a "greek" was.  Dane said it was some kind of Arab and that is when we both knew that strange things was a foot at the Fall Formal.  Anyways, officer Engleberry and his guys dragged the greek arab dude back to they're car and and took off.  Well we wasnt sure if they was coming back soon but Dane and I had a mission and we wasn't going to let some camel jock ruin our big plan.
So Dane and I grabbed two buckets each, and put on these sweet ninja masks that Dane got on ebay, and ran around to the front of the school.  Well I figured it would be totally nasty when we opened the buckets, but I didnt know it would be so nasty when we opened the buckets.  There was cat turds floating everywhere and the milk was all grey and clumpy and smelled worse than that time Chris ate all that brocolli, and eggs and then farted in that jar, and tricked me into smelling it.
It kind of made me realize why ninjas wear the masks we was wearing, since they probably use catshit poisin and stuff, and it don't smell as bad with something on your nose.   Well we had just filled the whole entryway to the gimnasium with that stuff and even with the mask I thought I was gonna puke when we hear sirens and saw about 50 Center Valley police force cop cars tearing into the school parking lot.  Well Officer Engleberry might let us off sometimes when he catches us drinking at the bridge, but the way they was yelling "freeze towelheads" we knew we better not freeze.
So we took off runnin back to the stage door and they was all yelling at us and I was just thinking that the reason this country is going to shit is that they is always getting the wrong terorists and that I was pissed that everyone always thought we was the terorists this whole week after we fucked up that tree on accident.
Well we got to the stage door ok, and went inside, and put the lock bar behind us, and figured we was ok so long as we could pretend we as at the dance the whole time.  But this is when I saw Margo…and she was with my douchebag asshole cream pie eating freind Ethan!!!
Dane knew from the look in my eyes that someone was gonna get fucked up so he followed me out onto the dance floor ready to throw down too.  I was pretty riled up, not just because my girl was hanging on my freinds arm but also because they was playing one of coaches Jock Rock cds and Taken Care of Busness was playing and that song always gets me hot.
So I goes right up to Ethan and grabbed him and was all "your with my girlfriend? How's my dick taste motherfucker!"  But then Ethan said it tasted like my ex girlfriends pussy and well, what kind of homo says something like that?  So I was gonna punch him but taken care of business had just ended and I knew that Final Countdown was starting next on the Jock Rock cd so I just yelled at Ethan while I waited for Final Countdown to fully pump me up.
This is when the stage curtains started to open, and even Coach Robinson who was running to pull us apart stoped to stare at the stage.  The wall was on fire in a big star, that come to find out (after talking to everyone after the dance) it was a jew star, which is how I now know the greek arabs were also fucking jews.  Well nobody knew what to say and then all of a sudden this flabby dude and some chick with little tits stood up in front of the flaming jew star completely naked except for having buckets on they're heads.
Before anyone knew what to do they jumped off the stage and ran through the crowd and out the doors!  Well streakers are pretty sweet, or at least they would have been but, after the dance we all realized that they had to have been the jews who made the burning jew star.
I didn't think jews would do something as awesome as streak, but Benny said that when jews are born they got skin all around the head of they're dicks and that is how you know they is a jew and that he saw that that dude's dick had skin all the way to the end of it just like that.  Well we all called Benny a fag for looking at some dudes dong but we all agreed that the streaker really did have a weird looking dick, so he must have been a jew.
At the time though we didn't have the time to figure all this out on account of because the fire was spreading into the gimnasium.  Everyone took off running, and this is when me, and Dane remembered all that catshit that everyone was running into.  It was pretty sweet for about 5 seconds, until me, and Dane realized we had to run through that nasty shit too.  I want to say it was worth it but I don't know if it was worth it, especially after I slipped and landed face first in that stuff and got a cat turd stuck in my nose.
Well the cops was all outside, and telling nobody to move, and that we was covered with a dirty bomb, and that we had to be deinfected or something, but everyone was too freaked out to stop and everyone just kept running all over the place all covered in catshit. Dane and I finally got out of there and those cops never even knew it was us that dumped all the catshit!
You can see what I was saying about it being the best formal ever…I mean there were fucking fires, police chases, I basically kicked Ethan's ass, streakers, and more catshit than I'd ever seen in my life!  I wish I could take credit for everything but a lot of it was those naked jew terorists, so yeah, I learned an important lesson tonight.  And that lesson is that even though jews is terrorists with wierd dicks that hate america, I gotta say they know how to have a wild time!
One more exciting conclusion to go!  Check back tomorrow at 2:00 where we will find out just exactly what everyone's favorite snob's version of the Fall Formal events is!