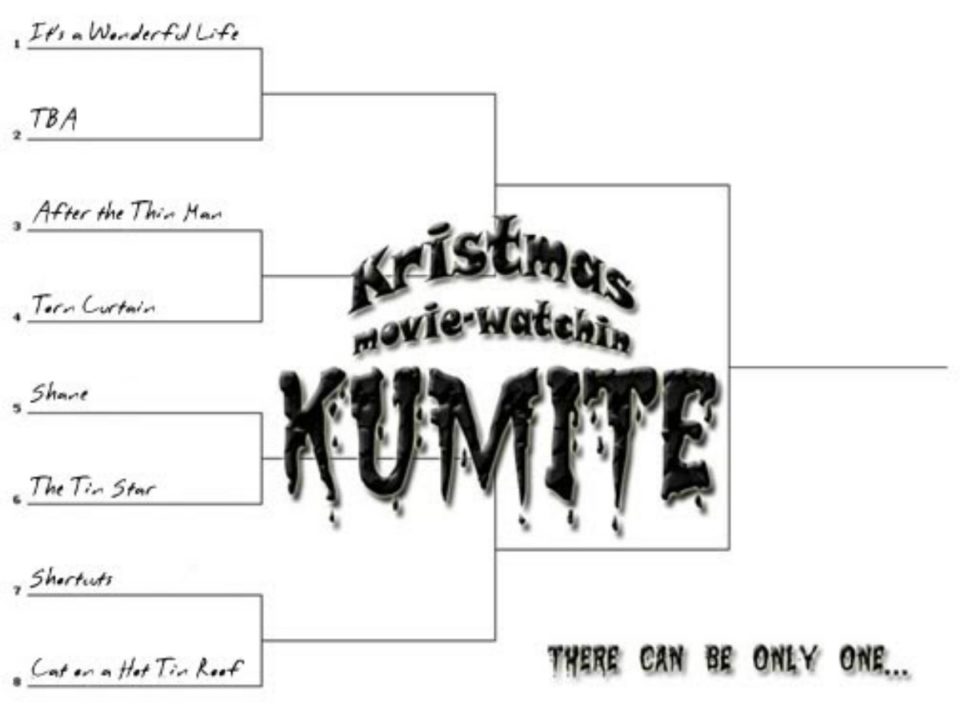 So, Christmas came and went and I saw my usual random assortment of films over the holiday break. Some of them were great, some not so much, but the chosen few (ie the ones I could think to put into logical pairs for the eight man bracket) have gathered here for the second annual "Kristmas movie-watchin' Kumite!
This year the Kumite started with a mini tournament of actual "Christmas Movies" (Holiday Inn, White Christmas, Elf & Christmas Vacation) to determine who would face last year's champion It's a Wonderful Life in first round.  Other first round matches were the entertainment vehicles After the Thin Man vs Torn Curtain, the westerns Shane vs The Tin Star, and finally the dysfunctional relationship dramas Cat on a Hot Tin Roof vs Shortcuts.
Will It's a Wonderful Life win by brutal soul reaping for a second year in a row? Can that scrappy new kid Shortcuts take it all the way? Will After the Thin Man manage to shake off the sequel curse and fight as well as its big brother The Thin Man? All these questions and more will be answered at the Kristmas Kumite!
Preliminary Rounds
The sold out Thunderdome Arena crowd was still trickling into the stadium as the Kristmas Kumite Christmas Movie qualifying tournament began. Wildcard slot remake Miracle on 34th Street caused some initial confusion for refusing to answer the bell for its first match after seeing the quality of its opponents. It was quite a shameful display of cowardice considering its first match was a bye.
Next up Holiday Inn took on its own remake White Christmas in a good back and forth match. Sadly, while Holiday Inn was getting the best of things (especially in the "dancing" and "blackface" departments) it was disqualified after it smashed its own remake over the head with a folding chair not realizing that the prelim tournament had special "Christmas rules" (stipulating that every film must promote the holiday spirit) in effect and thus handed its more likeable remake the win.
The modern comedic standards Christmas Vacation and Elf had agreed beforehand to decide their match with a "quote off". The audience, hungry for blood, voiced its disapproval, but both competitors had already agreed and the competition for title of "most quoteable" began. Elf held its own for a while but it quickly became apparent it was outmatched for this sort of thing when it had played its trump card "You sit on a throne of Lies" while Christmas Vacation hadn't even used "shitter's full" or "Why's the floor all wet Tod?" Elf left in defeat having proven that Christmas Vacation belongs in the big leagues for most quoteable along with Ghostbusters and The Big Lebowski.
The final preliminary match was between White Christmas and Christmas Vacation. Neither was very popular with the crowd after Christmas Vacation's unorthodox win and the favoritism shown towards White Christmas' more unscrupulous opponent Holiday Inn. Christmas Vacation came out swinging, accusing White Christmas of being "all sap" between brutal body shots. Finally White Christmas went down in a bloody heap while Christmas vacation proclaimed itself as (and I quote) "the hap, hap, happiest Christmas [movie] since Bing Crosby tap-danced with Danny fucking Kaye". Though many could detect a tremble of fear in its voice which one can only assume came from the realization that it had the unenviable position of facing It's a Wonderful Life in the first round.
Quarterfinals
Thunderdome Arena was filled to capacity by the time the quarterfinals began and the fans were calling for blood.  The "Christmas rules" tournament had left them unsatisfied and they were ready for the REAL kumite to begin.  The steel kumite fighting cage descended to a Morbid Angel cover of Queen's Highlander theme song as the audience popped like a million boners.  The Kumite had started.
Match 1 – It's a Wonderful Life vs. Christmas Vacation
Last year everyone saw first hand just how far It's a Wonderful Life was willing to go to win as it destroyed the competition with worked fights and brutal soul reapings.  Yet both fighters in this match were yearly favorites and their vastly different fighting styles ensured this would be an interesting match no matter what happened.  Still, nobody gave Christmas Vacation much of a chance as was evidenced by many of the first row spectators donning ponchos.
However, from the opening bell It's a Wonderful Life seemed like an entirely different fighter.  Last year's demonic butchery was replaced by a handshake at the opening bell, a lack of low blows and even words of encouragement for its opponent.  Christmas Vacation had obviously trained for a different opponent and was completely thrown off its game from the moment It's a Wonderful Life offered to help it up after landing a solid right.  Yet no matter the techniques used, it soon became clear that Christmas Vaction was outclassed as it was unable to answer the second round bell despite It's a Wonderful Life's continued words of encouragement.
It's a Wondeful Life wins again!  In the post fight interview It's a Wonderful Life said it felt like it needed to prove that while there was a darkness in its heart, it was effused with an ineffable lightness as well and that all men have good in their hearts as it meant to show in the rest of its matches.
Match 2 – After the Thin Man vs. Torn Curtain
Each of these fighters had something to prove living in the shadow of the older, supposedly better fighters The Thin Man and North by Northwest.  Still, grandmaster Hitchcock rarely produced a subpar fighter and betting slightly favored Torn Curtain as many feared After the Thin Man's fighting style would be eneffective anywhere other than in a tag team match with The Thin Man.
From the start, After the Thin Man wasted no time in proving its fighting prowess against Grandmaster Hitchcock's second stringer.  Torn Curtain gave some good shots and was close to lasting all three rounds until After the Thin Man unleashed its secret weapon Myrna Loy who backhanded Julie Andrews out of the cage saying "both our male leads are as charismatic as they come, but you'll never be as hot as me even if you did take your top off while fighting for that Edwards guy!"
After the Thin Man wins a decisive victory amid cheers and whistles from the audience.  Torn Curtain fought a good fight, but in the end everyone agreed it was no where near as good as North by Northwest while After the Thin Man proved itself the equal of The Thin Man.
Match 3 – Shane vs. The Tin Star
Master Steven's old Workhorse Shane was fighting to avenge its teammate Giant's first round loss last year.  And while master Mann's The Tin Star came from a strong team of capable fighters, Shane was the heavy favorite in a genre where its reputation towered over all others while Mann's fighters focused far too much on the psychological aspects of their training over good old fashioned frontier-style ass whippin' that the Western fighting style demanded.
However, as soon as the opening bell sounded it became apparent that The Tin Star was lean, confident and hungry for victory while Shane looked to be a bit past its prime and a little out of shape to boot.  The crowd fell into stunned silence as they realized that a fighter from a school that emphasizes moral confliction over the typical "bad guys wear black" western fighting style was beating Shane at its own game.  The referree finally stepped in and stopped things in the third round when Shane took too many unanswered shots to the head.
The Tin Star wins a spectacular upset victory!  Master Mann's fighter proved that maybe his school can make a good Western fighter in addition to making a good fighter.  Shane got some good shots in there, but in the end it was just one of those legends that didn't quite live up to the hype.
Match 4 – Shortcuts vs. Cat on a Hot Tin Roof
Ninth dan Grandmaster Altman's fighter Shortcuts was much younger than Cat on a Hot Tin Roof but the buzz in the underground fighting circles was that Cat on a Hot Tin Roof had its work cut out for it as few fighters had mastered the martial arts better than Shortcuts.
The rumors appeared to be true as Shortcuts put on a dazzling display of spinning back hands, axe kicks, eagle talon chi strikes and finally finished things with a flawless "Monkey Steals the Peach" strike.
Shortcuts wins a decisive victory.  While Cat on a Hot Tin Roof was a strong competitor, its stage training left it unable to deal with Shortcuts' technical brilliance.
Semifinals
Fan response was mixed after the quarterfinals lack of real bloodshed and It's a Wonderful Life's change of fighting style.  Last years' brutality seemed like it would not return as this was proving to be a kinder, gentler Kumite.  Still, many still held out hope for real bloodshed as the tournament heated up.
Match 1 – It's a Wonderful Life vs. After the Thin Man
After the Thin Man had garnered a lot of audience support after its first round win, and with It's a Wonderful Life showing its softer side this year, pre-fight wagering had the odds dead even.
At first the two fighters appeared evenly matched as they put on a clinic of good old fashioned boxing.  Suddenly the lights went out, a gunshot sounded and a woman screamed.  Complete pandemonium ensued until just as quickly the lights came back on to reveal After the Thin Man holding a smoking gun while It's a Wonderful Life appeared to have caught the bullet in its teeth.  Scornfully spitting the bullet aside, It's a Wonderful Life proclaimed, "We've all seen that trick before, but when have you seen a movie about doing good with your life that didn't make you want to retch?"  After the Thin Man was unable to answer and It's a Wonderful Life landed a perfect uppercut ending the fight with a knockout!
Suprisingly, It's a Wonderful Life wins another clean victory and advances to the final round!  It didn't have time for a post fight interview as it was too busy unsuccessfully trying to convince the medical team to let it administer mouth to mouth resuscitation to the comatose After the Thin Man (mostly just Myrna Loy).
Match 2 – The Tin Star vs. Shortcuts
In pre fight interviews The Tin Star seemed quite confident proclaiming Shortcuts to just be a "downer".  Shortcuts could not be reached for comment due to its pre fight "total consciousness achieving" ritual.
The Tin Star, apparently looking to conserve its strength for the final match immediately challenged Shortcuts to a gun duel at the first round bell.  Astonishingly Shortcuts ignored the age old Kumite wisdom of "never bring kung fu to a gun fight" and accepted.  But, while The Tin Star took its time and fired to hit, Shortcuts beat it to the draw and summoned all of its inner chi into a devastating dragonball that ended the fight at 11 seconds in the first round.
Shortcuts wins by chi strike.  In its post fight interview Shortcuts admitted the worth of The Tin Star, but said at the end of the day its fighting style was too by the numbers to stand up to Shortcuts superior kung fu artistry.
Finals
The crowd was dangerously restless as the finals prepared to begin.  There still had been no fatalities and the abrupt about face in It's a Wonderful Life's fighting style had upset more fans than it had pleased.
Championship Match – It's a Wonderful Life vs. Shortcuts
Shortcuts was the clear favorite coming into this match, not only for its martial arts wizardry, but also because of It's a Wonderful Life's sudden unpopularity.  Yet if It's a Wonderful Life was worried it wasn't showing it.
Both fighters began the match warily circling each other.  A cat and mouse game of feeling each other out began as the crowd screamed its disproval. Finally Shortcuts overcame its fear of soul reaping and launched a flying bicycle kick at It's a Wonderful Life.  But at the last second, It's a Wonderful Life deftly stepped aside with its arm out clothes-lining the ususpecting Shortcuts.  Bending over its choking opponent It's a Wonderful Life whispered, "both our hearts may be dark, but you are far too relentlessly bleak to lose to the likes of me.  I offer true hope while you only offer half-hope and suffering."
Rearing back to deliver the final blow suddenly a massive earthquake shook Thunderdome stadium knocking It's a Wonderful Life off its feet and casting the entire stadium into a chaos of screams and darkness.  Suddenly an eerie silence fell over the crowd as a cold wind blew into the stadium carrying the words:
"A man is given but one right at birth: to choose his own death.  But if he chooses because he's weary of his own life, then his entire existence has been without meaning"
Championship Match II – It's a Wonderful Life vs. Le Deuxième Souffle
A burst of Hellfire exploded from the cage revealing Grandmaster Melville's dark disciple Le Deuxième Souffle as the source of the ominous words.  Shortcuts was cowering in a corner weeping while It's a Wonderful Life bravely regained its feet.  Le Deuxième Souffle shot out a lightning fast taloned hand at It's a Wonderful Life's neck, lifting the helpless fighter off of its feet.  "Do you think to win with hope and goodness of heart?  All men are doomed and you most of all, prepare to join me in eternal darkness!"  The Big Lebowski was heard screaming from the audience "Le Deuxième Souffle is a nihilist, there's nothing to be afraid of!!!" but the rest of the audience was not so sure.  It's a Wonderful Life, abandoning its change of fighting style, attempted to draw upon the dark powers that had served it so well last year but Le Deuxième Souffle was unaffected by the darkness issuing from It's a Wonderful Life as it ripped the still beating heart from the helpless fighter's chest.
The crowd sat in fearful silence as Le Deuxième Souffle cast the corpse of It's a Wonderful Life aside and bent over Shortcuts.  Shortcuts sobbed "but I show the bleakness of our world too!"  Le Deuxième Souffle shook its head and said, "your suffering is born of caring while mine is born of existential despair.  What matters a dying child in a world without meaning?  In the end your supposed bleak outlook merely tugs at the strings of hearts that have no place in this meaningless world."  With that Le Deuxième Souffle ripped the heart from Shortcuts chest as well before turning upon the audience and swallowing up the entire stadium in a void of nothingness.
Le Deuxième Souffle wins the Kumite in an all consuming cloud of existential despair!  Is this the last we'll see of the Kristmas Kumite and Thunderdome arena or will The Big Lebowski find some way to rescue everyone from Le Deuxième Souffle's despairing grasp?  I can't say what will happen, but for now we have a new champion of the Kristmas Movie-Watchin' Kumite in Le Deuxième Souffle!