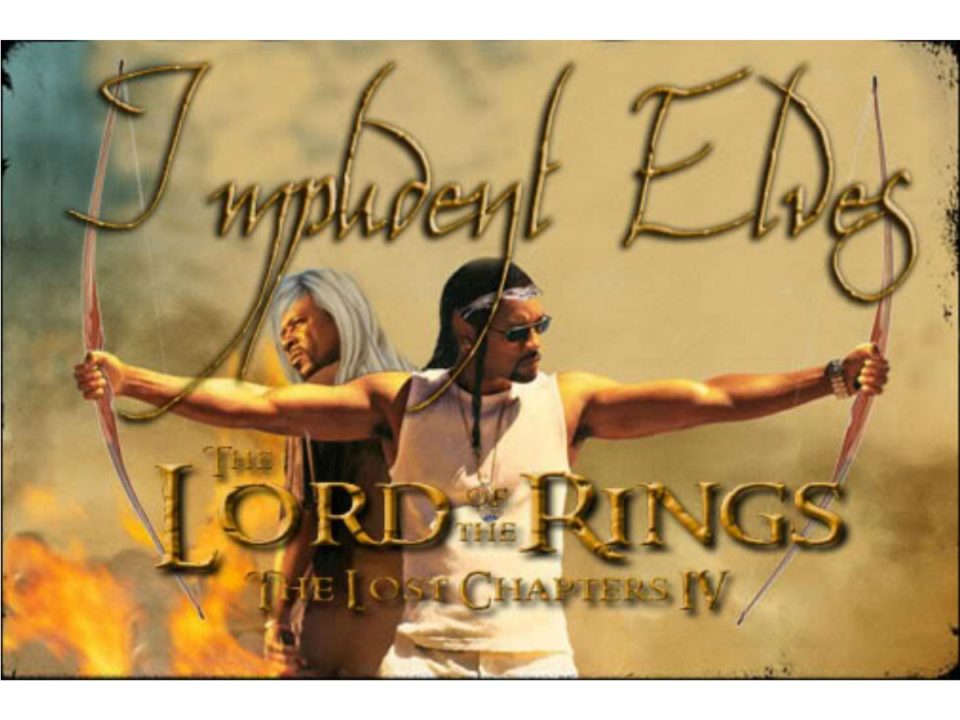 The fantasy fiction community was once again rocked when more previously unreleased sections of The Lord of the Rings were discovered this weekend. This "grail" of a literary find amounted to a new lost segment cut out of the original manuscript by an overzealous editor. Years of suppression by the Tolkien estate followed, but the wait for this new lost section is finally over!  For those of you that want to print this out and staple it into your copies of the book, this new section takes place towards the beginning of the Chapter "The Ring Goes South" where the final roster for the nine members of the Fellowship is still being determined after Frodo's narrow escape from Nazgul at the fords of Bruinen. I have started this monumental find with a section from the book as published (in bold) for context. Enjoy!
'There remain two more to be found,' said Elrond.  'These I will consider.  Of my household I may find some that it seems good to send.'
'But that will leave no place for us!' cried Pippin in dismay.  'We don't want to be left behind.  We want to go with Frodo.'
'That is because you do not understand and can not imagine what lies ahead,' said Elrond.
'Neither does Frodo,' said Gandalf, unexpectedly supporting Pipin.  'Nor do any of us see clearly.  It is true that if these hobbits understood the danger, they would not dare to go.  But they would still wish to go, or wish that they dared, and be shamed and unhappy.  I think, Elrond, that in this matter it would be well to trust rather to their friendship than to great wisdom.  Even if you chose for us an elf-lord, such as Glorfindel, he could not storm the Dark Tower, nor open the road to the Fire by the power that is in him.'
'You speak gravely,' said Elrond, 'but I am in doubt.  The Shire, I forebode, is not free now from peril; and these two I had thought to send back there as messengers, to do what they could, according to the fashion of their country, to warn the people of their danger.  In any case, I judge that the younger of these two, Peregrin Took, should remain.  My heart is against his going.'
'Then Master Elrond, you will have to lock me in prison, or send me home tied in a sack,' said Pippin.  'For otherwise I shall follow the Company.'
'Let it be so then.  You shall go,' said Elrond, and he sighed.  'Now the tale of nine is filled.  In seven days the Company must depart.'
The hobbits departed the council chambers of Elrond with light hearts despite the unknown dangers that surely lay upon the road before them.  Gandalf however tarried a while, and while his countenance was stern, the eyes of Elrond Halfelven, Lord of Rivendell seemed to burn with an even greater fiery rage.
'Explain this folly, Gandalf!' said Elrond, with uncharacteristic anger upon his voice.
'Yes Stormcrow, I too would have answers,' said Glorfindel, appearing suddenly from a hidden alcove in the back of the council chambers.  'I thought we had agreed prior to this formality of a meeting that I would accompany the fellowship, and that my steadfast partner master Elrond himself would accompany me when we had impressed upon the others that more suitable replacement were not to be found.  But to send two Hobbits, not long in their years, poor in stature and without a dwarf's might in our place, I too must demand an explanation!'
Gandalf slammed his staff down with a violence that quieted the two elves before him.  'Do you really not know why I have spoken against your inclusion in the fellowship?  My reasons are many and varied, but if you insist that I share them then I shall, though unseemly they may fall upon your ears.'  Turning to Elrond, Gandalf said, 'Your escapade with the River Loudwater was the straw that broke the Mûmakil's back.  Do you have any idea what manner of destruction you have wrought with that ill-advised incantation?  Thousands of silver pennies in flood damage to the homesteads bordering the river to the south, not to mention the loss of winter crops that lay too close to its banks.  I was barely able to corral the flood myself by transforming the waters into the shape of a herd of horses!'
'Would you have rather had the nine upon our doorstep, or even worse, in possession of the One Ring?' cried Elrond.
Glorfindel, quiet during the Wizard's tirade merely said "I have lived too many years upon the soil of Arda for this type of thing.  Though the flood was not of my making, my companion Elrond speaks the truth, what else was he to have done?"
Turning to Glorfindel, Gandalf said 'Though your age may be as great as your origins are uncertain, you are not blameless in this Glorfindel.  Do you think I have forgotten it was your folly to speak the prophecy regarding the Lord of the Nazgul?  "Not by the hand of man shall he fall," indeed!  Are we to thank you for granting the Witch-King such an invulnerability?'
Glorfindel merely muttered again about his advanced years as Elrond roiled silently in anger.
'The two of you are like a trebuchet, loose from its moorings and incautious as to where it will deposit its deadly payload,' continued Gandalf, 'and I will not have such willfulness as part of the Fellowship!'
'You can not deny that my methods bring results!' cried Elrond in indignation.
'Yes, you bring results, too many for my liking,' said Gandalf.  'But I have other reasons.  You have become too close to this Elrond, and you too Glorfindel.  I know of your secret anger at what you feel is a job half done after the Last Alliance of Elves and Men.  But now you have made it a personal thing, and I fear your judgement is clouded.  From this moment on you are to remain in Rivendell, this matter is no longer your affair.'
'Surely you jest!' cried Glorfindel.  'After my thousands of years of service, you would tuck me away at a desk like Frodo's senile uncle?'
'You made your decision when you aligned yourself with Elrond and his hasty methods,' said Gandalf.
'My methods may be hasty, but, I say they are better that than the doddering rantings of the old woman in need of eyebrow grooming that I see before me,' said Elrond, to which Glorfindel could barely contain his mirth.
'Impudent Elves!' cried Gandalf, 'you'll rue such words should you not soon remember your manners!'
Looking at Glorfindel and then back to Gandalf, Elrond cleared his throat.  'We ride together,' said Elrond.
'We depart for the undying lands together,' said Glorfindel.
'Impudent elves for life!' spoke both in unison.
In the face of such effrontery Gandalf left the council chambers with one last admonition.  'See that you two heed my warning and stay out of these matters from here on!  If not I shall be forced to ask that you turn in the elven ring Vilya and your longbows.'
Thus the day was ended with dark moods that were not lightened by the onset of the frigid winter winds.