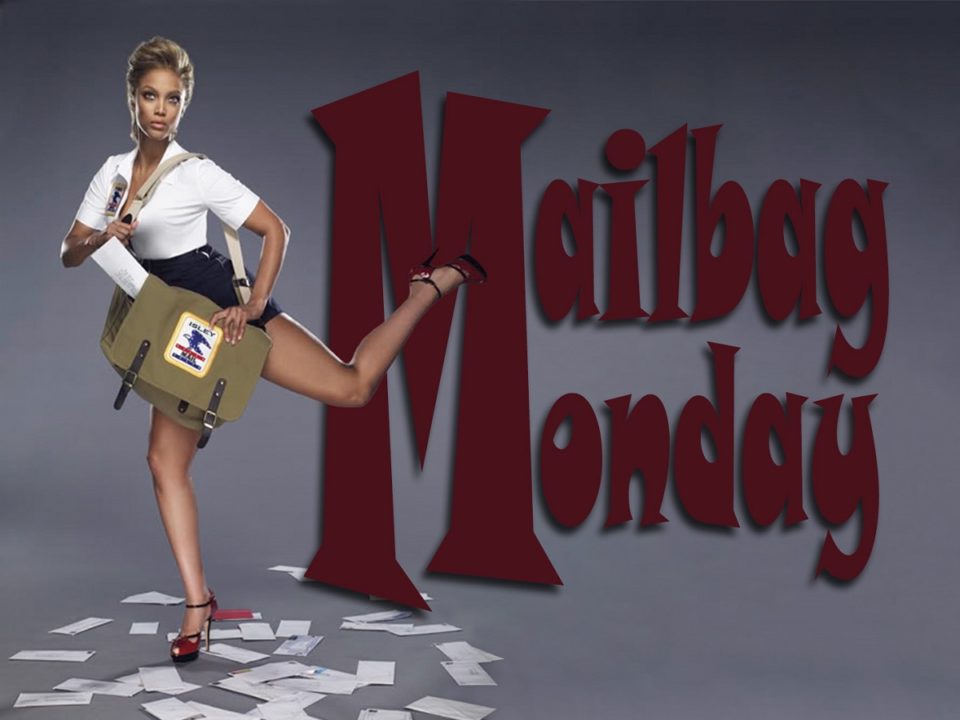 Hello dear readers, it's MAILBAG MONDAY again!  On this special day I will search through my mountain of reader mail and answer the five most pressing questions!
What's that you say?  Do I really get that much mail?  Well, I'll admit…the contact section of this website doesn't get used that often, but, one of the perks of wordpress stats is that I can see the google search terms that people use to find my site.  And I'm going to go ahead and pretend that these search terms will count as reader mail, since they are often entered in the form of a question.  So as you read these, remember that each "question" was something that someone actually typed into google that brought up my site as a hit which they then clicked on thus letting wordpress stats report to me the search they used to find my site.  I could make up the questions myself, but it turns out the actual google searches are far better than anything I could come up with!
This time I answer the questions:
Major explosion?
[a bunch of gross searches]
Gehenna d&d?
Rapid rise yeast in pancake mix joke?
Advice for first date nerds?
So, without further ado, it is time to dig into the old Mailbag to see what kind of things have been on my reader's minds in the last month!
Major explosion?
First I just want to say how honored I am that my site actually comes up when you enter this google search.  That said, I don't really have the time (or poor decision making skills) anymore to video myself "blowing some shit up", so I guess I'll just leave you with this picture:
That's me (trying out a flame retardant jumpsuit) with my Pinata of Doom from a lake trip a while back.  It is also one of a couple reasons I shouldn't be allowed near fireworks.
"jerk-off contest"/showering jock blog/a boy fuck a minor key/what is best in me/huge jock cock/boys bent over whipped/jock in jock action/chelsea rae armpit/used jock/woman in mailbag/jock jizz blog/guy and girl sex/hot jock locker room/"anime"+"third breast"/hot dwarf girls/jocks in jocks
There are times I feel like I should reevaluate some of my life decisions based on the search terms that Jock Blog seems to consistently turn up.  Also, Chelsea, sorry to include you and your armpit in that mess.
Gehenna d&d?
You are either asking about the neutral/lawful-evil Dungeons & Dragons outer plane named for the prototypical Jewish Hell, or you are asking what a D&D game would be like if you played as the members of the somewhat obscure Goth influenced black metal band Gehenna.  I went ahead and assumed the latter and took the liberty of transcribing an exchange that took place during a "Gehenna" campaign that I DMed last summer…enjoy:
DM – You enter the Helvette record store's door to the North.  The cold stench of mildew emanates from the wet concrete walls.
Sanrabb – Iiiaaaiiaiiiickhaacssstttaayeespeaaeill
Dolgar – I can't understand him, what did he say?
DM – Dolgar, I know you don't speak "language – Black Metal vocalist", but you guys both have "language – Black Metal guitar" I'd say you can translate with a DC 25 Tremelo Picking check.
[Dolgar rolls a natural 20 and confers with Sanrabb]
Dolgar – He says he wants to cast a spell.
DM – What spell?  All he has is a light spell and everyone knows the Helvette record shop is already lit by torchlight.
[Dolgar confers with Sanrabb]
Dolgar – He still wants to cast his spell.  He's afraid someone else will cast a spell before him and he wants to cast the First Spell™
DM – Fine, Sanrabb, you light the semi-darkness.  There is a Black Metal Bass Player in front of you.  Svartalv, that's you.  You guys can talk now.
Sanrab – hhchceeaaalllaawwoooo.
[Svartalv appears to be shouting a return greeting at the top of his lungs, but no sound comes out]
Dolgar – Why can't we hear him?
Sarcana – I CAN NEVER HEAR ANYTHING SVARTALV SAYS.
DM – Sarcana, everyone already has "Language – Black Metal Keyboards", you don't have to shout.
Dirge Rep – Sarcana always shouts, he has to be the loudest guy in the band…if anyone, I should be the loudest guy in the band!
Sarcana – OH QUIT WHINING, I ALWAYS SAID WE'D BE BETTER OFF REPLACING YOU WITH A DRUM GOLEM LIKE MYSTICUM HAS ANYWAY…I'D LIKE TO SEE YOU PLAY A HIGH HAT THAT FAST…
[At this point the session quickly degenerated into a "who is more evil" argument until I managed to distract the PCs with Monty Python quotes.]
Rapid rise yeast in pancake mix joke?
I tried to come up with something awesome here, but unfortunately all my attempts with variations of "is that rapid rise yeast in your "pancake mix" or are you just happy to see me?" seemed to fall as flat as yeast in cold water.  So I guess I'll just go with my old standby:
"Leavener? Barely knew 'er!"
Advice for first date nerds?
I think I covered most of the basics with the ten tips in my Nerd Dating post a while back, but I have managed to come up with five more "first date" tips for nerds right here:
She might find it endearing if you open her car door for her when you pick her up.  She will find it less endearing if you do your "speak friend and enter" Lord of the Rings routine before you open it.
Just leave the music off during the car ride to dinner.  Even if she says she is curious what this Black Metal stuff you keep talking about sounds like, she's either a.) just being nice, or b.) actually curious and about to have her opinion of you massively lowered.
Don't try to impress her by ordering your food "Thai Hot".  You are a nerd and have the constitution of a Kobald Wizard…such spicy things are not for you.  Just order the extra mild and a glass of milk and you should be able to avoid becoming a red faced, runny nosed, crying mess for your date.  At least until your first sexual encounter.
Though a risky move, suggesting going to a Vin Diesel movie is not the worst idea in the world.  Telling your date how deeply your feelings for Vin Diesel run, that is the worst idea in the world.
If she has to tell you to grow a pair and kiss her at the end of the night, it's too late to actually grow a pair and kiss her.  Just go home and lament the fact that girls never like "nice guys".