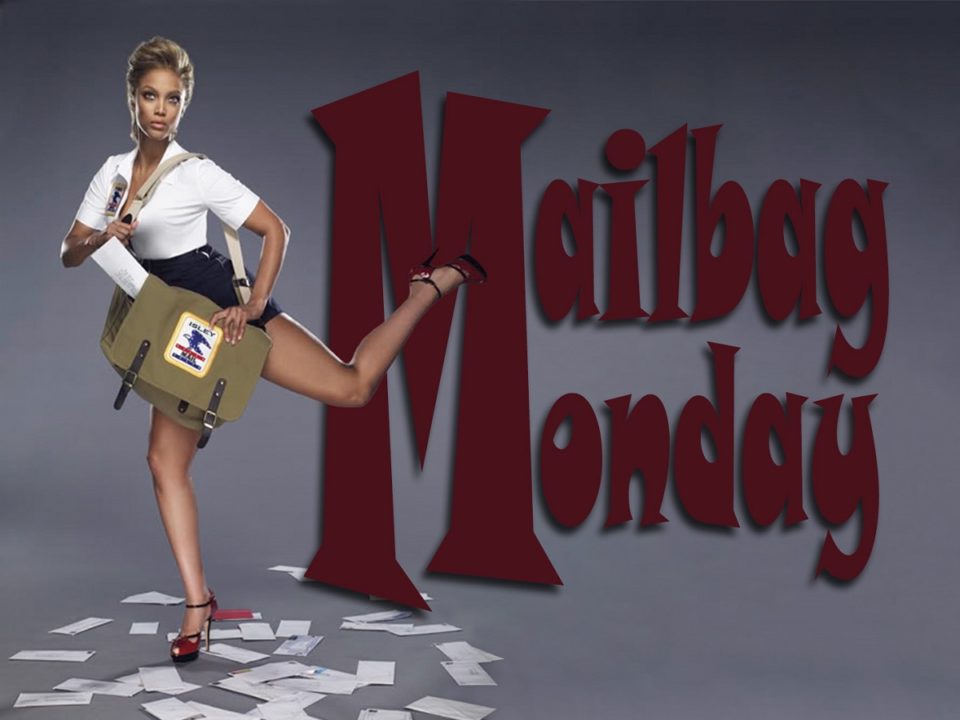 Hello dear readers, it's MAILBAG MONDAY again!  On this special day I will search through my mountain of reader mail and answer the five most pressing questions!
What's that you say?  Do I really get that much mail?  Well, I'll admit…the contact section of this website doesn't get used that often, but, one of the perks of wordpress stats is that I can see the google search terms that people use to find my site.  And I'm going to go ahead and pretend that these search terms will count as reader mail, since they are often entered in the form of a question.  So as you read these, remember that each "question" was something that someone actually typed into google that brought up my site as a hit which they then clicked on thus letting wordpress stats report to me the search they used to find my site.  I could make up the questions myself, but it turns out the actual google searches are far better than anything I could come up with!
This time I answer the questions:
"Common western themes"?
What's a good romantic comedy with a good looking boy?
"Minor Key" haunting soul?
How many calories in plain unfilled burritos?
Does Gimli fart in the movie lotr?
So, without further ado, it is time to dig into the old Mailbag to see what kind of things have been on my reader's minds in the last month!
"Common western themes"?
There are all kinds of common western themes out there, so to provide a bit of focus to my answer I figured I'd focus on the theme of "guns=dongs".  No, I'm not joking, the western hero's handgun was both a death dealing weapon and a big ol' penis substitute at the same time.  Don't believe me?  Just check out this clip from Sam Fuller's brilliant 1957 western Forty Guns:
Of course, a closely related theme to "guns=dongs" is "westerns=gay".  I'm not talking fairies and rainbows gay, just, you know, a manly ass slapping kind of gay.  Take a look at this scene from Howard Hawk's superlative 1948 western Red River to see what I'm talking about:
Or maybe I'm misreading that scene and they just wanted to try out each other's guns.
Whats a good romantic comedy movie with a good looking boy?
Wow, that is a hard one.  My first instinct was to say Leap Year.  I mean, that Mathew Goode dude was way hotter than he was in Watchmen–growing a scruffy beard really helped butch him up.  But you said a "good" romantic comedy, and I must admit I was rather disappointed with Leap Year.  I thought The Proposal and 27 Dresses were decent as far as recent fare goes, but Ryan Reynold's eyes are too close together (though props on that bod!) and James Marsden kind of looks like a douchy fratboy.  Next I thought maybe something with Mathew McConaughey was what I was looking for, but then I realized that he was never as hot as he was in Dazed and Confused, and his romantic comedies aren't really my favorites anyway.  Finally, I realized that I just wasn't going back far enough.  Going back a bit further, I realized the obvious answer was Ten Things I Hate About You.  It's pretty awesome, and I don't care how straight you say you are, it's probably gonna at least move a little bit when Heath Ledger first comes on screen.  Just do what I do and pretend it was because of Julia Stiles.  Because she'd also make a good second choice for cell mate if you had to pick one from that movie.
And here you thought that Red River clip from the previous question was going to be the gayest thing about Mailbag Monday today.
"Minor key" haunting soul?
Yeah, my diet of nothing but minor key music has started really get to me too.  Especially whenever I hear certain songs.  For, instance, ever since I heard this song:
…my soul has been haunted with the urge to, well, just dance!  I hope I'm gonna be ok.
How many calories in plain unfilled burritos?
I had to run check my package of Mission multigrain medium flour tortillas to be sure, but it looks like if you made a "plain" burrito out of one of them without any fillings you would have 150 calories for the shell (35 of which are from fat), and, if my calculations are correct that should be about it.  And while that seems a lot better than the amount of calories you would find in a typical "filled" burrito, don't forget the light food pitfall that so many of us fall into: just because your unfilled burrito only has 150 calories doesn't mean that you can go ahead an eat 20 of them in one sitting.  Sometimes, as counter intuitive as it seems, you would be better off eating filled burritos, just fewer of them.
Does gimli fart in the movie lotr?
I was going to give you a big no on this…but then I found the following deleted scene:
It almost made it to the final cut, but test audiences reacted negatively.  Apparently most of the comment cards indicated that it undercut the grave majesty of the Fui 'Ngorthrim.