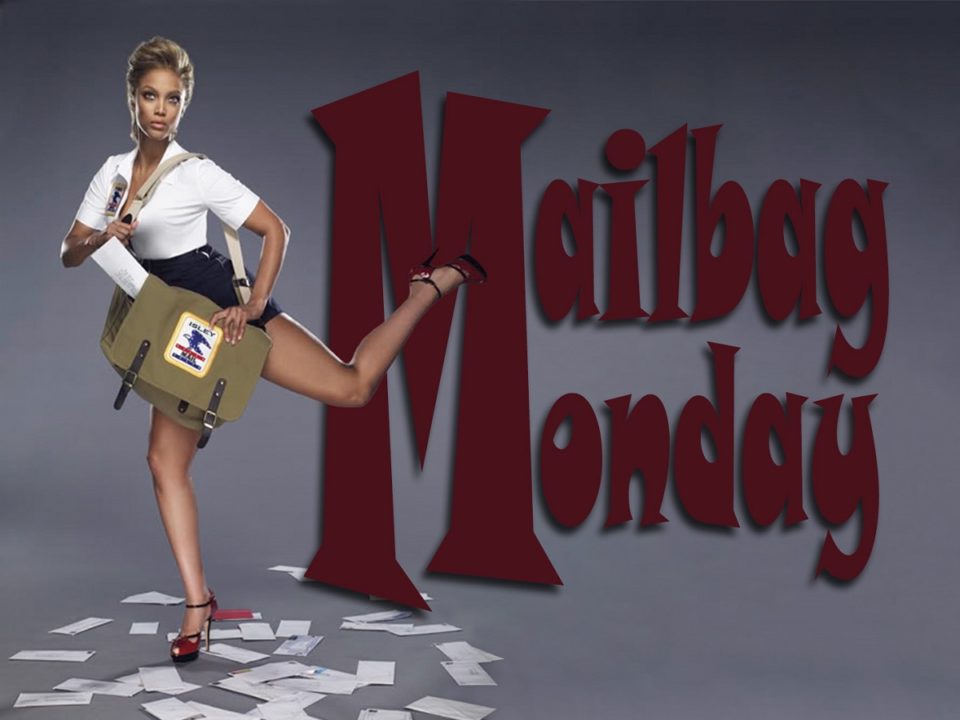 Hello dear readers, it's MAILBAG MONDAY again!  On this special day I will search through my mountain of reader mail and answer the five most pressing questions!
What's that you say?  Do I really get that much mail?  Well, I'll admit…the contact section of this website doesn't get used that often, but, one of the perks of wordpress stats is that I can see the google search terms that people use to find my site.  And I'm going to go ahead and pretend that these search terms will count as reader mail, since they are often entered in the form of a question.  So as you read these, remember that each "question" was something that someone actually typed into google that brought up my site as a hit which they then clicked on thus letting wordpress stats report to me the search they used to find my site.  I could make up the questions myself, but it turns out the actual google searches are far better than anything I could come up with!
This time I answer the questions:
What to put in chicken so it tastes like tomatoes after boiling for tacos?
Make taccos burreto shells?
Magic gathering players smart?
Can women say thats what she said jokes?
Why can there be only one + highlander?
So, without further ado, it is time to dig into the old Mailbag to see what kind of things have been on my reader's minds in the last month!
What to put in chicken so it tastes like tomatoes after boiling for tacos?
I think you might find the answer to your question in the words of Groucho Marx: "if you take cranberries and stew them like applesauce they taste much more like prunes than rhubarb does."
I hope that helped.
Also, if you add tomatoes to chicken, that often makes it taste like tomatoes.
Make taccos burreto shells?
I don't mean to nitpick your language, but burrito shells are actually called "tortillas".
Magic gathering players smart?
Magic the Gathering is the Cadillac of Trading Card Games.  It is the ultimate test of skill between two opponents using every ounce of brainpower at their disposal.  Such games as Pokemon, Yu-Gi-Oh and The Mary-Kate and Ashley Friendship Connection Game do not even begin to compare to the immense tactical and strategic depth of Magic the Gathering.
It is also commonly played by 12 year olds.
So no, Magic the Gathering players are not necessarily smart.
Can women say thats what she said jokes?
There is an interesting debate currently raging within the feminist community about this.  One side claims the phrase is an insulting slur reducing the female to a mere sex object.  The other claims that by putting the phrase into the mouths of women it gives them control and turns the "slur" into a much more innocuous statement.
"Z" from the blog "It's the Thought that Counts" (which, from the obvious twss joke that is the blog title, I am assuming must be a blog devoted to "that's what she said" jokes) wrote a post that had some interesting things to say about the two sides of the "can women say that's what she said jokes" debate:
It seems to me that both of them could be right, but at different times. Reclaiming a slur can encourage pride in one's identity, and it can turn something deeply offensive into something hardly worth remarking upon. That's worthwhile progress — it means moving past the worst parts of prejudice. However, I don't think it's a permanent solution. I said hardly worth remarking upon, not totally unremarkable, because keeping special terms that only "our people" are allowed to say, that continually remind everyone of past persecution of "our people" by everyone else, isn't really going to eliminate boundaries. To create a society where we really all "live in the same world," we need to give up language that serves only to exaggerate differences.
I think "Z" has some good points, but is missing a key issue.  Both sides of the issue either reduce the phrase to something "hardly worth remarking upon" (my emphasis), or, even worse, gets rid of the phrase all together!  Yes, reducing the objectification of women is a lofty goal, but AT WHAT COST?  Are we as a society really prepared to be left double entendre-less in the face of such comments as: "that's a hard one", "this is going to get worse before it gets better", and "I can't right now, ask your grandmother"?  I for one am not willing to make this sacrifice, for the cost greatly outweighs the benefit.  Thus, I'm afraid women can't say "That's what she said" jokes.
Why can there be only one +highlander?
Hell if I know.  I'm more curious why they have to use swords.
That's it for Maibag Monday this month!  Tune in the first Monday of next month when I answer such urgent questions as: "Does Wolverine's healing factor prevent him from becoming a zombie?"