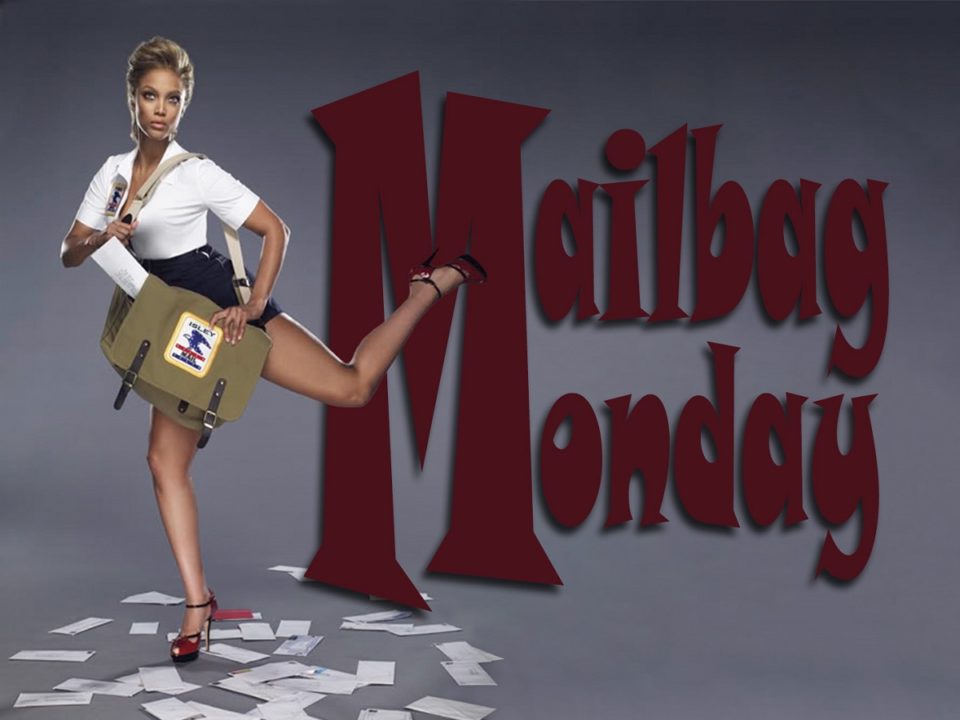 Hello dear readers, it's MAILBAG MONDAY again!  On this special day I will search through my mountain of reader mail and answer the five most pressing questions!
What's that you say?  Do I really get that much mail?  Well, I'll admit…the contact section of this website doesn't get used that often, but, one of the perks of wordpress stats is that I can see the google search terms that people use to find my site.  And I'm going to go ahead and pretend that these search terms will count as reader mail, since they are often entered in the form of a question.  So as you read these, remember that each "question" was something that someone actually typed into google that brought up my site as a hit which they then clicked on thus letting wordpress stats report to me the search they used to find my site.  I could make up the questions myself, but it turns out the actual google searches are far better than anything I could come up with!
This time I answer the questions:
Mind control jock?
Do you fart worse after caving?
[Searches in other languages]
[Porn search fails]
Danger of art, propaganda, emotion, plato?
So, without further ado, it is time to dig into the old Mailbag to see what kind of things have been on my readers' minds in the last month!
Mind control jock?
I guess I'm a little confused by your question.  Do you mean someone who plays a lot of sports and does gross things in locker rooms who also knows how to control minds?  Or do you mean a piece of athletic underwear that instead of controlling balls, is worn on the head and allows one to control minds?  I'm going to assume the latter, though I can only think of one example off the top of my head:
See how they were totally mind controlled into holding their breath after all?  All because of the "mind control jocks"!
And, speaking of that school bus scene…let's let that clip play just a bit longer:
Holy IO5M 3 callback!  And, you know what?  Even in Sixteen Candles, she was still hot.
(Apparently this video is temporarily blocked.  It was just a young Joan Cusack in a neck brace who was totally stealing the scene from Hall and Ringwald)
Do you fart worse after caving?
So is this like a kind of poetic abstract idea that after crawling around in a giant rock sphincter on the planet earth, it creates parallel intestinal disturbances in the caver on a microcosmic level?  Or is "caving" just what the kids are calling buttsex these days?  Either way, a fascinating question that I don't think I can answer for you.
[Searches in other languages]
For some reason I actually get a fair amount of searches in other languages that end up finding their way to my website.  So I thought it might be fun to use Mailbag Monday for a little quick language lesson!  So, language by language, I'll list the words that have shown up as google hit click throughs and then, through the power of google translate, we'll see what they mean!  Fun AND informative!
So, let's get started with the Jews:
שופכה – Urethra
Ok…um, gross guys, but let's see what the Turks have to say:
Üretra – Urethra
Really Turkey?  Though, I must give points for the umlaut…  Ok, how about our friends from Slovenia:
Sečnica – Urethra
God damnit.  How about Lithuania:
šlaplė – Urethra
Ok, this is ridiculous, let's move over to the Middle East:
مجرى البول – Urethra
Et tu Arabic?  Well surely they have other things on their mind in Iceland:
Þvagrás – Urethra
No, apparently not.  Dare I even ask what the Bulgarians are searching google for:
пикочен канал – Urethra
I dared to ask, and I'm not even surprised at this point.  Ok Russia, let's find out how to say urethra:
море нурнен фото – Photo of the Nurnen Sea
Holy crap!  Russia for the Middle Earth win!  Though, even considering the fact that Middle Earth was real, there were no cameras in the late Triassic so I'm afraid your request will have to go unanswered.  Still, it looked like any other sea.  Just imagine the Black Sea with more orc shit and you'll have a pretty good idea.
So, there you have it, every country in the world is full of perverts.  And Russia is full of nerds.
Also, as a side note, Ureathea and Uriuthra turned out to just be poorly spelled English versions of urethra.  So I guess that means America is full of illiterate perverts.
Nudity sex?
I've got a pretty good idea what you were searching for with that search term.  And the fact that you clicked through to my website is a fairly epic internet porn-finding fail.  Unless it led you to my Joan Cusack post I guess.
Urethra sex?
I've got a pretty good idea what you were searching for with that search term.  And the fact that you actually want to find that is a fairly epic internet porn-finding fail.  Whatever floats your boat I guess.
Danger of art, propaganda, emotion, plato?
Despite what revolutionaries everywhere might have told you, words in and of themselves aren't really dangerous.  Though, if you are a high school teacher, there is a danger that your students will alter certain words (when printed on signs and in books) into far more inappropriate words.
And, as you have correctly pointed out, based on a recent survey, "art," "propaganda," "emotion" and "Plato" are the most commonly altered words in high school classrooms.  So, in order to help those high school teachers out there who may not be aware of what a rambunctious student with a permanent marker can do with these four words, I've prepared a little quiz.  Take a look at the four words below and see if you can spot where the students will alter them.  Hold your mouse over the pictures to see the answers:
I'll admit, in my "rousing tales" days, armed only with a permanent marker, I created more than a few "fart class" and "fart room" signs.
Pretty obvious change here, but effective nonetheless.
Not as funny as poop, but everyone knows you can pee and not poop, but you can't poop and not pee.  So "pee motion" always has to go with "Poopaganda."
In recent times I've done my best to bring tatties back into the popular lexicon.  Unfortunately, it has hurt high school teachers attempting to teach Pla-tatties Re-pubic the hardest.  And for that I apologize.