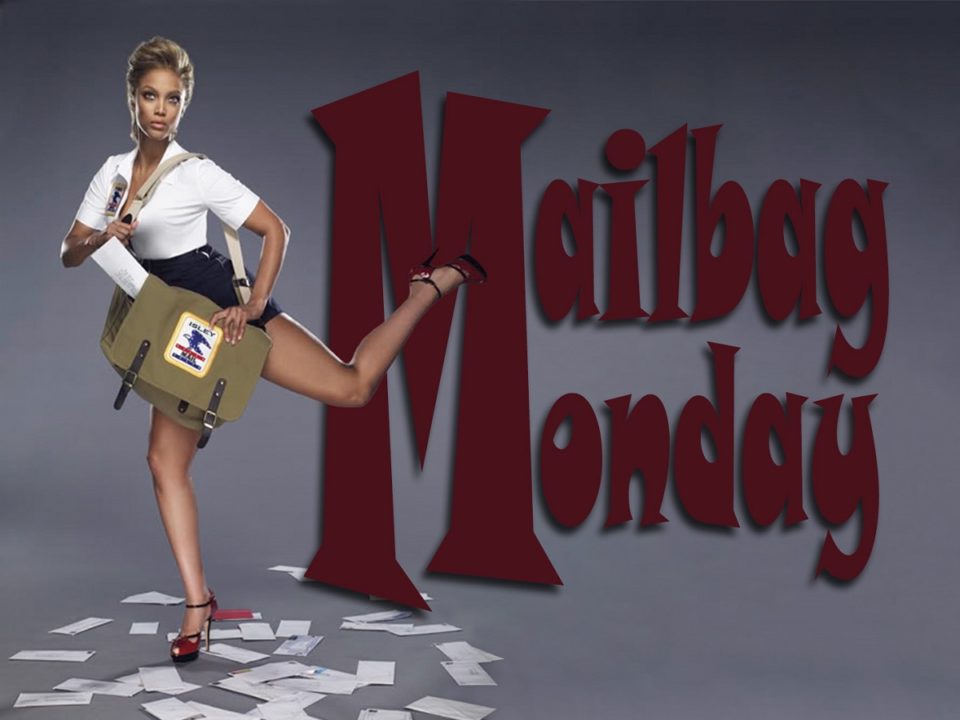 Hello dear readers, it's MAILBAG MONDAY again! On this special day I will search through my mountain of reader mail and answer the five most pressing questions!
What's that you say?  Do I really get that much mail?  Well, I'll admit…the contact section of this website doesn't get used that often, but, one of the perks of wordpress stats is that I can see the google search terms that people use to find my site.  And I'm going to go ahead and pretend that these search terms will count as reader mail, since they are often entered in the form of a question.  So as you read these, remember that each "question" was something that someone actually typed into google that brought up my site as a hit which they then clicked on thus letting wordpress stats report to me the search they used to find my site.  I could make up the questions myself, but it turns out the actual google searches are far better than anything I could come up with!
This month I answer the following questions:
Notorious hitchcock download?
What wargame has the most counters?
Operation market garden quotes?
Mash 4 dick heads together?
I don't meme?
So, without further ado, it is time to dig into the old Mailbag to see what kind of things have been on my readers' minds in the last month!
Notorious hitchcock download?
A lot of people claim "That's what she said" was invented by Wayne's World. Well, I'm here to say that is entirely untrue, it was in fact invented by none other than Alfred Hitchcock! I'm afraid I don't have a link for you to download the full notorious clip, but I did find a youtube link at least:
And, I have to say, as obviously rehearsed as that little segment was, the TWSS was a bit weak. I guess just because you are a master of suspense doesn't mean you are a master at everything. And that, is what she said.
What wargame has the most counters?
The answer to any question that begins with "What wargame has the most…" is always Advanced Squad Leader (ASL 4 LYFE!) What wargame has the most tanks? ASL. What wargame has the most remote controlled tanks filled with explosives? ASL. What wargame has the most stray dogs with anti tank magnetic mines attached to them? ASL (ok, fine, they are third party counters, but, still counts).
Anyway, just a quick look at my ASL counter boxes tells me that obviously ASL has the most counters. But I wanted to know exactly how many. So I dumped all my counters into a big pile and started counting (ok, fine, I looked up the counter sheets online…but still, I probably spent more work counting for this question than I should admit).
I decided to only focus on the "official" releases for the "core" ASL game. If I added on the countless historical modules, ASL Journal supplements and third party modules I'm afraid I might break my calculator. I've also tried to only use the newest versions of the releases for the "core" game. So I'm not counting the Red Barricades counters in the 2nd edition of Beyond Valor. And, for instance, I am considering Doomed Battalions 3rd edition to have made The Last Hurrah (as well as the old versions of Doomed Battalions) obsolete. Finally, when the new West of Alamein and the Finnish module Hakkaa Päälle comes out, these numbers will inevitably change slightly.
That said, how many counters are in the core ASL system? There are this many:
13,391
Not bad eh? For those who are really curious, here is how the counters break down by module (split into ½"/⅝" counters):
Beyond Valor (2nd ed.) – 1640/1295; Paratrooper – 390/88; Yanks (2016 ed.) – 700/616; Partisan -260/0; West of Alamein – 560/704; For King and Country (2003 ed.) – 418/616; Doomed Battalions – 420/352; Hollow Legions – 390/264; Rising Sun – 1300/592; Croix de Guerre – 350/288; Armies of Oblivion – 560/704; Hakkaa Päälle – 500/384; Totals: 7,488/5,903
Full disclosure: I still don't own West of Alamein, so my collection only has 12,127 counters.
I just keep mine all in one giant tub, it's easier for storage, but makes setup a bitch sometimes when you really need to find those counters for something like the Bulgarian Vickers 6-ton Mk E tanks. Ok, fine, I keep all mine in individual tackle boxes organized by country and unit type. The thought of dumping them all into one giant box makes my soul whimper.
Operation market garden quotes?
Because we just had the 67th anniversary of my favorite WWII operation, I figured I'd go ahead and pick some of my favorite quotes from the initial reviews of the operation. Due to Operation Market Garden's poor performance as far as actually affecting the war's outcome, the reviews were pretty mixed as this quick sampling shows:
A sure fire hit with a rock 'n roll heart!
They ride together, they drink tea while you die together. XXX corps 4 lyfe.
THE. FEEL. BAD. OPERATION. OF. SEPTEMBER. NINETEEN. FORTY. FOUR.
And, to be fair to XXX corps, I should say again that tanks without infantry support would have been sitting ducks on the raised roads that led to Arnhem, so their 18 hour delay in Nijmegen was inevitable.
Mash 4 dick heads together?
I've put a lot of thought into this one, and I'm just not sure it's feasible in the same way that mashing 2 dick heads together is. First of all, if you use your standard standing dick head mashing position, and assume an average 15 inches from hip bone to hip bone, then four dudes trying to mash their dick heads together would need to have almost 8 inch long flaccid dicks. Even with a hard on, despite what most guys might claim their reach to be, I have a feeling this wouldn't be an easy task. Besides, you don't mash dick heads together with a hard on. That's just kind of gay.
The only other way I could think of would be if two dudes scissored each other and mashed their dickheads together, and then if two other dudes did the same thing and then laid on top of the first two dudes, dick heads down. It would probably work then, but, again, that seems like it might be kind of gay. Unlike mashing two flaccid dick heads together like regular dudes do.
I dont meme?
Ah yes, I love this one. For those of you who aren't as up on the whole internet meme thing as I am, the ever popular "I don't meme" meme is just a collection of photos of grumpy people with the caption "I don't meme" added under their picture. Sounds kind of lame? Think again!
Up first we have the perennial grumpy old man Andy Rooney:
Next we have the perennial grumpy old German Werner Herzog:
Here's what evil Spock has to say on the subject (also, I suspect regular Spock feels the same way):
And here's that hot goth chick from Sleeping Beauty weighing in:
And finally there is this little gem:
See what I did there? Oh fine, I'll quit trying to make up my own memes and just leave it to the professionals at 4chan.