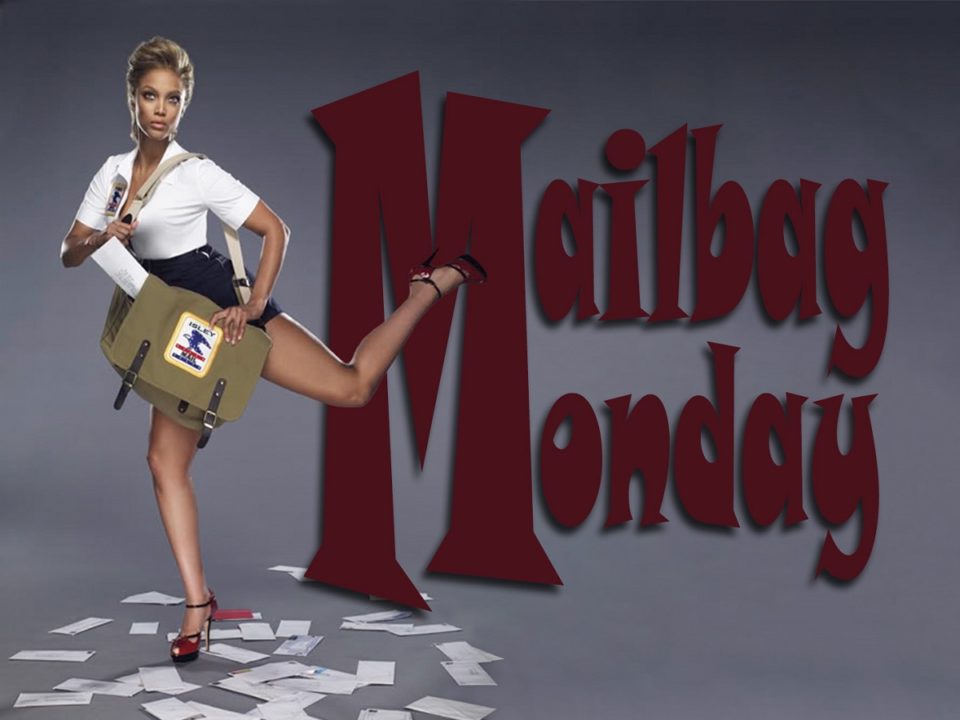 Hello dear readers, it's MAILBAG MONDAY again!  On this special day I will search through my mountain of reader mail and answer the five most pressing questions!
What's that you say?  Do I really get that much mail?  Well, I'll admit…the contact section of this website doesn't get used that often, but, one of the perks of wordpress stats is that I can see the google search terms that people use to find my site.  And I'm going to go ahead and pretend that these search terms will count as reader mail, since they are often entered in the form of a question.  So as you read these, remember that each "question" was something that someone actually typed into google that brought up my site as a hit which they then clicked on thus letting wordpress stats report to me the search they used to find my site.  I could make up the questions myself, but it turns out the actual google searches are far better than anything I could come up with!
This month I answer the following questions:
Most black metal thing ever?
Fear of minor keys?
Free bikes.com?
Euronymous fanfiction?
Amanda langlet hot?
So, without further ado, it is time to dig into the old Mailbag to see what kind of things have been on my readers' minds in the last month!
Most black metal thing ever?
I've been to a few black metal concerts in my time, but it wasn't until last Friday that I saw what I can safely say was the most black metal thing ever. Yes, even more black metal than Mayhem's pig heads and self mutilation. And yes, even more black metal than Enslaved's tights and tunics.
I'm talking about the brilliant set by Lincoln, Nebraska's own Vickers. The show was in some random tiny basement in Kansas City, and about 30 KVLT and TR00 black metal fans were crammed into the crumbling space while Vickers played with the lights completely off. Like, I seriously almost tripped and fell when I came down the stairs as their set started because it was so pitch black.
I was super curious what the band looked like, so I risked ruining the KVLT atmosphere and snapped a couple of pictures with my flash. This is what I saw during my brief camera flashes:
Also? They were burning like a tire, or a pile of hair or something, because there was a bunch of black smoke in the air every time my flash went off and it smelled HORRIBLE.
Finally, because there was some basement pole and a bunch of people in the way, I couldn't get a good picture of what I assumed was a bass player. It wasn't until the next day (when I got online and found a picture from a much less KVLT Vickers performance with the lights on) that  I realized that the only instrument they had aside from the drums was a fucking AXE with like a bunch of sketchy electronics bolted to it:
All in all, as I think this story and these pictures have proven, it was basically the most black metal thing ever. If you still aren't convinced, just check out this gripping concert footage I shot during their set:
Fear of minor keys?
I checked a lot of different sources and sadly couldn't find any official names for a fear of minor keys. Thus, based on the Melo for "song" and Melancholia for "sadness," I would assume that a fear of minor keys would have to be called:
Melomelancholiaphobia
What a horrible condition to have, amirite?!
Also, in a somewhat related note, a fear of black metal is a real disorder, and it goes by the name of "Hexakosioihexekontahexaphobia." No, really, that's a real thing! Or at the very least, it is what you call the fear of Iron Maiden's "Number of the Beast."
Free bikes.com?
I get a lot of mail for this one for some reason, but no, I'm afraid this website tries to focus on black metal and fictional cartography (along with, like, essays and stuff). As far as I know, www.freebikes.com is now defunct due to overwhelming server load, and has moved to:
http://www.ablogisatreat.com/?tag=free-bike
Unfortunately, last I checked, all the free bikes had been claimed. Well, all of them except this one:
The ABIAT: Free Bike Department webmaster informs me that that one is still totally up for grabs.
Euronymous fanfiction?
Why yes, I have indeed dabbled in fan fiction, and yes, my most recent project was indeed about everyone's favorite leader of the unholy Norwegian black metal underground, Mayhem's Euronymous! As I do every year, I once again participated in NaNoWriMo, and once again managed to crush the paltry 50,000 word requirement with a new personal best 178,003 words! And since you asked, here's a short excerpt from the first chapter involving an epic confrontation between Euronymous and the local fire safety inspector at his Helvette record shop:
The pain was exquisite. The sun's rays scattered through the open door like blood crazed flittermice of eld at the pagan samhain night, bouncing and careening wildly down the stairwell until they pierced his sunken eye sockets with an intensity undreamt of.

"Shut the door!" hissed Euronymous as he swept his cape in front of his face with a practiced flourish that would have made even a Viscount gasp in awed appreciation. The light of the daystar did not belong in Helvette, basement of the damned, that place where hope and daylight die and where Oslo's darkest souls come to buy their LPs.

The day-dweller was a large man, dressed in the habit of those who oiled the gears of society, mere chaff before the thresher of his black circle. Such men thought a badge gave them power and a god gave them purpose. Euronymous knew their purpose, he knew it well. Their lot was to be chattel to such men as him after the rising of his lord and master Sathanas. Theirs would be the screams that resounded through a thousand hells of eternal…

His reverie was broken when the man reached the bottom of the stairs and held forth his badge. "City fire inspector, we are telling you for the last time, you cannot light a business with torches. Put them out. Put them all out. You're facing prosecution for at least half a dozen fire code violations. Now either you put these torches out of we put them out for you."

The dark prince did not deign to answer; the sneer that poured forth from the wan pallor of his face like a waterfall frozen solid in the midwinter cold of Norway's frigid north spoke volumes as to his thoughts on the day dweller's unacceptable request. His hand dropped beneath the counter to where he kept his katana of soul reaping +5, forged in the fires of Gehenna, tempered in angel's blood. He had paid dearly for this katana online, and now he would justify the money his mother had given him for it with the blood of the righteous. The fire inspector wanted the torches out? Very well, now he will know why he is afraid of the dark. Now he will learn why he fears the night….
Amanda langlet hot?
Ah, Amanda Langlet, star of many of Eric Rohmer's finest films. Which is to say, star of many of the world's finest films. My personal favorite film of hers was the brilliant Pauline at the Beach.  But was she hot? You tell me:
Of course, she was 15 when they filmed that. So anyone who thought she was hot is a total perv-ball.  Unless you are French. The French are totally fine with statutory rape: