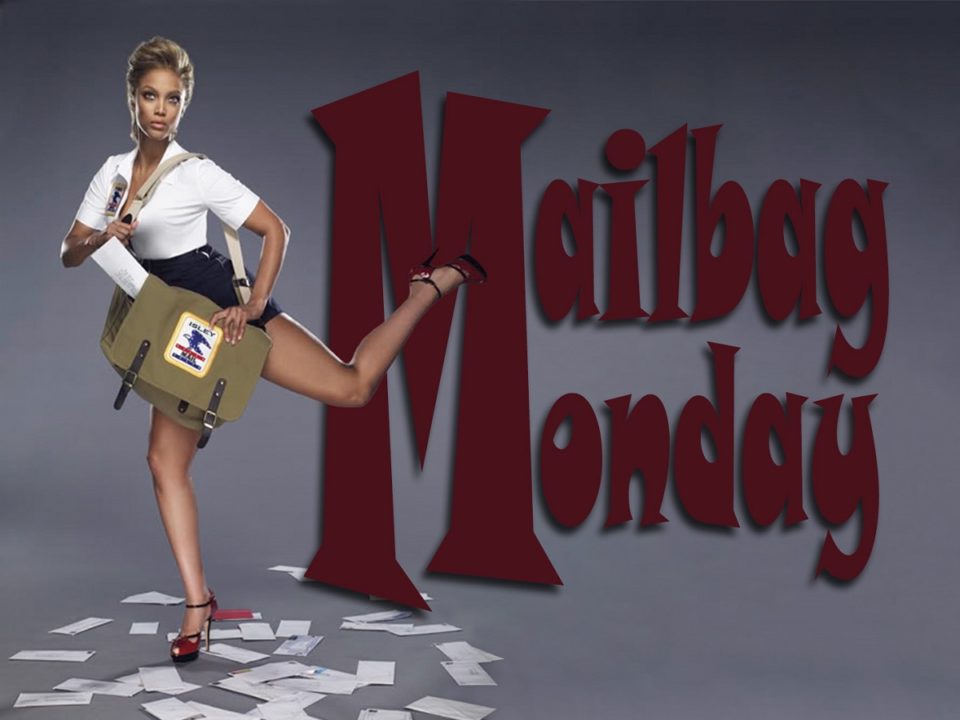 Hello dear readers, it's MAILBAG MONDAY again! On this special day I will search through my mountain of reader mail and answer the five most pressing questions!
What's that you say? Do I really get that much mail? Well, I'll admit…the contact sectionof this website doesn't get used that often, but, one of the perks of wordpress stats is that I can see the google search terms that people use to find my site. And I'm going to go ahead and pretend that these search terms will count as reader mail, since they are often entered in the form of a question. So as you read these, remember that each "question" was something that someone actually typed into google that brought up my site as a hit which they then clicked on thus letting wordpress stats report to me the search they used to find my site. I could make up the questions myself, but it turns out the actual google searches are far better than anything I could come up with!
This month I answer the following questions:
"Lord of the rings" fanfiction "farting" sam?
Do metalheads have their moms sew patches on battle vests?
Why John Wayne is awesome?
Movies with thats what she said moments?
Nazi Metalheads?
So, without further ado, it is time to dig into the old Mailbag to see what kind of things have been on my readers' minds in the last month!
"Lord of the rings" fanfiction "farting" sam?
It's been a while since I've released a new "Lost Chapter" for my popular feature The Lord of the Rings: The Lost Chapters, so sure, I'll let a small one out (pun intended). This particular lost chapter isn't really so much a chapter as a lost paragraph that should be added right at the end of the famous "bathtub song" in The Fellowship of the Ring. Once again, the original text is included in bold:
Merry and Fatty went into the kitchen on the other side of the passage, and busied themselves with the final preparations for a late supper. Snatches of competing songs came from the bathroom mixed with the sound of splashing and wallowing. The voice of Pippin was suddenly lifted up above the others in one of Bilbo's favourite bath-songs.
Sing hey! for the bath at close of day
that washes the weary mud away!
A loon is he that will not sing:
O! Water Hot is a noble thing!
O! Sweet is the sound of falling rain,
and the brook that leaps from hill to plain;
but better than rain or rippling streams
is Water Hot that smokes and steams.
O! Water cold we may pour at need
down a thirsty throat and be glad indeed;
but better is Beer, if drink we lack,
and Water Hot poured down the back.
O! Water is fair that leaps on high
in a fountain white beneath the sky;
but never did fountain sound so sweet
as splashing Hot Water with my feet!
None had noticed that Sam's singing had taken on a strained pitch as the song came to an end, until, as the last note still hung lightly in the air, a great gurgling rumble came up from from the dark places in the depths of Sam's tub. Silence descended upon the bathroom as the bubbles broke the surface with a heavy series of popping sounds. Sam stammered, "Begging your pardon sir, it must have been the mushrooms!" Frodo could only shake his head in disgust as Pippin cried out and pointed "but that is no mushroom Sam!"
To everyone's horror, floating in Sam's bath water was indeed no mushroom, but rather an issuance of a most foul origin. With a high pitched shriek, Sam swept the vile thing out of his tub on a great wave of water headed straight for Pippin's tub!
There was a terrific splash, and a shout of Whoa! from Frodo. It appeared that a lot of Pippin's bath had imitated a fountain and leaped on high. Merry went to the door: 'What about supper and beer in the throat?' he called. Frodo came out drying his hair.
'There's so much water in the air that I'm coming into the kitchen to finish,' he said.
'Lawks!' said Merry, looking in. The stone floor was swimming. 'You ought to mop all that up before you get anything to eat, Peregrin,' he said, 'Hurry up, or we shan't wait for you.'
Do metalheads have their moms sew patches on battlevests?
Oh my god, how unKVLT can you get? A battle jacket is a sacred vestiment (pun intended) and its patches must be HAND sewn by the vestwearer themself in dental floss (because, thread is SO expensive) and at the expense of much metalhead blood from pin pricks. So no, you would never get your mom to sew a patch on.
Unless it was like, on the sleeve of your jacket or you were trying not to sew through a pocket or something. Then it would be ok, because, that shit's hard, yo!
Why John Wayne is awesome?
You better sit down, this might take a while. Actually, speaking of "that's what she said" moments, I've got that's what she saids to get to, so maybe I'll just keep this to one reason. So, today's reason John Wayne is awesome comes from a recent rewatching of the ridiculously entertaining Tall in the Saddle. In the film, the feisty country girl throws a knife at John Wayne.
First, he was all:
Then he was all:
…and held that pose for a good 5 seconds.
Why was John Wayne so awesome? Because he invented the duckface.
Movies with thats what she said moments?
First, EVERY movie is full of that's what she said moments. Some, like the time Bacall said "I wish I knew of some way to break it off without hurting him, but all I can do is wait for him to get tired of coming." in Dark Passage, are better than others, but they are always there.
However, for this question I thought I'd take a look at the AFI's 100 Years…100 Movie Quotes list in order to see what the 20 best candidates were. There were plenty more to be sure, but these were the ones that made me giggle the most:
I'm going to make him an offer he can't refuse.
Go ahead, make my day.
All right, Mr. DeMille, I'm ready for my close-up.
Fasten your seatbelts. It's going to be a bumpy night.
The stuff that dreams are made of.
Rosebud.
I am big! It's the pictures that got small.
Show me the money!
You're gonna need a bigger boat.
Houston, we have a problem.
You've got to ask yourself one question: 'Do I feel lucky?' Well, do ya, punk?
A boy's best friend is his mother.
As God is my witness, I'll never be hungry again.
Say "hello" to my little friend!
Take your stinking paws off me, you damned dirty ape.
No wire hangers, ever!
Open the pod bay doors, HAL.
Who's on first.
I feel the need – the need for speed!
My mother thanks you. My father thanks you. My sister thanks you. And I thank you.
Nazi metalheads?
It's come up a few times (more since my Best Metal Albums of 2013 list went live), but the black metal underground has a significant neo-nazi presence. For the most part, aside from having less hair, these metalheads are like normal metalheads. They pretend to love forests but never go outside, they read a lot of Tolkien and Neitzsche and they have the same amount of black friends.
However, one thing that I should comment on (aside from their very efficiently run shows) is their work ethic when they form a band. While most bands would be hard pressed to put out even one album a year, some nazi metalheads are so intent on spreading their "message" that they will release multiple albums per YEAR!
The current record holder is the band Tank Genocide, the one man project of this man, known only as "Razor" (most likely not his christian name):
Razor, as the sole creative force behind Tank Genocide has put out (and I'm not making this up) a ridiculous FORTY albums in the year 2013 alone (not counting the many other albums he released this year via his FIVE other active solo projects).
Why so many albums? Sources close to Razor have confirmed that he is using the album sales to finance his master plan to destroy every tank on earth (a final solution to the tank problem if you will). Though as of yet he's only managed to sell one copy of each album to his mom, which, unfortunately, has barely made him enough to cover the rent for his room in the basement. Better up the album output next year Razor!