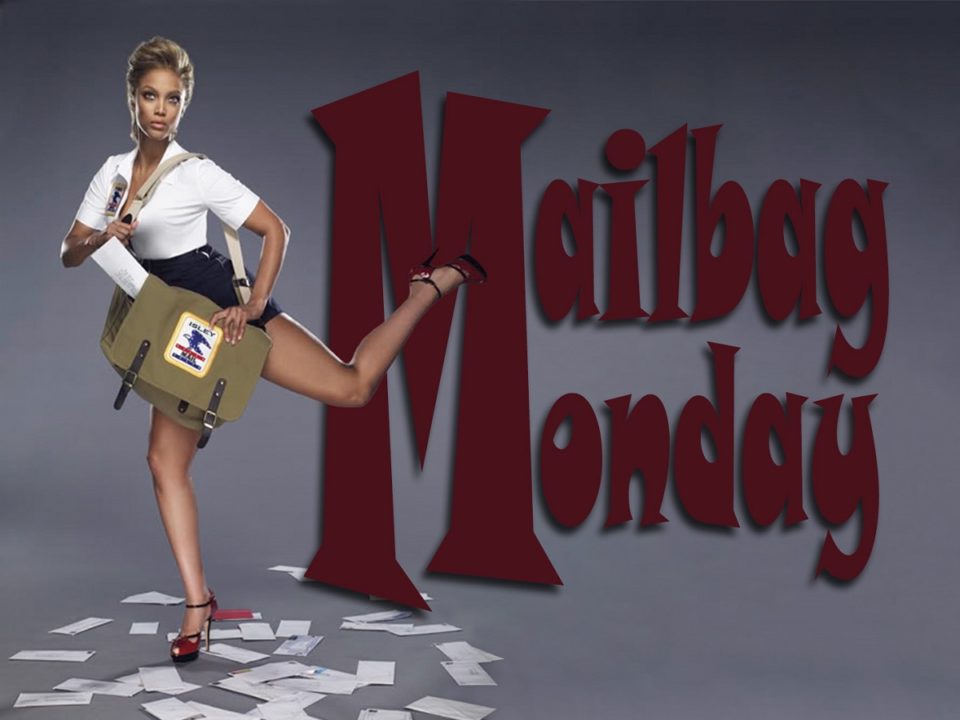 Want to have your pressing questions answered by Isley Unruh himself? Send all queries HERE, and I will get to them as soon as I can on a future Mailbag Monday!
The problem with a monthly blog post where I respond to funny google search terms that lead to my website as if they were actual questions is that it naturally sends future google search terms into an imploding cannibalistic death spiral.  Every time I write about "Jocks shitting," "Best black metal ___ ever," and "Lord of the Rings slash fiction," all it does is make me get that many more searches for the same stuff.  The way my google search terms are going right now, in another year or two all I'm going to get for this website is the search "Satanic Legolas/Gimli Poopsex" over and over.
Thus, in order to save everyone from that grim dystopian www.isleyunruh.com Mailbag Monday future, I'm changing things up.  Starting today, rather than answering google searches as though they were actual questions, I will instead answer ACTUAL reader questions as though they were, well, actual questions.
This month I answer the following questions:
"How do I compliment someone of the opposite sex without it getting sexual?"
-Chaddyboy
"Hairline question?"
-Shena

So, without further ado, it is time to dig into the old Mailbag to see what kind of things have been on my [actual] readers' minds in the last month!
"How do I compliment someone of the opposite sex without it getting sexual?"
– Chaddyboy
Ah yes, the curse of hot people everywhere–we just find it impossible to compliment someone of the opposite sex without things immediately getting sexual!  I know this problem well.  Lucky for you Chaddyboy, I've created a handy flowchart that will address just such a situation.  I'd suggest printing this out and consulting it before any future compliments to avoid the potential for further unintentional sexual situations (click the picture for a large version):
I hope that helped!  If anyone has an idea how to work "sugar walls" into a compliment without things getting sexual, let me know, I'd be happy to revise this chart.
Hairline question?
 – Shena
Ok, now see, this is a good example of the kind of question NOT to submit to Mailbag Monday 2.0.
First of all, it's just kind of not very nice!  I mean, I see what you did there Shena, but this feature should foster an environment of celebration and adolation of, well, me.  Questions like this just really kind of hurt both my feelings and my reputation as a lothario with an infallible hairline.  Also, I should point out, this isn't actually a question!  I'm not mining nonsensical google search terms anymore.  You can use complete sentences. And details! "How has your hairline stayed so lush after all these years?" would be an example of a more appropriate questions.
Still, like I said, I know what you meant by this "question," so let's get right to proving that the rumors of my hairline's demise have been wildly exaggerated.
I mean, just check out this picture from last month (featuring myself and a now EX friend):
I don't see a problem there, do you?
And here's another one from a few months ago (featuring myself with someone who is now dead to me):
Unchanged!
We can even go back to this picture from a few years ago (featuring myself from my Magic the Gathering themed rap days):
Bam! Same hairline!
Hell, you want real proof, check it out, here's a picture from 1998 (featuring myself and an old friend I haven't seen since high school–with whom I should maybe try to reconnect now that I have an opening for a new friend):
See?? Obviously all these hairline questions are just mean-spirited rumors that…what's that? I'm trying to do what?
Ok, um, I don't see the connection between Bret Michaels and myself aside from those baby blue eyes, but yeah, I can go take a picture without the bandana right now if that's what it will take to convince everyone:
There.  Hairline question laid to rest.