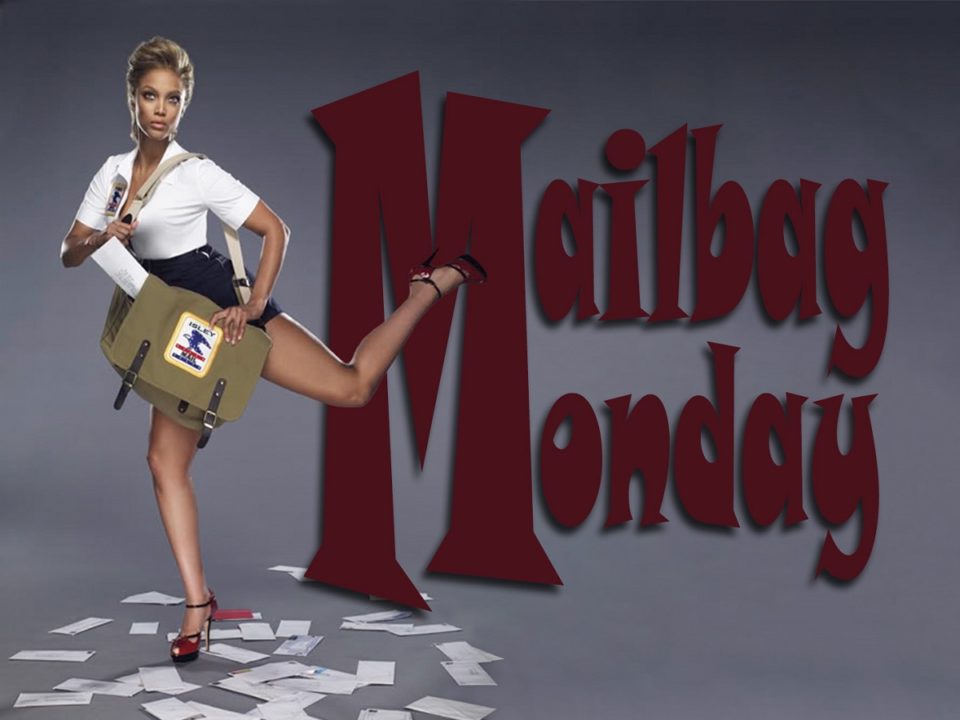 Want to have your pressing questions answered by Isley Unruh himself? Send all queries HERE, and I will get to them as soon as I can on a future Mailbag Monday!
Welcome back to Mailbag Monday!  On the first Monday of every month, I take the time from my busy blogging schedule to answer all of my reader's most pressing questions! Sure, I might have begged, bribed and cajoled my readers into sending me these questions in the first place, but, that still totally counts as reader mail!
This month I answer the following questions:
"When playing a board game, is one allowed to sabotage oneself – assuming it is within the rules?"
-Danny
"Minor keys no longer exist…what is now your favorite song?"
-Brian
So, without further ado, it is time to dig into the old Mailbag to see what kind of things have been on my readers' minds in the last month!
"When playing a board game, is one allowed to sabotage oneself – assuming it is within the rules?"
– Danny
This really brings up the age old "spirit of the rules/spirit of gaming" debate.  It can range from nebulous questions like "am I allowed to hide my paper money from other players if the rules don't say I can't?" to less nebulous questions like "the rules just say just roll a dice, they don't say I can't use a d20, right?"
Now, you might think that I, gamer extraordinaire, would be completely against self-sabotage, considering the fact that, while it might not be "technically" against the rules, it is most definitely against the "spirit of the rules."  After all, games are merely microcosms of life–with all its infinite beauty and complexity reduced to a simple rule set (or, possibly, a not all that simple rule set).  Why on earth would you spoil such a thing of wonder?  Well, I can think of two semi-acceptable reasons:
 Reason 1: You'd just really rather not be playing the game.
Obviously, this shouldn't come up all that often (I mean, quit going to game nights if this keeps happening!), but, I can see a case for this on occasion.  For one, if the game you are playing has player elimination, self-sabotage will very quickly knock you out of a game you had no desire to keep playing in the first place!
Example: I absolutely loathe Cards Against Humanity.  Apples to Apples sucks.  Making it racist and calling it Cards Against Humanity does not make it a better game.  Unfortunately, it is also a very popular game, and the last time I got sucked into an interminable "let's just play until we get tired of it" game of this non-game, I'm afraid even I resorted to a bit of self-sabotage.  Specifically, I kept myself entertained by slipping in multiple cards to the possible answers every turn, leading to an environment of distrust and recrimination ("ok, seriously, who the fuck keeps doing this??") that caused the whole night to end on a sour note for all involved.  Sure, the game of "how many more times can I do this without getting caught" was a far better game for me to play than that stillborn abomination of a "game" that is Cards Against Humanity. But it was also, I must admit, kind of a dick move.
Reason 2: You are just trying to troll.
Now, to start, as I said on reason 1, self-sabotage is unquestionable a dick move.  Don't be a dick.  HOWEVER, far be it from me to say you should pass up an excellent troll opportunity when one presents itself.
Example: Ok, this one wasn't one of mine, but once upon a time I was playing that game to end all games, Tichu, with my "friend" Shena as my partner.  I won't go too deeply into the rules here, but it is a partnership game, where the partnership either wins or loses together.  And, before each round, everyone can pass each other cards to improve their partnership's hands or hurt the opposing partnership's hands. I went ahead and made a sizable bet that I would go out first, then said, "as long as no one passes me the dog, I think we can win this game!"  I get the cards I was passed from everyone else and found that Shena, my supposed partner, deciding to play a very different game than the card game we were currently playing, had passed me the dreaded dog card.  And then she giggled the rest of the game saying, "when you said that, I had to!" She's like that scorpion that passes the frog the dog as he swims across the river with her on his back.
Now, Danny, you might claim that this justifies you breaking all our mining equipment in that last game of Saboteur even though you weren't even on the Saboteur's team.  But, again, I'll refer you to the main rule of self-sabotage.  Don't be a dick.  Though, I guess if you really are going to self-sabotage, at least do it on purpose instead of accidentally like in that one game of Tichu we all played where you spent all that time making your own "ringer" card before the game:
Again, the lesson here is: don't be a dick.  And if you are going to be a dick, at least be the ace of dicks.  Like Shena.
"Minor keys no longer exist…what is now your favorite song?"
– Brian
Minor keys no longer exist? What kind of dystopian hellscape is this??  That would be like living in a world without rainy days, bracing autumnal winds, or that exquisite pain of staring one's fleeting mortality in the face while teetering upon the edge of the abyss.  Not for me sir.
Still, let's try to answer your question despite the bright and sunny nightmares it is sure to give me.
My first thought was to maybe pick some song that had so few notes that it really didn't have any kind of tonality, major or minor.  However, even though some of my favorite songs are brain cell killingly simplistic, they are still technically in a minor key. Take Von's three note (choruses are for pussies) song "Satanic Blood":
Even here, one of those three notes is a minor 3rd (along with a diminished 5th for good measure).
Next I figured I would just pick some kind of non-western song in some kind of exotic pentatonic scale (basically, scales that use 5 notes instead of the usual Western 7).  However, that wouldn't really count since, as any blues musician will tell you, pentatonic scales are full of not only minor thirds, but lots of other badass and/or sweet diminished and augmented intervals too.
So, unfortunately, if we really have to rule out all that stuff, as someone who has been skipping the major key songs on his Bach cassette tapes since he was a wee lad, I'm thinking I would probably just quit listening to music.  Like, seriously, I honestly think I'd just go ahead and sell my stereo.  Because, silence will always be better than listening to this:
Though, really, I just hope I never have to live in a world where there are no more songs like this:
Finally, because I still have hundreds of old saved search terms to wade through, I figure I'll use the rest of this space to toss out some quick replies to the more ridiculous searches that lead people to this website:
Snappy Solutions to Silly Searches
Much mail?
Honestly, no, not really.  I mean, aside from Chaddyboy sending me like 40 excellent questions in a suspiciously short period of time, the mailbag isn't all that full.  But don't worry, I'm not above harassing my friends without remorse until they generate content for my personal website.  Mailbag Monday 4 LYFE!
Untrue movie scene?
There are all kinds of untrue movie scenes, but the one that sticks out the most in my mind was the scene in Lucy (2014) from 0:00 to 1:29.  That's not how brains fucking work, and no amount of Morgan Freeman narrated exposition will convince me otherwise.
Epic gay eurotrance?
I don't really have much to say on this one (other than the pointing out that it too would be a casualty in a world without minor keys), but I just really want to make this name a thing (mostly because it so perfectly describes a genre of music I tr00ly <3).  However, as of this writing, googling this phrase, sadly, only leads to that Autechre post I wrote (which wasn't even about epic gay eurotrance!) and a comment I left over on www.ablogisatreat.com.  Though, the fact that someone googled it means it is slowly catching on, so now there are three google hits for it.  Epic Gay Eurotrance ™ 4 LYFE!