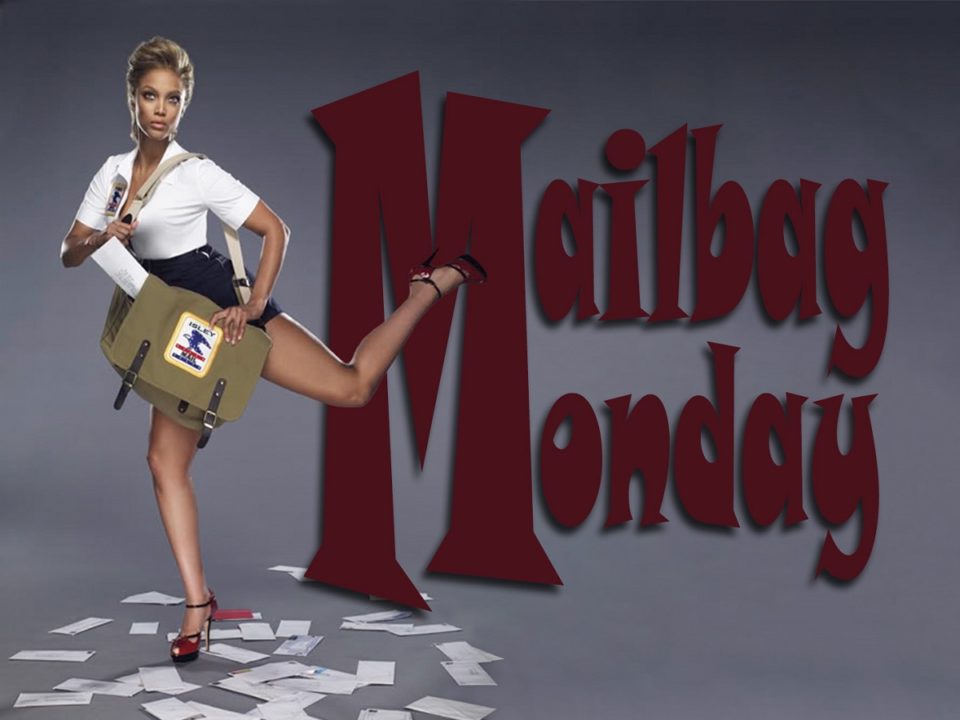 Want to have your pressing questions answered by Isley Unruh himself? Send all queries HERE, and I will get to them as soon as I can on a future Mailbag Monday!
Welcome back to Mailbag Monday!  On the first Monday of every month, I take the time from my busy blogging schedule to answer all of my reader's most pressing questions! Sure, I might have begged, bribed and cajoled my readers into sending me these questions in the first place, but, that still totally counts as reader mail!
This month I answer the following questions:
"It seems like most of your bands use a lot of upside down crosses and pentagrams.  Do the band members actually worship Satan?"
-Laura
"Can you list some different butt wiping techniques?"
-Chaddyboy
So, without further ado, it is time to dig into the old Mailbag to see what kind of things have been on my readers' minds in the last month!

"It seems like most of your bands use a lot of upside down crosses and pentagrams.  Do the band members actually worship Satan?"
-Laura
Good question Laura!  I know it can be a little bewildering for someone who first stumbles into the murky quagmire of upside down crosses, pentagrams, and devil horns that is "the metal underground."  However, not to worry, those black-shirted legions of young white men don't believe in Satan any more than they believe in the value of getting a bit of time in the sunlight each day.
Simply put, metalheads just REALLY don't like religion, and, as the dominant religion in most of the metal producing parts of the world, they especially don't like Christianity.  What pisses Christians off more than anything? Well, being gay I guess.  But, as the metalhead subculture is predominantly young men, rampant homophobia and insecurity about their own sexuality rule that option right out.  Thus, they go with the backup plan: pretending to worship Satan!
Now, I know, you must be thinking, "surely not EVERYONE is pretending, right?"  But, honestly, in 2 decades of surrounding myself with the sights, the sounds, and the smells of metal culture, I've yet to meet a metalhead that even believes that Satan exists, let alone worships him.  Seriously, not one person in 20 years of throwing up the hand devil horns along with a bunch of impressionable societal outcasts at the merest mention of Lord and Master Sathanas from the band onstage. Even the metalheads that profess to be actual "Satanists" are in actuallity professing to a belief in a certain kind of selfish philosophy (and a bit of ritual bullshit) that is firmly rooted in the realm of the secular despite all their black candles and Crowley wank-fests.
Even bands like Deathspell Omega, who pretend to be "Theistic Satanists," who, so they claim, TOTES SRSLY <3 SATAN 4 REALZ, don't actually believe all that stuff.  I mean, they can't believe it, right?  Can you imagine the years of brainwashing and indoctrination that it would take to convince someone that there actually existed a little red dude with a tail and pitchfork waiting to eternally punish you for being jealous of your neighbor's new lawn mower?
Though, now that I think of it, I guess there ARE a quite a few people out there who believe just that.  To help explain who these people are, and where metalheads fit in, I made this helpful Euler diagram:
As you can see, if anyone is going to be accused of believing in Satan, it's obviously Christians.  Which, is exactly why metalheads love to troll them so much by giving a hot Satan injection to every ounce of album cover real estate into which they can squeeze an inverted cross.  It's like shooting lambs in a barrel!
Can you list some different butt wiping techniques?
-Chaddyboy
Because "Chaddyboy" gave me 40 some Mailbag Monday questions in a suspiciously short amount of time after I asked him if he had any questions for this feature, I figured I'd go ahead and feature some of his questions a little more often or I'll never get all the way through them!
You know, as a young man, I thought everyone wiped their ass the same way I did.  Sitting down on the toilet and from behind like a fucking civilized human being.  You can imagine my shock when I accidentally walked in on an ex-girlfriend (who shall remain nameless) wiping her ass while standing in front of the toilet.  It immediately led to a lengthy discussion about just who was in the wrong RE: the sitting or standing issue.  Actually I guess the conversation didn't immediately go there…first it went like this:
Me: Um…what are you doing? Is that how you wipe your ass?
Her: Please be so kind as to leave and let me finish, and then we can have a reasoned discussion about butt wiping techniques. [I am paraphrasing on her response]
Ever since this paradigm shifting encounter, my eyes were opened (Clockwork Orange style) to the fact that the world of butt wiping was nowhere near as simple and straightforward as I might have guessed.  In my travels since then, here are a few of the more outlandish styles of which I've made note:
The Standing Reach-around – Stand up straight until you end up smashing any hanger-ons between your ass cheeks–making even more of a mess, then try to awkwardly squeeze some toilet paper in there while balanced precariously over a pool of your own filth.  Extra points if you don't at any point think about how much easier it would be if you would have just remained seated.
The Hike it and Spike it – Remain seated, but instead of reaching behind like a gentleman and/or lady, just take a short cut and reach right through your legs to get a head start on the clean up.  Only recommended for those who don't mind a dirty grundle/gooch/taint/bridge/whatever you call it.
The One-two Punch – I once met a man who claimed that there was no reason to ever wipe one's ass more than twice.  "But what if the paper doesn't come up clean after two wipes?" I said.  "Bro, it NEVER comes up clean," he said.  I'll let you decide how effective his technique was based on that response.  See also #4.
The Tumble-dry – I learned this one from a 4 year old.  She was in such a hurry to get back to playing that when I went into the bathroom after her, not only had she not flushed, but, based on the contents of the toilet, she had also not wiped.  I explained to her that no matter how much of a hurry you are in, letting it "air dry" is NOT an effective butt wiping technique.
The Muffler – Finally, the filthiest wrestling story I've ever heard (and I've heard a few filthy ones).  Apparently, pro-wrestlers back in the day used to take big wads of toilet paper and just shove them up their ass to keep all the various liquid seepage from leaking through the back of their singlet.  I mean, I guess it's effective, but based on this story about when Dusty Rhodes' "muffler" fell out, I'm not sure I can recommend this butt wiping technique to anyone:
So, again, if you are doing anything other than remaining seated and leaning to one side, you are doing it wrong.  Though, I must admit, I'm not completely opposed to new tricks.  I've finally come around on the idea of wet wipes after all.