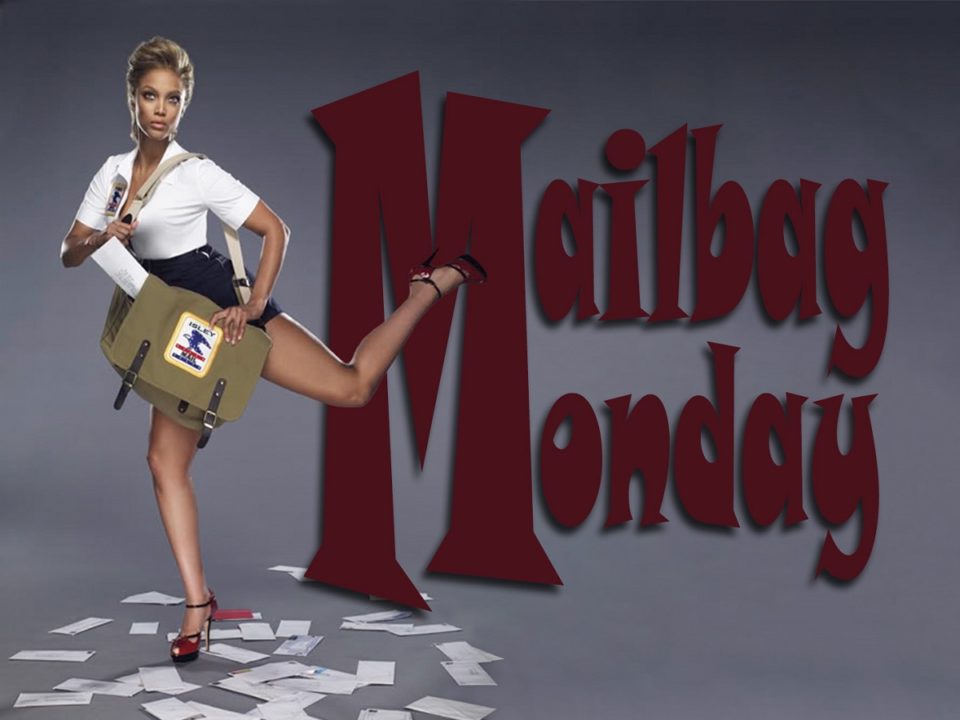 Hello dear readers, it's MAILBAG MONDAY again!  On this special day I will search through my mountain of reader mail and answer the five most pressing questions!
What's that you say?  Do I really get that much mail?  Well, I'll admit…the contact section of this website doesn't get used that often, but, one of the perks of wordpress stats is that I can see the google search terms that people use to find my site.  And I'm going to go ahead and pretend that these search terms will count as reader mail, since they are often entered in the form of a question.  So as you read these, remember that each "question" was something that someone actually typed into google that brought up my site as a hit which they then clicked on thus letting wordpress stats report to me the search they used to find my site.  I could make up the questions myself, but it turns out the actual google searches are far better than anything I could come up with!
This time I answer the questions:
That's what she said moment of the month?
How to make bread like wolverine?
A day the fart wars happened?
Fuckin sweet dinosaurs?
[questions specifically about Isley]
So, without further ado, it is time to dig into the old Mailbag to see what kind of things have been on my reader's minds in the last month!
That's what she said moment of the month?
Last month was a pretty good month for twss moments.  The olympic weight lifting gym supplied its usual bountiful harvest and the Advanced Squad Leader Heat of Battle table was a real gold mine (battle hardening!)  But I think the moment of the month was probably on Thanksgiving while I was sliding herbs under the skin of the turkey.
Dad: You're really getting up in there Isley…are you sure you know what you are doing?
Me: That's what she said!
Ambiguously gross, self deprecating and said within potential earshot of my grandmother.  Definitely TWSS Moment of the Month™ material!
How to make bread like wolverine?
One of the most important processes involved in making bread is the kneading.  Kneading forms and strengthens gluten in the dough which acts as both a binding agent and a trap for bubbles of carbon dioxide released from the yeast.  When kneading you always want to flatten and stretch the dough, but never cut or tear it as that will break the all important gluten bonds.
Thus, while Wolverine's near limitless stamina will keep his forearms from getting tired during the kneading process (he would also be a great person to turn the old fashioned ice cream maker handle and fill up bicycle tires with a hand pump), his claws would be of zero benefit while making bread.
A day the fart wars happened?
Your choice of articles is confusing here, but I'm going to assume that you are talking about "the great fart wars", AKA "the fart wars to end all fart wars".  Anyway, if you were wanting to know the specific day that fart wars happened, I'd say it was June 28th, 1916 when Yugoslavian Ass-assins farted in the unsuspecting archduke Franz Ferdinand of Austria's face (it was a good one too, because they caught him with his mouth open).  If you were referring to the Second Fart Wars, then, I would have to say that the day they happened was September 1, 1939, the day Hitler decided to "Dutch Oven" Poland.
Fuckin sweet dinosaurs?
Despite having visited Dinosaur National Monument when I was 10, I don't actually know a lot about dinosaurs.  However, I was still able to come up with a few dinosaurs off the top of my head whose "fuckin' sweetness" I'm pretty sure no one would be able to argue against.
Therizinosaurus – Wolverine + Zebra + Rooster = Totally Fuckin Sweet
Stygimoloch– Ok, first of all, its name means "Demon from the river of Hell" which is like 666 fuckin sweet points right there.  And just look at that skull!  It looks like what would happen if a bunch of Slayer album covers got together with evil Spock and had a Hell Baby.  Fuckin. Sweet.
Urulókisaurus – As long-time readers of my site are aware, Lord of the Rings REALLY HAPPENED(around 200 million years ago).  Thus, of all dinosaurs, the dragons are obviously the most fuckin sweet ones of all.
The example pictured here, Smaug, was a Pterosaur/Dinosaur hybrid mutation that evolved from the clade ornithodira (and that was subsequently lost during the Triassic-Jurassic extinction event).  But yeah, check that picture out.  Motherfucker eats Stygimoloch horns and 4 foot Therizinosaurus claws for breakfast and asks for more.  If you were to ask how much more fuckin sweet the Urulókisauri could be, the answer would be "none, none more fuckin sweet".
Special Feature: Isley Mail!
Now, instead of a final question this month, I'm going to address a group of emails that all have the same subject: me.  Now, I don't know which of my readers "sent" these "questions" in, but I hope this doesn't become a regular feature.  Making fun of stupid google searches is a lot more fun when I don't have to make fun of myself in the process.
isley unruh hot brother?/isley unruh really hot brother?/isley unruh's dad is hot?/what is best about isley unruh's hot dad?/isley unruh hot mom?/isley unruh's sister phone number?
I don't know who was responsible for all these (though there are rumors of a certain person sending out a mass email suggesting "google bombing" my site with "hot family" searches would be hilarious), but I'm just going to answer these together:
He's too young for you, they're too old for you (and currently "in a relationship"), and no Aaron, you can't have my sister's phone number.
"isley unruh" is he twelve?
I've heard it said that I have the maturity of a 9 year old in the body of a 15 year old, so I guess that averages out to twelve.
"isley unruh" does he touch himself at work?
With my 7th dan mastery of the erotic tantric arts of K'un L'un I can psychically "touch" myself no matter where I'm at, be it a revival meeting, family dinner, wrestling match, or even work.  However, while I totally COULD, all practitioners of the erotic tantric arts of K'un L'un are sworn to use their powers responsibly and thus I am forbidden to touch myself at work.
Unless, of course, I am forced to use my powers in order to avenge my master's death at the hands of a rival clan.  Then it is on.
"isley unruh" is he single?
Why?  What are you trying to say here??  Well, let's just say I do as well as any board game loving, comic reading, Lord of the Rings fan-fiction writing guy has any right to do.  So yeah, I do alright.
"isley unruh" is he a model?
Well, I've watched enough America's Next Top Model to know how to exude fierceness, work my signature runway walk, smile with my eyes (smize) and never question Tyra.  So yeah, I think I have what it takes.  But, as they say, the proof is in the pudding.  Am I a model?  You tell me:
That's it for Mailbag Monday this month!  Tune in the first Monday of next month when I discuss what would happen if a Dementor fought a Nazgul!