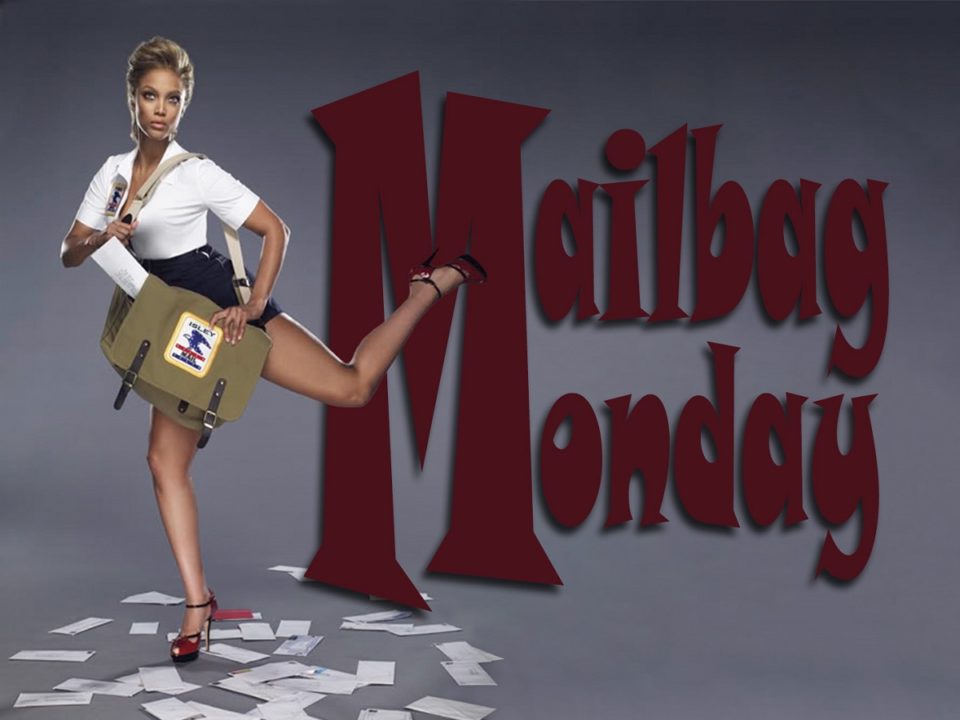 Want to have your pressing questions answered by Isley Unruh himself? Send all queries HERE, and I will get to them as soon as I can on a future Mailbag Monday!
Welcome back to Mailbag Monday!  On the first Monday of every month, I take the time from my busy blogging schedule to answer all of my reader's most pressing questions! Sure, I might have begged, bribed and cajoled my readers into sending me these questions in the first place, but, that still totally counts as reader mail!
This month I answer the following questions:
"What prank and/or operation do you most regret not bringing to completion in college?"
-Eckert
"Are all farts a form of shart?"
-Danny
So, without further ado, it is time to dig into the old Mailbag to see what kind of things have been on my readers' minds in the last month!
"What prank and/or Operation do you most regret not bringing to completion in college?"
-Eckert
During my time at Stephenson Scholarship Hall, there were quite a few pranks and operations that went off perfectly.  Operation Moses, Operation Feuerscheißenacht, Operation Sofa Sacrifice, and Operation Exodus just to name a few.  And there were others that never came to fruition, including Eckert's own brainchild, "Operation Stone Age" (filling Pearson Scholarship Hall's water line with cement, and then cutting their electric and T1 internet lines).
However, the one operation that has always been "the one that got away" for me was Operation Die Hard.  Sure, it was just a simple act of window smashing, but I like to think that the style with which it would have been pulled off would have elevated it beyond mere petty vandalism.  The basic idea would be that I would throw a cinder block out of the third floor bathroom window.  The twist was that the cinder block was tied to a rope which was tied to the bathroom water heater.  When the rope had played out completely the cinder block would swing back and go right through our douchy Scholarship Hall Director Matt Friedrichs' window just like that one scene from Die Hard. I suppose there might have been worse dudes out there, but there sure were a lot of better dudes, and Friedrichs also ended up drawing my wrath for kicking me out of the Scholarship Halls.  Which, while me getting kicked out was fully warranted, it still brought on an amped up reign of terror and destruction during my final weeks as a resident.
Anyway, I went ahead a drew up a handy diagram for Operation Die Hard as I always envisioned it (click for the large version):
Pictured, from bottom to top, you can also see:
The "condom tree," a tree that seemed to have a way of catching every used condom that got thrown out the window of the northeast side of the building.
The Lower Level Bathroom–aka the boiler room that people would piss into when they were too lazy to walk up a flight of stairs to an actual bathroom.  All fun and games until the day the boiler exploded and covered the entire lower level in standing piss-water.
The first floor toilet that may or may not have been in a state of permanent upper-deckering.
Our SHD's doorknob, which was, more often than not, covered in all manner of awful bodily fluids.
The dreaded second floor bathroom.  Two "missing" stall doors, one semi working toilet with a really hurtful graffitti written in permanent marker on it, one toilet covered in a petrified "shotgun blast" of shit, one broken toilet, and one urinal full of popcorn.  It didn' get cleaned once the entire second year I was there, which made the "Sauna" we created in there that one time by plugging up the shower drain and running hot water in all the showers and sinks even grosser.
The pristine 3rd floor bathroom…that became less and less pristine the more us second floor folk started to use it.
The locked attic, which we couldn't even get open with a crowbar.  It was rumored to contain nazi gold and other, even greater treasures.
I would have loved to add more details to the drawing, but it's getting late and drawing that shit takes time!  Bottom line, this was the prank that I just never got around to doing, and is, possibly, my biggest regret in all my years of college.  I sometimes feel like Schindler.  I could have done so much more!!!
"Are all farts a form of shart?"
-Danny
I've always assumed that farts had some small amount of airborn poop in them.  I even used that very "fact" in my famous "Hitler Smells a Fart" video, which, really deserves more youtube hits, I don't care how tired that meme is by now:
The basic idea, as Hitler claims there, is that the reason farts smell so bad, and the reason it is so much worse to get caught with your mouth open, is that farts are really just a weaponized form of shit.  Shit-air as opposed to shit-water.  I mean, come on, we've all had that pair of jeans that has suffered through a particularly rough day of sustained farting…we know exactly what even a cursory smell-check of the ass of those jeans would smell like.  It would smell like poop.
However, after some extensive research online, including the following yahoo answers questions:
I'm afraid to report that farts probably don't really contain all that much poop.  I mean, if you bare ass one on someone's face, you might get a little splatter action going on, but, overall, no, apparently all farts are not forms of shart.  They are just smelly gasses that happen to smell like poop.
Finally, because I still have hundreds of old saved search terms to wade through, the rest of this space is devoted to quick replies to the more ridiculous web searches that lead people to this website:
Snappy Solutions to Silly Searches
Manly bottom gay?
You would think bottoming would be kind of gay.  But, as comedian Steve Hughes points out, there's nothing gay at all about bloke fucking:
And, not only does this video answer your question, but that comedian also happens to be the drummer for the ULTRA KVLT Australian band Slaughterlord!  Which, is neither gay nor straight, but is still pretty badass and/or sweet nonetheless.
Best goat evar?
As long as we're talking about stories that are kind of gay…the goat, as we all know from the movie Waiting, is where you pull your cock and balls between your legs and then turn around and moon someone with all your shit sticking through from behind.  It's also known as the "bulldog" and the "fruit basket."   Whatever you call it, my best goat ever was when I was carpooling to KC with some friends in two cars, and we ended up stuck in a traffic jam on the interstate.  I carefully constructed a magnificent bulldog from my front passenger side seat, then pressed it against the windshield while my buddy David called Chris who was driving the car in front of us to ask Chris if his front blinker light was out.  Chris turned around to look and then we all had a hearty laugh about how I had basically just pulled off the best goat ever [evar].
Corpse paint funny?
Honestly, corpse paint is usually pretty funny anyway, and has been looking less and less like a corpse for a long time now (I'm looking at you Abbath Doom Occulta).  But my favorite recent funny corpse paint has to be the paint job I saw on Inquisition's Dagon this fall.  Perhaps he was just trying to embrace Hispanic culture in an attempt to combat all those racist allegations from last summer, but, I don't think there is any way around it, this is totally just Chola makeup right?: