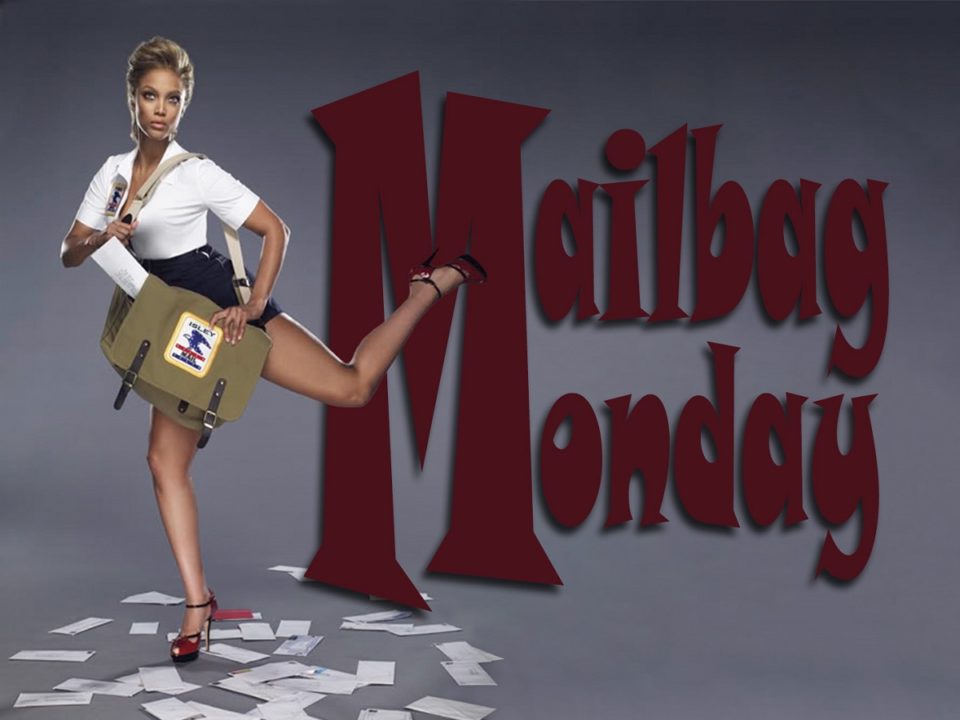 Want to have your pressing questions answered by Isley Unruh himself? Send all queries HERE, and I will get to them as soon as I can on a future Mailbag Monday!
Welcome back to Mailbag Monday!  On the first Monday of every month, I take the time from my busy blogging schedule to answer all of my reader's most pressing questions! Sure, I might have begged, bribed and cajoled my readers into sending me these questions in the first place, but, that still totally counts as reader mail!
This month I answer the following questions:
"What sort of man writes lyrics like those found on Nuit Noire albums?"
-Brian
"Will the cancellation of America's Next Top Model affect Mailbag Monday?"
-Denise
So, without further ado, it is time to dig into the old Mailbag to see what kind of things have been on my readers' minds in the last month!
"What sort of man writes lyrics like those found on Nuit Noire albums?"
-Brian
Brian is referring to lyrics like this from my new favorite band Nuit Noire:
I am happy in the forest because the night is beautiful there!
I am silly in the dark woods because the fairies are everywhere there!
They are coming from all the corners, they will soon reach the speed of the light!
Once gathered at such a speed, they will produce a magical blast!
Well, first of all Brian, check your gender bias.  If getting half a stock for fairies and shit is wrong, I don't want to be right.  Seriously, as black metal fans, are we all too dark and kvlt to admit that thinking about fairies flying around sprinkling glitter all over the forest isn't kind of a fun thought?  And even more seriously, isn't Nuit Noire (very successfully when you consider the strength of their riffs) evoking a very specific atmosphere, an atmosphere that is no less silly/awesome than stuff like "I have seen the darkest depths of hell/Sorcery beyond the witches spell?" But, I digress, you specifically wanted to know what kind of man Tenebras, the sole member (and lyric writer) of Nuit Noire is like.
Well, you might be surprised to know that he is a husband and father of four kids.  He lives in France and has worked at the same job at the local Airbus factory since 1999.  He is marrried to a real live Texan whom he met on his Myspace page (the only girl he ever actually met through his music!)  About the weirdest thing one could say about Tenebras' family life is that sometimes he takes his kids to the playground at night, and that their family likes to try a wide variety of restaurants.
Tenebras has been singing his unique (and, somewhat grating) vocal style for a long time because, as he says, "It is so enjoyable to scream with one's own voice, a voice that no one else could provide…"  Which, really, is an admirable sentiment.  He talks about faeries a lot, but they are more of an abstract concept for him:
Initially there is absolutely not any underlying motive, i just wanna put in words some visions, some nocturnal fantasies with moon and fairies, in order to go away from this disgusting human world we live in. But somehow i hope that what i write encourages people to dream and to stop being stuck to their material world, to stop relying on their human senses to judge things, and instead trying to perceive the pieces of fäerie hidden everywhere. Fairies and Fäerie are those little things that make you being more than a simple human, and more you spread your Fäerie more your Fäerie gets big, it is an unlimited resource.
He is also, of course, working on an RPG.
Specifically, he is this kind of man:
Which, fine, as much I might try to defend him, I guess he does play live in his underwear while wearing a cape.  So, you are right Brian, that's totally sillier than this:
"Will the cancellation of America's Next Top Model affect Mailbag Monday?"
-Denise
Man, good question.  I mean, my header image is one of Tyra's famous "Tyra Mail" poses (with "Isley Mail" cleverly photoshopped in) after all.  However, it would be silly to ignore the legacy of that wonderful show just because it is now off the air.  It's not like I've even watched the last couple years of cycles anyway.  So, bottom line, no, Mailbag Monday will remain the same, an eternal tribute to that special brand of narcissistic, trashy insanity that was Top Model at its best.
I can still remember watching cycle one, as it aired, and realizing that Elyse was pretty much the best:
With that rant, I learned the simple joy of picking out the least awful person in a sea of awful people, and then rooting for them until they took second or third place at the end of the cycle.  It was a formula that served me well over the years, shout out to my girls, you know who you are!
Top Model may be gone, but abominations to the english language like smize, dreckitude and booty tooch will live on forever.  Just like my Mailbag Monday header picture.
Finally, because I still have hundreds of old saved search terms to wade through, the rest of this space is devoted to quick replies to the more ridiculous web searches that lead people to this website:
Snappy Solutions to Silly Searches
Thanksgiving dick and balls on a plate?
Sure, in honor of the Thanksgiving season:
Bon Appetit!
Jack reacher series is shit?
As someone who has read like 20 Jack Reacher books, I was about to take offense at this.  But the more I thought about it the more I realize they are kind of going the way of the Spencer books.  In that series, the main character when from kicking lots of ass, to kicking SOME ass and, like, talking about food and shit the rest of the time.  And, considering there is probably on average a good 100 pages of talking about coffee and toothbrushes between every fight scene in most Jack Reacher books lately (of which TWO were released in the last year alone), yeah, maybe the Jack Reacher series is kind of shit.
How to make an origami dragon hard?
The same way you make a regular dragon hard…some light stroking and butterfly kisses to its taint.