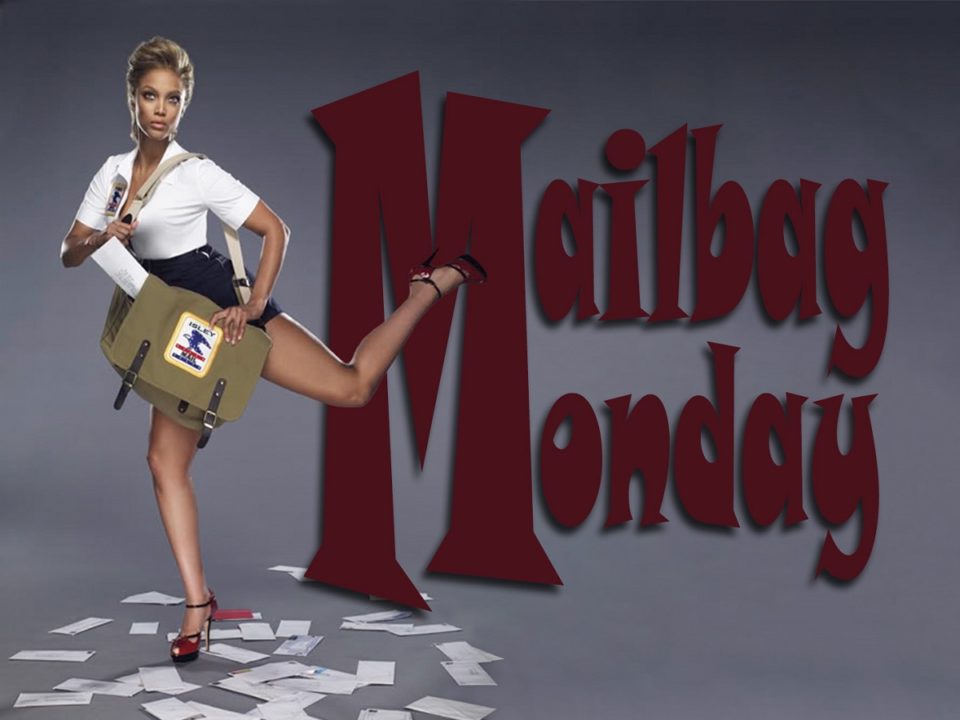 Hello dear readers, it's MAILBAG MONDAY again!  On this special day I will search through my mountain of reader mail and answer the five most pressing questions!
What's that you say?  Do I really get that much mail?  Well, I'll admit…the contact section of this website doesn't get used that often, but, one of the perks of wordpress stats is that I can see the google search terms that people use to find my site.  And I'm going to go ahead and pretend that these search terms will count as reader mail, since they are often entered in the form of a question.  So as you read these, remember that each "question" was something that someone actually typed into google that brought up my site as a hit which they then clicked on thus letting wordpress stats report to me the search they used to find my site.  I could make up the questions myself, but it turns out the actual google searches are far better than anything I could come up with!
This time I answer the questions:
Dementor vs nazgul?
How much garlic to add to a roast for tacos?
John wayne was awesome?
Is it unhealthy to eat pancakes on its own?
Most epic metal song ever hilarious?
So, without further ado, it is time to dig into the old Mailbag to see what kind of things have been on my reader's minds in the last month!
Dementor vs nazgul?
I've wondered this as well.  I mean, obviously, you would think the Nazgûl would take it on intelligence alone (as far as I know, Dementor's don't even know how to speak), let alone the fact that they were considered the most fearsome in Sauron's very fearsome arsenal of servants.  Meanwhile Dementors run away from pony holograms.
However, I am obviously biased, so let's see if we can do a point by point breakdown and try to determine who would win if they had to fight.
A Dementor, at over 9′ tall, would have a reach advantage over a Nazgûl who would be the same size as the mortal man he once was  –Edge Dementor
A Nazgûl would be invisible without his cape.  However, while a Dementor would be invisible to muggles, I think that a Nazgûl's mastery of black sorcery would qualify him as a non muggle (or at the very least, a squib, and thus still aware of the sorcerous world).  –Edge Nazgûl
Assuming a Dementor is not a "man" (which seems fair), he would be immune to the prophecy that protected the Witch King of Angmar, so, at least in the case of the Nazgûl leader, (assuming the Dementor could get ahold of a decent blade) the Dementor would have a chance.  –Edge Dementor
Nazgûl had sweet black horses, and then even sweeter flying serpent mounts.  Even though a Dementor could fly, I have to say that a Nazgûl's flying serpent mount would give them this one.  –Edge Nazgûl
The are both basically immortal wraiths with similar terror-based abilities (Dementor's Kiss/Black Breath) that would be fairly useless against each other.  –Even
Thus, after examining the facts, it looks pretty even.  A Dementor vs Nazgûl fight would probably look a lot like a football player fight where they kind of harmlessly slap at each other without doing any damage through their layers of padding.
But who am I kidding, a Nazgûl, driven by Sauron's malevolent will and imbued with an intelligence far surpassing an animalistic Dementor, would obviously come out on top if it came down to it.  If nothing else, after looking at the bulletpoints above, the Nazgûl could shame the Dementor into submission by pointing out what a cheap imitation of the real deal he actually was.
How much garlic to add to a roast for tacos?
I've said before, you really can't have too much garlic, but with a roast for tacos you actually want to be careful.  Roast beef has a delicate flavor and in order to not overwhelm that you may have to exercise a bit of restraint with your garlic additions.  I don't tend to measure my ingredients exactly, but I did manage to find a picture of the amount garlic I added to the last 2 pound roast I made for tacos.  So, just to be safe, I would only add about this much garlic to a 2 pound pot roast:
John wayne was awesome?
All I can say to this question is: yes, yes he was.  What's that? You need proof?  Well just listen to these two stories from Dennis Hopper about his experiences working with John Wayne and I think you will realize that John Wayne really was the most adorable (er…awesome) redneck of all:
Hopper: "I was and am good friends with [Wayne's] boys, so I became his very favorite pet 'pinko.' One time on the set of 'The Sons of Katie Elder' I had a bad case of athlete's foot and put some powder on my feet before slipping my boots back on.  I had gotten some on my pants and Duke noticed. He ambled over and put his arm around me and I am thinking 'Oh Christ…what now,' because this was a big man.  'Kid stay off that powder…it'll kill ya.' He was The Duke, and I loved working with him.  'True Grit' was a pleasure.  And I never told him it was athlete's foot powder."
And from the book Easy Riders and Raging Bulls:
Whenever some dramatic antiwar action occurred, Wayne would hold [Hopper] responsible, and come looking for him.  When the two were working on True Grit, Wayne once flew his helicopter in from the Minesweeper he kept at Newport Beach, landed on the Paramount lot, swaggered onto the soundstage with his .45 hanging from his belt and bellowed, "Where's that Pinko Hopper?  That goddamn Eldridge Cleaver's out there at UCLA saying 'shit' and 'cocksucker' in front of my sweet daughters.  I want that red motherfucker.  Where is that commie hiding?"  Hopper concealed himself in Glen Campbell's trailer until Wayne gave up.
Is it unhealthy to eat pancakes on its own?
Well, pancakes have grains and protein (especially if you put peanut butter on top of them like I do).  But you are still going to need vegetables if you want to switch to a "pancakes only" diet.  Then I remembered the lunches that my dad would pack for my sister and I in grade school.  Sprouted grain Ezekial Bread, natural peanut butter and alfalfa sprout sandwiches were a staple in our lunchboxes (you can only imagine how often the other children would want to trade with us!)  So there you go, all you have to do is put some Alfalfa sprouts on your pancakes and that should keep the scurvy away!
Most epic metal song ever hilarious?
Well I can think of all sorts of fuckin' epic metal songs, but I'm sure there aren't many of you that want to open up mailbag Monday to find a bunch of unlistenable black metal youtube links.  However, I do know one rather epic metal song that also happens to be even more hilarious than usual.  That's right, I'm thinking of Manowar's "Metal Warriors", the source for these most excellent cross-stitches that a friend made for me:
If those lyrics surrounded by bunnies, hearts and pentagrams aren't enough proof for you, just listen to the song.  Epic AND hilarious:
That's it for Mailbag Monday this month!  Tune in the first Monday of next month for Mailbag Monday 9!