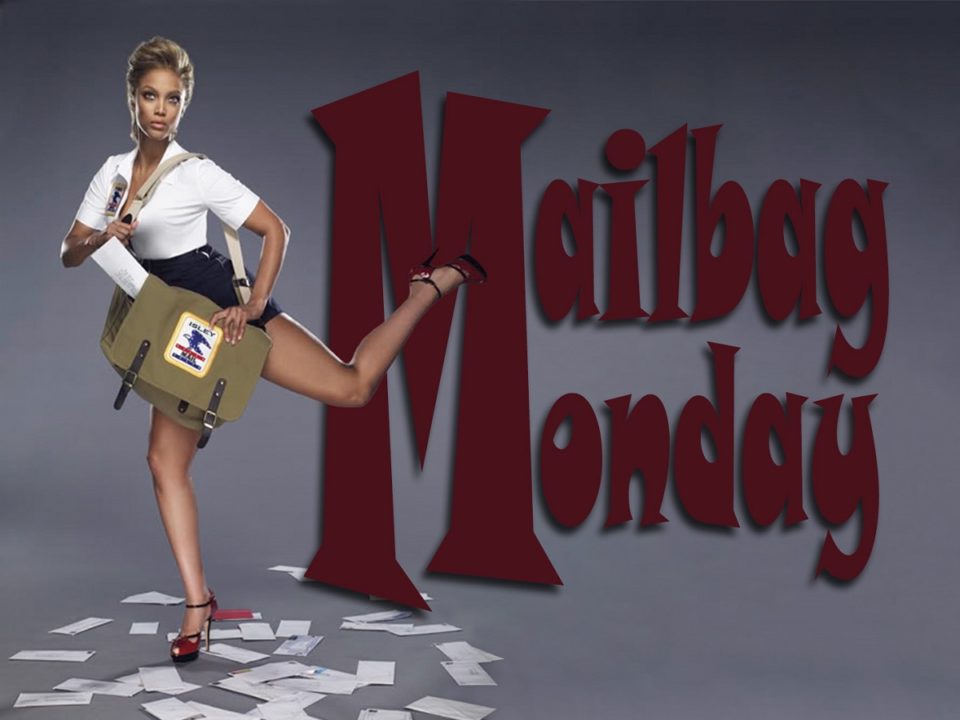 Want to have your pressing questions answered by Isley Unruh himself? Send all queries HERE, and I will get to them as soon as I can on a future Mailbag Monday!
Welcome back to Mailbag Monday!  On the first Monday of every month, I take the time from my busy blogging schedule to answer all of my reader's most pressing questions! Sure, I might have begged, bribed and cajoled my readers into sending me these questions in the first place, but, that still totally counts as reader mail!
This month I answer the following questions:
"I found some money on the street.  Should I keep it?"
-Jessica
"Did you get that "Wolves Among Sheep" NSBM book, by chance?"
-Phil
So, without further ado, it is time to dig into the old Mailbag to see what kind of things have been on my readers' minds in the last month!

"I found some money on the street.  Should I keep it?"
-Jessica
While, at first glance, this question seems pretty straightforward, it's actually quite a bit more complex.  Specifically, in this case, because that was not Jessica's actual question.  THIS was Jessica's actual question (with specific subquestions numbered):
I have an ethical question! The other day, I found a $10 and a $5 on the sidewalk. ((1)Might they have belonged to the guy lighting a cigarette half a block ahead, who had presumably just pulled that lighter out of his pocket and maybe then also dropped these bills? Maybe! I did not ask!) I took them! Yay! I had $15! But then I got home, and looked at them, and…it was actually a $5 and a $100. And it was Christmas Eve. And suddenly I was the worst person in the world. I couldn't have possibly found the owner of a $100 bill in my neighborhood. (2) But still…do I have to give it all to charity? (3) Can I give only half of it to charity? (4) What if I spend the other half on things for OTHER people, except they're people I know, not just charity-people? (5) Does it factor in at all that I had just done a thing which had lost me $45 that very afternoon? ((6) And does it matter if that thing was totally my own fault and just me forgetting to pick up the thing I had just spent $45 on because I'm dumb?) (7) And does it matter if I had been pining over a tea mug & saucer at a schmancy little Brooklyn gift shop which costs (and I swear to god this is true) $98 (!!!!FOR A MUG BUT I WANT IT SO BAD!!!!!) and so maybe this is a sign from god that I should buy a very breakable, very expensive mug for myself, because thieves and jerks always profit??? (8) Also, either way, I'm totally keeping that $5, right? It is currently sitting in a box in my living room – not even my bedroom! – because I want so little to do with it. (Um…please don't steal it from me.) Please just make this decision for meeeeeeeee. I don't want to have to do it and it makes me feel BAD.

PS – [the tea mug is] SO CUUUUUUUUUUUUUTE!
Followed by the slightly less intense (and mercifully less stingily paragraphed ) update a day later:
I SWEAR TO GOSH THIS IS TRUE:

Just now, walking to the library, I FOUND A TWENTY ON THE GROUND. (9) WHAT THE FUCK, ISLEY. And I had taken a different path walking there than I ALWAYS do!! And I WAS READING A BOOK AS I WALKED!! (10) How did I even happen to glance up at that exact second!? (11) WHAT IS GOING ON??

((12) Am I being rewarded, or tested? (13) What happens if I fail? (14) Does God exist, Isley? (15) And if so, why does God care so fucking much what I do with $125 stupid dollars?)
Alright, let's dive right in, better just start at the beginning…oh, importantly, this is the teacup in question:
Ok, NOW, let's get started and see if we can work our way through this dilemma!
Honestly, yeah, it was probably that dude's money.  I mean, let's be honest, cash on the street isn't going to last very long in Brooklyn…there are all kinds of morally bankrupt people out there just waiting to snatch it up!
No need to give any of this to charity.  In the grand scheme of things, kids will keep starving, refugees will keep dying, and the planet will keep shuffling its slow painful way to extinction whether or not you give some Christian mission in a third world country $125 that they will just spend on bibles or whatever.
Giving half to charity would have exactly half of the benefit described in the answer to question 2.  So, you can, but I wouldn't advise it.
Now this one sounds better.  I like making people I know happy a lot more than I like making strangers happy.  So yeah, I'd go this route if you absolutely insist on giving this money away.
It does not.  Money comes and goes, as does our own fortune and misfortune.  If you flip a coin and it comes up heads 99 times in a row, you still have a 50/50 chance to get heads on that hundredth flip.  The universe doesn't owe you $45 any more than that coin owes you a greater than 50% chance to come up tails.
It still doesn't matter.  Though, that sure won't help it sting less.
Well, I shouldn't say the lost money doesn't matter.  Because, there's always  a reason to do anything.  You could rob a blind child if, you know, you like needed money to buy a loaf of bread to feed your family or whatever.  So, depending on how much money you had lost stupidly forgetting to pick up a thing, yeah, it might affect your decision to keep said money.  Same goes for ridiculous $98 tea cups (not that I have room to talk–I've spent more on board games I've never even played), because, let's be honest, that mug IS cute!  Not exactly a sign from God, you just have to ask yourself, is this tea cup my loaf of bread for a starving family?
I was going to say the amount shouldn't matter, but, true, if you find a penny on the street, there is no moral quandary, but if you find a suitcase full of hundies, there is going to be a bit more of a delimma (ethically and otherwise) about what to do.  So sure, I guess there is a sliding scale, so yeah, go ahead and keep the $5.
Ok, seriously, you are just making this up now, right?
Even while reading while walking to the library (oh good for fucking you), one has to glance up every now and then, so I'm afraid we'll have to chalk this one up to coincidence.
Either you are part of some creepy social experiment where they see how long they can drop random cash on the street in front of you before you flip out, or, once again, we can just chalk this up to coincidence.
Damnit, conincidence!
This is not a test!
Not even remotely.
Even if it did exist, I'd take this as a sign it wanted you to have $125.  What kind of petty bullshit would that be for a supreme being to drop on us mortals otherwise?
WHEW.  Ok, new MBM rule: ONE question, not 15 per submission!
I still haven't really answered your basic question: "Can I keep this money??"  And, really, the only ethical dilemma here happened at the moment in which you found that money.  How far ahead was that guy?  Was the sidewalk icy? Were you in uncomfortable shoes?  Did he look douchy?  Because, if in your heart of hearts you really thought it was probably his money, you probably should have made a reasonably considerable effort to catch up to him and ask if he thinks he dropped anything (definitely don't say it was money–make him say he was missing a hundred (who just carries those loose in their pockets?)!  Maybe it wasn't his, you don't want him having a chance to con you out of your hard-found money if it's not his!)  It's not really your job to help people who have so much money that hundreds literally fall out of their pockets, but it would still just be a nice thing to do.  Unless your starving kids were out of bread, of course.
I know you are familiar with my guiding maxim "if you feel bad about doing something, either stop doing it, or stop feeling bad about it," and it definitely applies here.  Just make sure the reason you didn't run after him to ask if it was his was not because you just really wanted to keep his money.  Because, you know, that's his money, that's kind of not a great thing to do.  But my other guiding maxim is "no use crying over spilt milk."  The dude is gone, there's no way to get his money back to him, so it's yours!  Happy day!  Buy that teacup, it's super cute!  Next Christmas Eve just try a little harder to make sure the person who dropped their money isn't still around!
And for all those people out there who would just assume I'd say take the money no matter what, I only have this to say:
"Did you get the "Wolves Among Sheep" NSBM book, by chance?"
-Phil
Hey, speaking of ethical issues, here's a prime example of me desperately trying to not feel bad about something I do, rather than to simply quit doing that thing.  Which is to say, I just keep listening to the music I like rather than taking a stand against a black metal underground full of ideologically reprehensible assholes.  So, yes, Phil, if you must know, after I was unable to find a pirated kindle version, I DID in fact buy a copy of that new Wolves Among Sheep book in the hopes of discovering a few lost NSBM gems I may have missed:
So, don't feel so bad Jessica, at least you aren't monetarily supporting racists.
Finally, because I still have hundreds of old saved search terms to wade through, the rest of this space is devoted to quick replies to the more ridiculous web searches that lead people to this website:
Snappy Solutions to Silly Searches
"best" "fart" "bro" "ever" "felt" "good"?
I'm not sure which is more intriguing, your lack of understanding as to how to use quotes while googling something, or what you hoped to find with this search.
Life of pi bullshit?
This is a movie that says "when life gives you lemons, you should just pretend there is a magic sky god that will let you live in his lemondrop kingdom instead of that shitty lemon "real" world.  So, yeah, it's bullshit, fuck that movie.
Georgia o'keeffe flowers?
How is it that you know how to spell her name, but don't know that they are vaginas, not flowers?