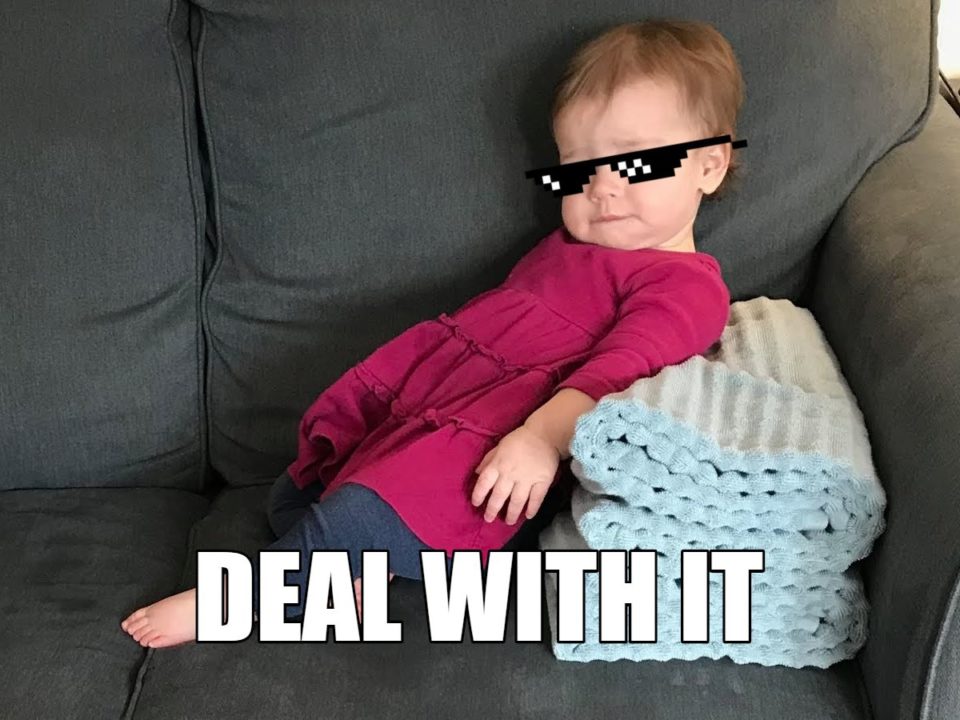 If you have kids, you'll end up with a lot of pictures of those kids. 95% will need to be deleted whenever you get around to finally sorting through the 20,000 pictures on your phone, 4% will be adorable, and 1% will be meme material. Over the years, I've made quite a few random memes, most of which were sent in a gchat and forgotten. Some of them ended up buried away in a forgotten Desktop>other>OTHER>Need to Organize>New folder>ORGANIZE>New folder (9) folder. After doing a bit of digging, I found a few to log for posterity here, so read on for some partly funny and mostly adorable FAMILY memes!
See what I'm saying? Toddlers mistaking pants for hats isn't really comic gold, but it's goddamn adorable, so, meme wise, we'll all have to let it slide.
This one isn't a meme, it's just a cute four pane of my daughter trying to help fold laundry and then calling it quits soon after.
Or wait…IS it a meme?
Ah hah! Knew there was one in there!
I know parents make up shit their kids say all the time, but Wren really said this, and I was pretty proud of the reasoning that got her there.
This, also, is a true story.
Oops, another cute one of my daughter runnin' through the house with a pickle in her mouth. Deal with it.
Benny wanted to draw a picture of me and ended up capturing something special.
Speaking of Benny, he was not a fan of Unruh style French Toast (whole wheat bread, peanut butter, raisins, nuts, applesauce and eggs all mixed together).
It's not just me, Wren also gets no respect around here, eeeeeyyyyyyyyy.
I'm fairly certain it was Necros Cristos on the headphones, so this expression is 100% understandable.
"I studied the blade" is F-tier meme material, but she really did take to that ren-fest Katana like a natural.
Find yourself someone in life that looks at you like my toddler looked at bathwater.
With a family comes the weight of your forties. Luckily I have a strong (literally) wife who might not be able to carry my misplaced confidence in my flagging prowess, but she can carry me…or at least cover the kids and the house work while I am laid up the next day.