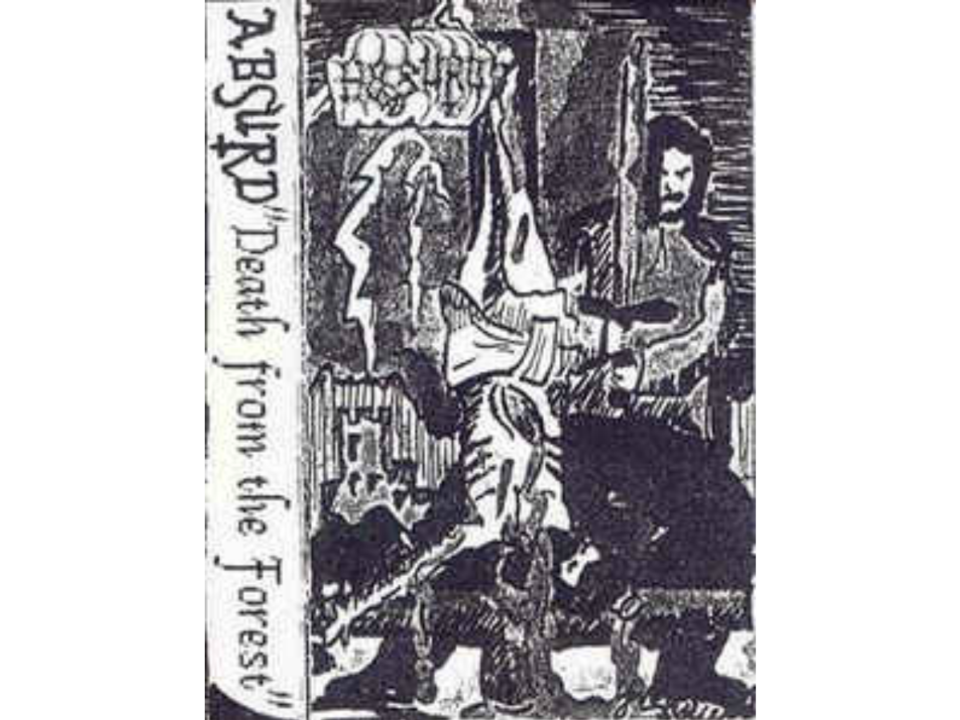 Aspersions have been cast, in my general direction, regarding the content of this feature.  SOME have claimed that the word "masterpiece" is being used far to freely.  After last month's album, it was even suggested that this feature be renamed "Atrocious Production and Questionable Talent." Well, if you thought that Deathslayer demo was shitty, you might want to be sitting down for this one, because this is one of the shittiest demos of all time, and today I'll be discussing how much I love it!
Absurd was a band that, most likely, never would have risen to prominence had they not first murdered a 15 year old kid, and then milked the murder for everything it was worth, even going so far as to put his gravestone on the cover of a later demo.  And, while they went on to make legitimately good albums (like their debut full length Facta Lunquuntur), their first marginally widely distributed demo is that special kind of bad that I love to pretend is a special kind of good.
The first thing one notices about Death from the Forest is that is isn't black metal.  Well, the first thing one notices about Death from the Forest is that it sounds like absolute shit.  But it's also really not a black metal album, as it is almost entirely full of songs like the classic "Last Breath":
And while, on the surface, this is really just a punk album, or a bad garage rock album, there is just something about these simple songs of a couple chords each that honestly does resonate with me.  The RAC and Oi punk from which they draw many of their influences has a real melancholy feel to it.  A slightly epic sound, like something worthwhile trying to crawl its way up through the layers of soggy shit that this band sat down and dumped into a four track tape recorder one afternoon in 1992.
About the only "black metal" thing about this album are the occasional non-clean vocals that sneak into the mix like in this clip from "Eternal Winter":
Yes, I've never touched a drum set in my life and I have a feeling I could play better drums than that plodding excuse for a rhythm section.  And yes, even taken with a huge atmospheric grain of salt, that song isn't really all that great, but damn if these guys aren't as earnest as can be on this album.  Sure, I know the idea of "it's good because you can hear the individuality of the band in the recording itself" isn't exactly new, or even all that convincing, but this really is a charming album.
This same song was done much better 3 years later on Absurd's first full length:
And, while that version is no technical marvel itself, I don't think it necessarily completely replaces this earlier version.
There is a small amount of variation on this album, though most of it is relegated to shitty filler tracks.  Otherwise, the simple 3 chord melodies are somewhat interchangeable.  Even faster paced songs like "Green Heart" sound familiar:
However, like a folk/punk version of the idiot savant genius of Von, Absurd imbues these song with something special.  Something that the legion of other bands of similarly deficient talent most definitely lack.  Songs like Gate of Heaven find themselves having far more staying power than they have any right to have:
It might not sound like black metal, but the atmosphere is all there, possibly because of the awfulness of the production and composition.  The only thing shittier than this album's cover is the music contained within.  And, the only thing more charming than this album's cover is the music contained within as well!