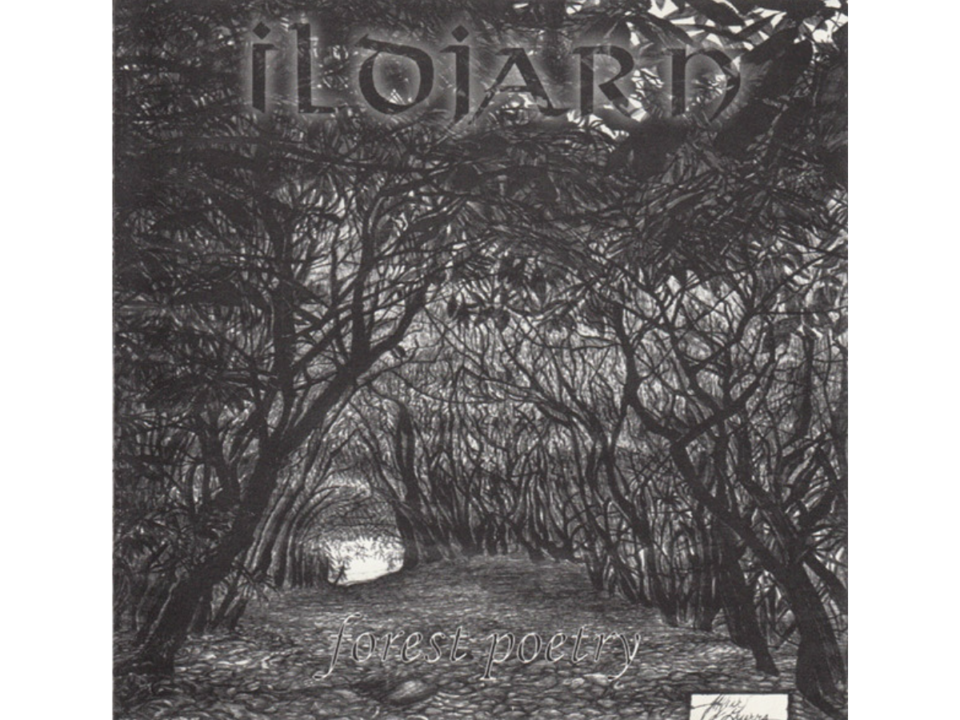 Welcome back to Mid-Month Metal Masterpiece, where I discuss a different classic Thrash, Death, Black or just plain "Heavy" metal album on the 15th of each month. Of course, I'm an old school fellow, so don't expect to see a lot of stuff post-1996 or so. Each installment will be accompanied by several short sound clips illustrating important sections of the album. Anyway, it was either this or a new Daily Metal Reviews section. Consider yourselves lucky I chose the path of moderation.
This month I'll discuss Ildjarn's 1996 album Forest Poetry.  It's quite possibly the most unpleasant experience one can have while listening to music!
Black metal, as I've discussed before, is an unpleasant type of music.  The songs are simplistic and the productions lo fi, even by underground metal standards.  Add on some shrieking screams for vocals and you have a somewhat less than crowd pleasing form of music.  Well, Ildjarn's Forest Poetry is unlistenable even by black metal standards.  Consisting of 22 brief 2-3 minute blasts of distortion, even for a seasoned veteran like myself, its 52 minutes make themselves felt.
Vidar Vaaer, the creator and sole band member of Ildjarn, crafted a production so (purposely) horrible on his albums that you can't even figure out what notes they are playing through the wall of white noise at first.  Often, on the more chaotic tracks, you will be a minute in to a 2 minute song before your ears are able to pick out the melody through the cacophony.  Like this clip from "Reflecting Mountains" that even made me go "wait, did the riff just change in there somewhere?":
Of course there are some more accessible songs on the album, like the almost pleasant "Chill of the Night (returning)":
And the song that almost sounds like its inverse, "Visions of the Earth (second returning)":
Yet the album is not meant to be listened to like other pop music.  Though the music is obviously black metal (though, like a lot of black metal, it also shares many similarities with punk music) and the songs usually have a verse and a chorus (and nothing else), Ildjarn has created something unique with Forest Poetry.  It is not music to be listened to in the background; if your attention wanders you might as well just let your vacuum cleaner run for an hour instead.  The real brilliance of the album is that he has hidden so much variation in what on the surface appears to be 50 minutes of white noise and the same drum beat.
Often, the variation is not found in the notes that are played, but rather the combination of instrumentation.  Like this clip from "Away with the Dawn", decisions to drop out drums/guitar/etc provide anchors of interest in what would otherwise be a monotonous song:
Even just a decision to drop out some of the cymbals for a bit in "Cold and Waste" can achieve the same effect:
In addition to the intrasong variance, there are intersong variations as well.  Everything from tempo variants, to the mix/distortion slightly changing, to a more pronounced bass serves to hold the listener's interest withthe album as a whole.  Or even, in the case of "Winter Embrace", a song with no guitar at all (and more subtle cymbal variation):
Obviously the songs (or at least what you can make out of the songs) are quite dark.  There is a real passionate hateful anger at play with this album, a large reason for the ferocious mix.  Many of the songs have a very sinister quality like this clip from "Midnight Interval":
Now, of course, drummers don't need to be commended for using a different cymbal.  But what is interesting is how, in an album almost entirely full of the same drum beat, such a subtle variation can seem to be such a shattering stylistic choice.  Of course, I'm just explaining the basic appeal of minimalist music that has been around since the 1960s, so it's not like Ildjarn is a real trailblazer in that respect.  Indeed, most black metal incorporates elements of minimalist stylistics into their songs, so why Ildjarn specifically?
Black metal, when read conceptually, has always embraced, in the words of Burzum, "that which once was, but is now gone."  I've always maintained, that part of the reason for black metal's "necro" aesthetic was to give the illusion of a decayed music from an olden time.  As I once semi facetiously wrote on my old myspace black metal fanpage:
In ancient times, when the world was dark and foul things walked the mist filled forests, there came unto the darkness a music undreamt of. Both beautiful and horrifying, the fell creatures of the night were drawn to its power. And so they came to preserve this grim music. And though their craft was great, the countless ages between their time and ours served to erode a once mighty music until all that was left was a faint echo of what once was.

Thus has black metal come to fill our ears with its epic grim sorrow. The vocals little more than shrieks, the flowing streams of melody buried beneath the white noise of the centuries, black metal nonetheless hearkens back to an olden time. A cold time. A time of pure black evil.
Now, obviously the amount of bullshit it would take to write all that doesn't even come close to the amount of bullshit you have to sell to yourself to actually buy into the idea that 52 minutes of songs like the ones sampled above are actually worth listening to.  Yet, as I maintain by Forest Poetry's inclusion into this monthly establishment of a metal canon, Forest Poetryactually IS worth listening to despite (or, more accurately, because of) a production that makes Darkthrone's Transylvanian Hunger sound clean in comparison.
If nothing else, Forest Poetry is a ballsy example of an artist unafraid to craft an album with complete disregard for its listener.  I would argue that even Japanese noise music is more listenable because it has no repetitive "riffs" to further alienate the listener.  No matter your thoughts on the album, for those who make it through the first 50 minutes, the final 2 minute song really comes as a (relative) shock in comparison:
Like all black metal, Forest Poetry is something you have to buy into.  I know you are asking yourself, is it really worth it for some asshole's negligible creation within the confines of an artistically questionable genre?  I honestly can't definitively answer that, but I will say that you will find few albums more hateful or misanthropic than Forest Poetry.  And that has to count for something right?