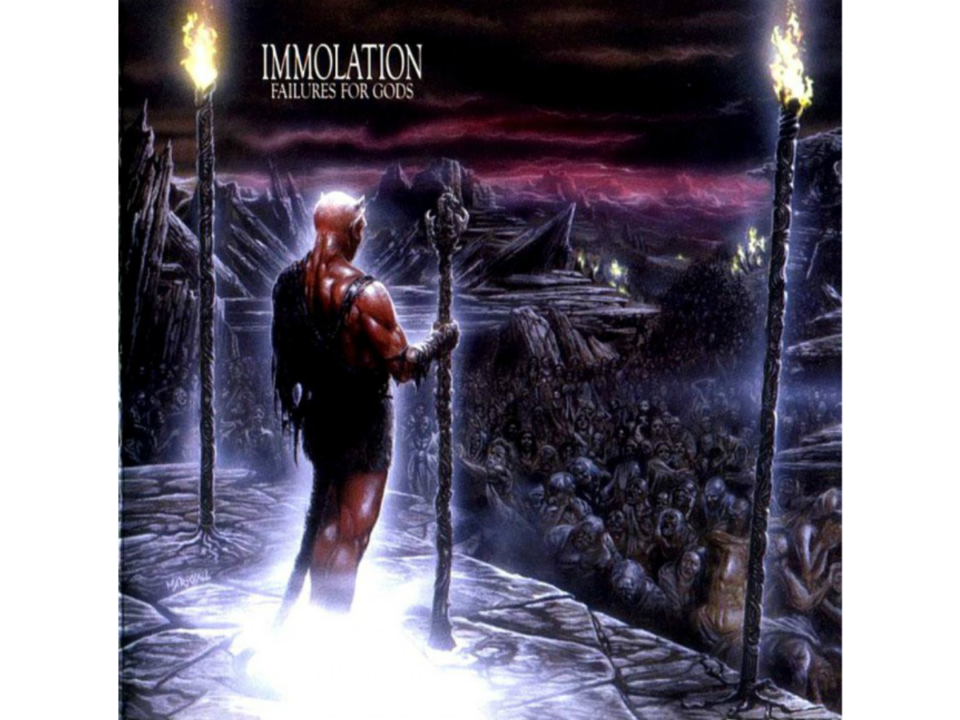 Immolation was always kind of an oddball band.  They were somewhere in between brutal death metal and a more melodic style that focused on weird guitar harmonies and slower mid-paced sections.  Gorguts would probably be the closest analog style-wise, but honestly Immolation really rests in a category by itself.  And though they may have (arguably) gone on to make more proficient albums, today's album, Failures for Gods was the first where their sound finally came together into the formula that they have been repeating ever since.
Opening track "Once Ordained" lays out the formula quite well.  Complex melodic riff (without being too squirrely) kicks into a headbangingly badass chorus ably backed up by Ross Dolan's excellent vocals:
Immolation was never the fastest band, but they always gave their frequent slow sections a really driving power that ensured they never dragged like this section from "God Made Filth":
There is some really catchy stuff on this album, nothing more so than the chorus to "No Jesus, No Beast":
Did I say nothing?  Well, the "Can you hear us, death to Jesus" section from the same song (backed up by some really sweet squealing artificial harmonics from the guitars) might be close:
I saw them play that at Milwaukee Metalfest, and hearing a whole auditorium of metalheads chanting it along with the band was really something to hear.
Unfortunately, not all the lyrics were quite so badass.  Some of it unfortunately kind of dips dangerously closely into later Deicide territory of "outspoken atheism." If I want to be preached to, I'd prefer it to not be about something someone actually feels strongly about, but these lyrics are still fairly badass I suppose:
Let them rape you,
Let them rule you,
They will take you,
You're [sic?] failures for gods. 
That particular section, from the title track "Failures for Gods", is probably the single most epic moment of the album (preceded by a really awesome tremolo picked bass line):
And then the outro, as was solidified on their previous album Here in After, finishes with a long wailing melody that is pretty goddamn epic in its own right:
Does one of their later albums like Unholy Cult do this same thing, only slightly better?  Maybe, but having heard Failures for Gods first, I can't help but feel like their later material is just drawing from the same well, and thus, the freshness of the material suffers a bit in comparison.