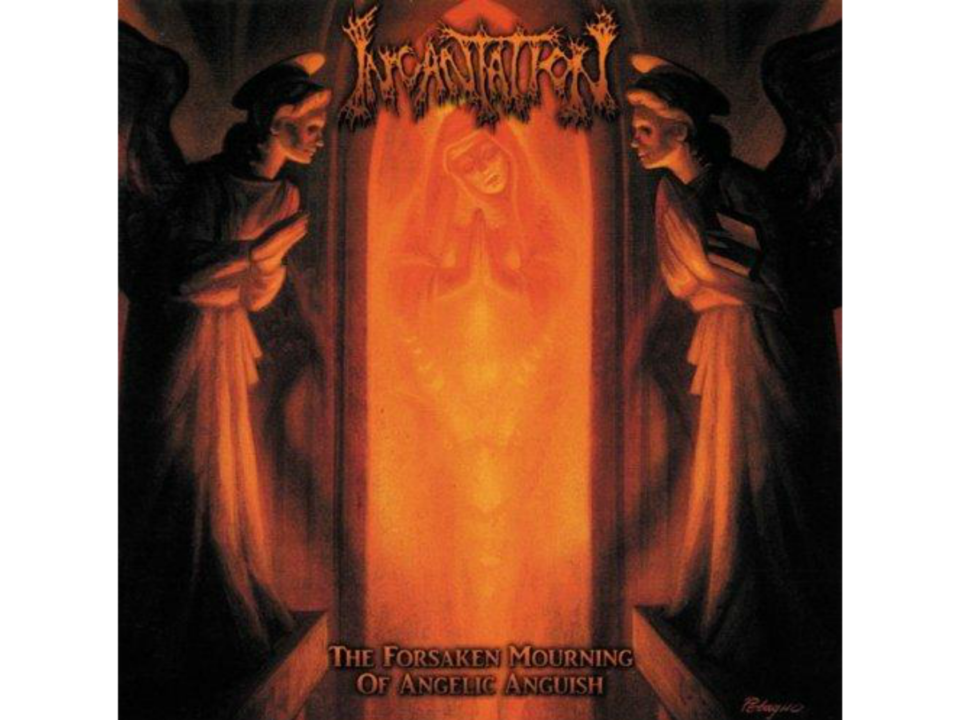 Welcome back to Mid-Month Metal Masterpiece, where I discuss a different classic Thrash, Death, Black or just plain "Heavy" metal album on the 15th of each month. Of course, I'm an old school fellow, so don't expect to see a lot of stuff post-1996 or so. Each installment will be accompanied by several short sound clips illustrating important sections of the album. Anyway, it was either this or a new Daily Metal Reviews section. Consider yourselves lucky I chose the path of moderation.
This month I'll take a look at an Incantation album that is "just right."
Incantation has been around since the early 90s and has a host of classic death metal albums under their black leathery wings.  However, today's album, 1997's The Forsaken Mourning of Angelic Anguish, has always held a special place in my black, leathery heart.  Partly because it was the first Incantation album I've ever listened to, and partly because it is the perfect combination of blasting old school death metal speed and Incantation's special brand "eviler than thou" death metal.
I usually associate John McEntee, driving force behind Incantation, with every death metal band of unusually powerful evilness–from Profanatica to Demoncy–even if he had very little (if anything) to do with the band.  However, his other projects aside, McEntee was instrumental in making Incantation one of the most evil death metal bands of all time.  There are better bands out there of course, but there is a special darkness in Incantation's music that is rarely matched in other death metal bands.  Unfortunately, Incantation's early albums (including the brilliant Mortal Throne of Nazarene) were a little too "doomy" for my tastes.  Still great stuff, but not quite my thing.  And later albums (including the brilliant Diabolical Conquest) lost a bit of the evil edge that distinguishes the best work from Incantation.
From the beginning, it's pretty clear that the doom influences have been minimized in The Forsaken Mourning of Angelic Anguish.  The first song has that great ascending riff that really keeps you on the edge of your seat (featured here in this section from the opening song "Shadows from the Ancient Empire"):
That clip made great use of that old death metal standard of "drop out everything but the guitars and then when the vocals and drums kick back in everything is that much awesomer."
Another great thing about The Forsaken Mourning of Angelic Anguish is that it was the last Incantation album to feature the vocal talents of Craig Pillard.  His ultra low growl has been imitated countless times, but he has always been a big part of Incantation's evil vibe as you can see in this clip (also from the opener, "Shadows from the Ancient Empire"):
Compare that to this clip from the next Incantation album, Diabolical Conquest.  The song is exactly the same except with a different vocalist, and while the vocals are just fine, I gotta admit I really kind of prefer the totally low and gutteral vocals from Craig Pillard over the vocals of Daniel Corchado:
The vocals are especially highlighted in this clip from the cover of Death's "Scream Bloody Gore":
Gotta love how Pillard screams out the chorus of "Screaaaming Blooody  Gyyyoooore!"  The original Death song is great (and may even be featured on a future MMMM…if only to piss Brian off that that is the first Death album included on here) but the vocals and production were pretty weak.  Not so in the Incantation version!
Of course, as the inclusion of a Death cover (along with the short playing time) makes clear, The Forsaken Mourning of Angelic Anguish is not a real CD.  It only has 3 "real" songs on it (along with the Death cover, a mini song at the end and a few scattered intros and outros).
Still, the three songs are badass!  The second song is full of great stuff, including this driving riff that leads into what you think might be a return to Incantation's doomy roots only to make the speedy part even more badass when it kicks back in:
Not that everything is full of blistering speed on this album.  The title track has some great chugging grooves of artificial harmonic badassery:
The only other "real" song (aside from the ambient outro–which is somewhat repetitive but still interesting) is the intricately titled "Twisted Sacriligious Journey Into Our Darkest Neurotic Delirium."  This 50 second song is a whirlwhind of blastbeats punctuated by a brief guitar solo and some chugging artificial harmonics, and then a return to the blastbeats before it finishes.  It's like a microcosm of a death metal song!  Hell, it's short enough, I'll include it in its entirety here:
And actually, it's been a while, so let's play a quick game of "Guess the Underground Metal Song Lyrics"!  See if you can figure out what Pillard is saying in the above song:
Spoiler
Realm of entanglement
Sponteneous annihilation
Of Chaotic utopia
Delirrium flows liberation
Our ominous ethics
(neurotic hunger for malevolent rapture)
Venomous journey
Sacrilegious plagues
Catholic innocents, Destroyed
Caressing thy overshadowing darkness…
[collapse]
If you missed a stanza that is ok, as long as you got at least two of them you can call it a win!
Anyway, there you have it, a mini Incantation album at a turning point in the band's career.  Don't let the short length fool you, The Forsaken Mourning of the Angelic Anguish is a true death metal classic and offers some of the most evil and blistering fast music of Incantation's career!