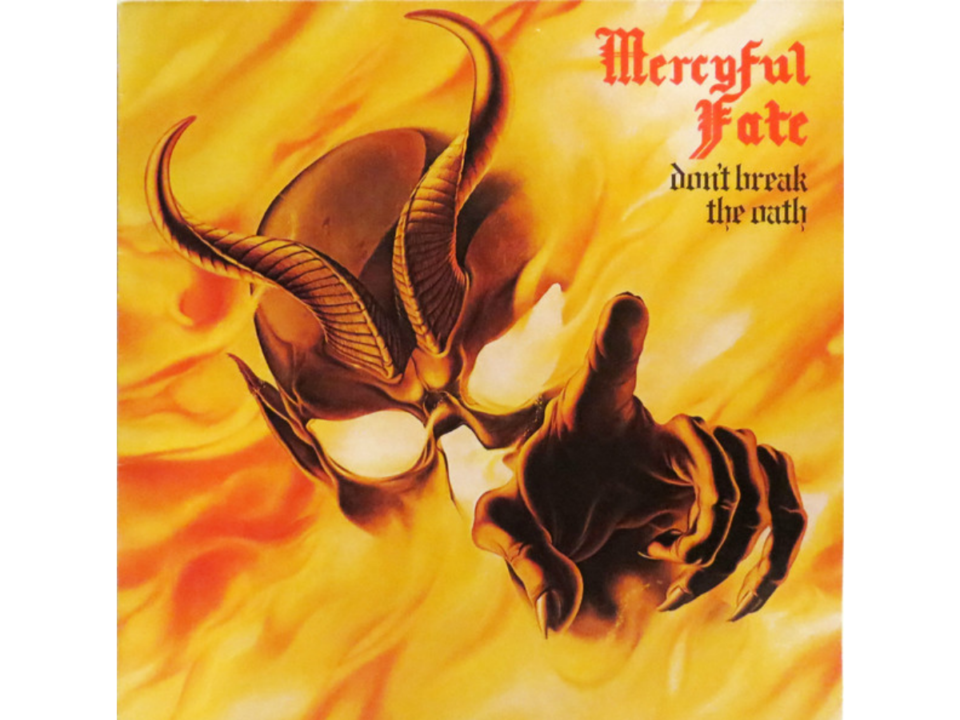 Welcome back to Mid-Month Metal Masterpiece, where I discuss a different classic Thrash, Death, Black or just plain "Heavy" metal album on the 15th of each month. Of course, I'm an old school fellow, so don't expect to see a lot of stuff post-1996 or so. Each installment will be accompanied by several short sound clips illustrating important sections of the album. Anyway, it was either this or a new Daily Metal Reviews section. Consider yourselves lucky I chose the path of moderation.
This month I'll discuss Mercyful Fate's 1984 album Don't Break the Oath. Mercyful Fate's Don't Break the Oath (along with Venom's Black Metal and a few other random pre black metal albums) is often claimed to be one of the first black metal albums.  I'm afraid I've got to set the record straight right off the bat here, there not a thing black metal about Mercyful Fate except for the corpse paint and Satanic bible thumping.  On the other hand, as far as heavy/speed metal albums go, Don't Break the Oath is pretty much badass and/or sweet.
I mean, you have to get past the vocals of course.  And no, this time the vocalist doesn't sound like Donald Duck or The Cookie Monster, but rather like some dude that got kicked in the nards.  Opinions differ on whether he is a genius or just annoying.  I'm probably somewhere in the middle on the issue, but the dude does have some nice range.  His vocals range from a low growl:
…to his normal singing voice:
…to a high falsetto:
…to glass cracking:
…all within a single song (or even within a single vocal line).
Anyway, regardless of how you feel about King Diamond's vocals, Mercyful Fate really was one hell of a band.  They weren't quite thrash, more some kind of speed metal/power metal hybrid.  And many of their songs were fucking epic like this clip from "The Oath":
Granted, there were often more traditional heavy metal elements like this clip from "Welcome Princess of Hell":
But, thankfully, they always quickly passed into more epic and minor key passages.
And, despite me poo pooing any claims of black metal (or even thrash) influence, Mercyful Fate really was pretty damn heavy for 1984.  I believe I even detect a bit of double bass in this clip from "Come to the Sabbath":
Of course, they were never trying to be the most brutal band ever.  They were really a lot closer to Iron Maiden than Slayer:
There is a lot of nice technical guitar work on the album.  The solos are especially well integrated into the song like this bit from "Desecration of Souls":
In fact, some of the sections almost border on prog!:
Right? Anyone?  Ok, maybe not, but still, Don't Break the Oath is a pretty fantastic album, full of varied and creative old school metal.  Mercyful Fate, showing up just slightly ahead of the major thrash band's foundational albums, was undoubtedly influential.  Even today, the Mercyful Fate influence can be heard in all kinds of bands (like my friend Jon's band Bröhammer).  Hell, their opening riff to "Desecration of Souls" is probably second only to Black Sabbath's "Black Sabbath", for most played riff ever back when I was actually still playing my electric guitar.  Just check it out (preferably played with an "oh yeah, that is so metal" face):