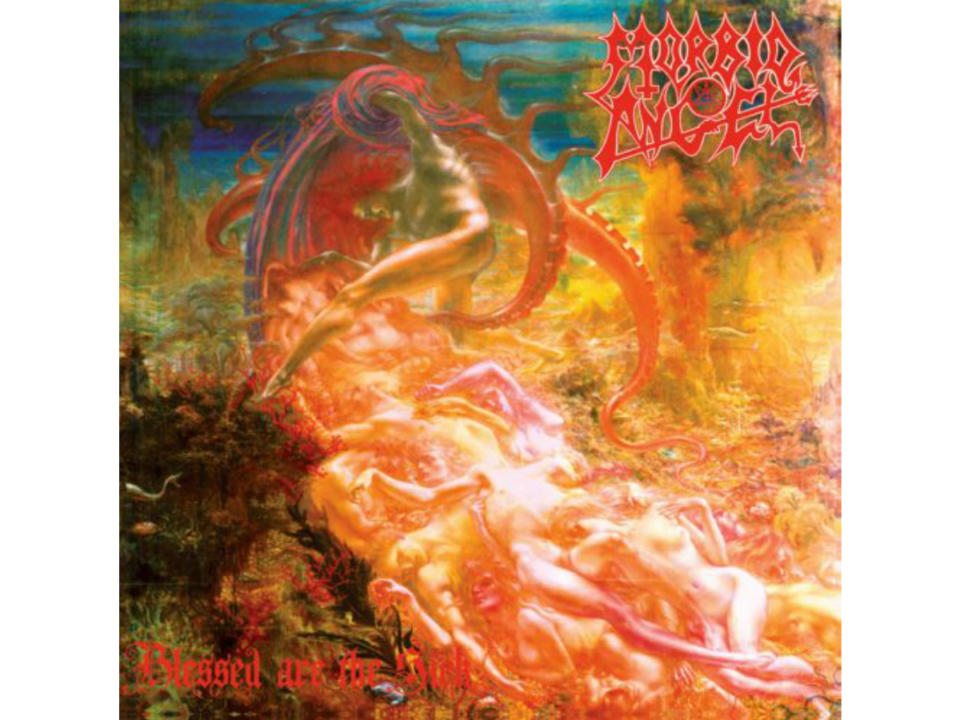 Welcome back to Mid-Month Metal Masterpiece, where I discuss a different classic Thrash, Death, Black or just plain "Heavy" metal album on the 15th of each month. Of course, I'm an old school fellow, so don't expect to see a lot of stuff post-1996 or so. Each installment will be accompanied by several short sound clips illustrating important sections of the album. Anyway, it was either this or a new Daily Metal Reviews section. Consider yourselves lucky I chose the path of moderation.
This month I'll attempt to remind people why Morbid Angel is the best death metal band of all time.  Of all time!
I know I've already done a Morbid Angel (twss!) MMMM before, but recent events have prompted me to return to this greatest of all possible death metal bands.  What recent events you might ask?  Well, let's just say that the recent release of Morbid Angel's 8th studio album, Illud Divinum Insanus, was perhaps not their most brutal moment.  I don't mean to shit on Rob Zombie, he's fine for what he is, but I imagine he was immediately on the phone with Trey Azagthoth asking for his riffs back after listening to the woefully titled "Too Extreme!":
Thus, in an effort to remind death metal fans just exactly what has been lost with this new album (not that they've really done anything worthwhile in the last decade or two, but this new album was the straw that broke the Ancient One's back as they say) I'd like to take today to discuss Morbid Angel's 1991 death metal classic Blessed Are the Sick.
As everyone knows, Morbid Angel has 3 masterpieces.  The mainstream Covenant, the insanely brutal Altars of Madness (which I'll probably end up covering here when they release their next shitty album), and the easy listening Blessed Are the Sick.
Don't get me wrong, Blessed Are the Sick is still brutal, just in a kind of laid back way.  Tough to be eviscerated by such thoughtfully composed music but Morbid Angel manages it nicely!  The opening track "Fall from Grace" (after a cool Hell Awaits-esque intro) is a great example of this as one brilliant riff slams into another without ever sounding like the riff salads of their imitators.
First the crushing intro:
Followed by a bunch of oddly phrased riffs and more traditional groove segments:
And then it slows way down for the sweet "Whores long for my flesh and my desire" part:
Followed by the requisite Morbid Angel shredding we all know and love:
And then an even more badass spoken word downtempo segment (the famous "I am Belial, I bend my knee not but for my selfish desire" part):
Whew!  All that was just from the first song, I better start editing the cool parts out or we'll be here stuck up Morbid Angel's ass all day!
Drummer Pete "Commando" Sandoval is in top form in "Rebelands":
I'm not sure what drummers call that stuff after the insanely fast opening riff (can I get some help here Jonlaneondrums?) and I'm guessing it's probably not all that hard to do, but it always sounds badass.
Of course, there is also "Day of Suffering," candidate for most brutal opening riff ever?:
While the old school and thrashy Abominations gets totally epic on your ass:
And then gets totally epic-er:
This album has the usual intro/outro wankery, but overall I guess they work well enough.  I once knew a metalhead named "Banjo" (I don't believe that was his Christian name) who claimed that the acoustic guitar song "Desolate Ways" was the "best acoustic guitar death metal instrumental of all time":
Sounds pretty standard to me, but I guess it's not fair to call it wankery either.
I'll leave you with the utterly crushing title track that sets the all time high water mark for midpaced death metal:
Funny how such a laid back death metal album like Blessed Are the Sick can be so much more extreme than a song titled "TOO EXTREME!"