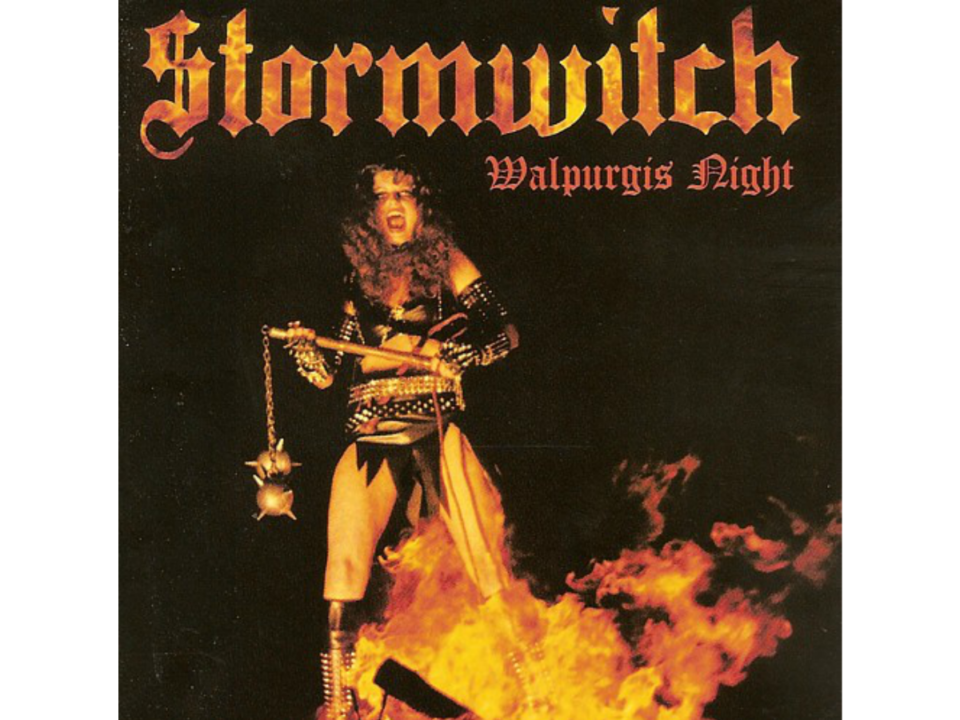 Welcome back to Mid-Month Metal Masterpiece, where I discuss a different classic Thrash, Death, Black or just plain "Heavy" metal album on the 15th of each month. Of course, I'm an old school fellow, so don't expect to see a lot of stuff post-1996 or so. Each installment will be accompanied by several short sound clips illustrating important sections of the album. Anyway, it was either this or a new Daily Metal Reviews section. Consider yourselves lucky I chose the path of moderation.
This month I'll take a look at those masters of "black romantic New Wave of German Heavy Metal," Stormwitch and their 1984 debut, Walpurgis Night.
I couldn't find where the label "black romantic" came from, but the more I think about it, the more I realize that not only is it an apt descriptor for Stormwitch's music, but it is also an apt descriptor for what I like about the cheesier realm of metal in general.  In a sense, it is really just another way to say that Stormwitch's music is "fucking epic."  Epic is a word that definitely gets kicked around a lot, especially by myself.  I've heard complaints that my definition tends to stray a bit from the Merriam Webster definition of "extending beyond the usual or ordinary especially in size or scope."  But you know what, just because they don't have "makes you feel all gay for hobbits and shit" in the dictionary under epic doesn't mean that my definition is wrong.  And that is, in my opinion, exactly what the fans of Stormwitch mean when they call their music "black romantic."
Usually I try to just pick a handful of the best parts of the albums I feature on here.  However, Stormwitch's debut (and, from what I have heard of their later albums, apparently ONLY their debut) is so fucking epic and black romantic that I couldn't resist pulling clips from every song.  The songwriting is pretty barebones, but god damn are they catchy–in a black romantic way of course!
The first song, "Cave of Steenfoll,"  is an excellent example of what you should expect from the album.  An old fashioned metal verse keeps it real, and when the chorus kicks in it gets all black and romantic all over your ass:
The solos aren't the most technical things I've ever heard, but they do a great job of incorporating them into the black romantic atmosphere of the album:
Up next is the downtempo "Priest of Evil" which, I might add, has the most adorable lyrics about Satan ever:
Holy beast,
They've come to celebrate your bloody feast!
Priest, priest of evil,
Adores the number 666!
Priest, priest of evil,
Spits on every crucifix!
They don't just like the number of the beast, the fucking ADORE it (perhaps in a black romantic way?)
Some say it's cheesy, but I say the chorus to the next song, "Skull and Crossbones" is about as black and romantic as it gets:
Meanwhile the uptempo "Werewolves on the Hunt" shows the vocalist Andy Mück can adopt an almost Motorheadesque vocal style and still be pretty damn black and romantic:
Though,  as the title track makes clear, Mück's at his best when he's testing your ability to sing along in a high falsetto while listening to this cd in your car (I can hit the high notes about half the time if I really put my diaphragm into it):
The maidenesque (and oddly titled) "Flour in the Wind" finds the album past the halfway mark without dropping the black romantic (and catchy) meter one notch:
The ascending chorus of "Warlord" is another personal favorite tinged with that good old black romantic feeling:
The penultimate song is the instrumental (I'm going to assume Metallica ripped off Stormwitch on this song ordering choice) "Excalibur" that even takes the time to bust out the old acoustic guitar in an effort to up the black and romantic stakes:
Finally the album ends with the more traditional heavy metal (but still pretty rockin…and even, I dare say, a tad black and romantic…sort of) "Thunderland":
So, I hope the next time you are in the mood for something romantic (I'm not talking about scented candles and bubblebath, but rather a warrior atop a rearing horse raising his sword to the full moon…again, my definition, not the dictionary's) and yet tinged with a blackness that is darker than looking into a black mirror you'll take a look at Walpurgis Night.
After all, what is the answer to any question that begins with "what is the most black and romantic album of all time?"  That's easy: