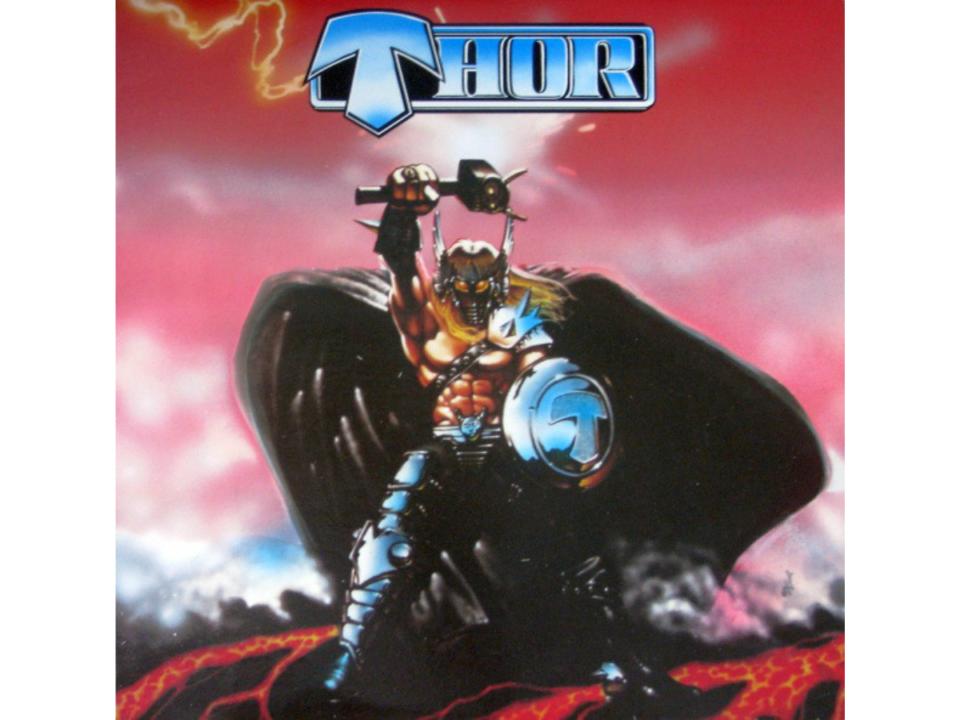 Bodybuilding champion, actor, director, screenwriter, rock opera composer, historian, singer with the voice of an angel, and vigorous yet attentive lover, Canada's own Jon-Mikl Anger Thor is a man of many talents.  As such, it was only a matter of time before his band Thor found its way into the hallowed halls of Mid-month Metal Masterpiece.  Some kind of dirty hybrid of Manowar styled power metal and more traditional NWOBHM, Thor's 1985 album Only the Strong is one hell of a rip roaring slab of pure testosterone fueled metal mayhem.
I only discovered today's band a little over a year ago when  I was doing research for a playlist for Danny's "viking party" (ie, I was finding a bunch of viking themed songs, everything from "Immigrant Song" to all that accessible sell out viking metal stuff like Ensiferum. On some discussion board I heard about a band called 'Thor" that had a bunch of viking themed songs.  A quick youtube search later and I came across this:
Needless to say, far from finding the "worst video ever," I realized I had instead discovered a new favorite band.  And while Thor put out far more notable metal songs during their long career than you might expect, 1985's Only the Strong is easily their best album, loaded with one ripper after another.  Just check out the classic "Let the Blood Run Red," introduced by a great banshee scream here in the intro:
It's a great riff, even if it is rooted in a not very KVLT style of classic metal.  And yet all the riffs on this album have a dark edge to them that give Only the Strong a much needed skid mark of a dirty streak.  Still, dark edge aside, what really makes Only the Strong stand out is how ridiculously catchy it is, and the chorus of "Let the Blood Run Red" is an excellent example of this:
I DARE you to listen to that without singing along in a high falsetto in your car (it even uses my favorite metal lyrical devise, parentheses!):
Let the blood run red
Let them all be dead
(no one must oppose the metal avenger)
Look them in the eyes
Knock them down to size
(no one must oppose the metal avenger)
There are a few songs on this album that lean a bit too much towards a more classic sound, but even they are uncommonly catchy, as you can hear in this clip from "Rock the City":
The songwriting is pretty simple verse/chorus/repeat stuff, but for being structured from such minimal elements the album is surprisingly varied.
There is the straight ahead metal of "Start Raising Hell":
The fucking epic "When Gods Collide":
And the galloping "Ride of the Chariots":
Not to mention the (along with "Let the Blood Run Red") album highlight "Thunder on the Tundra":
Bottom line, despite looking like this:
Frontman Jon-Mikl Anger Thor's band fucking rules.  Hell, what am I saying, of course a guy who looks like that would know how to make some brilliant heavy fucking metal!