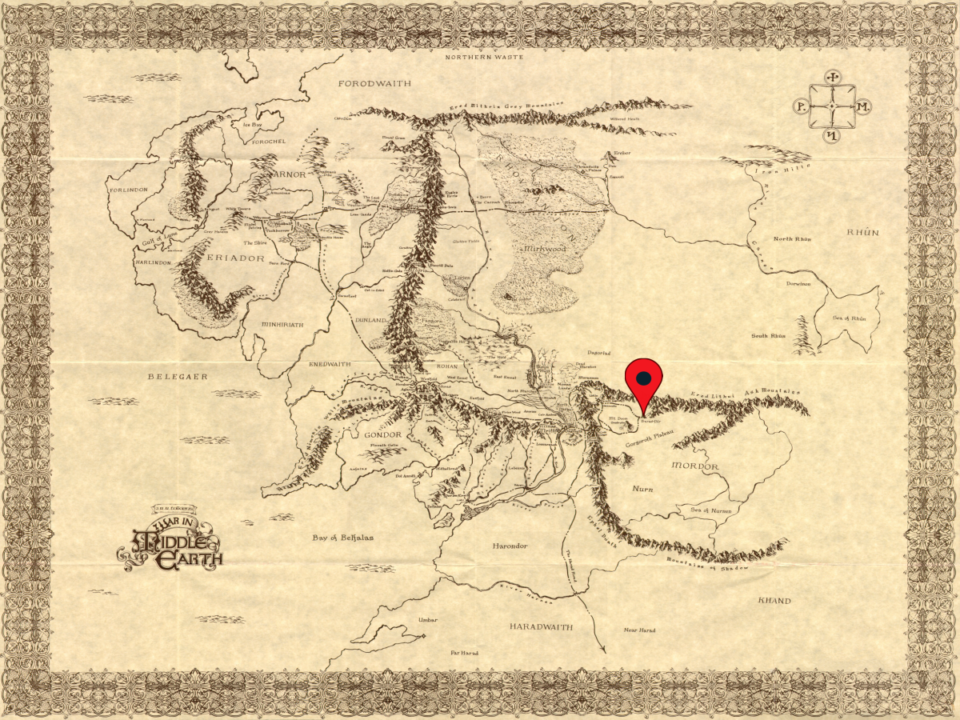 Welcome back to everyone's favorite www.isleyunruh.com Monday feature! Middle-earth being the place of enchantment and wonder that it is, each month I will use my love of fictional cartography to transport you to another time and place. So why not take a moment to fill your head full of knowledge that will have no bearing at all on the real world? This month I'll be discussing Sauron's greatest stronghold, Barad-dûr, in the land of Mordor where the shadows lie.
Thither, eastward, unwilling his eye was drawn. It passed the ruined bridges of Osgiliath, the grinning gates of Minas Morgul. and the haunted Mountains, and it looked upon Gorgoroth, the valley of terror in the Land of Mordor. Darkness lay there under the Sun. Fire glowed amid the smoke. Mount Doom was burning, and a great reek rising. Then at last his gaze was held: wall upon wall, battlement upon battlement, black, immeasurably strong, mountain of iron, gate of steel, tower of adamant, he saw it: Barad-dûr, Fortress of Sauron. All hope left him.
Though Sauron dwelt long within the fell halls of Dol Guldur as he let his evil taint ooze over the forest of Greenwood the Great, Barad-dûr (literally the "Dark Tower," or, as the orcs called it, Lugburz) was ever his greatest stronghold.  It was built at the southern tip of an outlying arm of the Ered Lithuin, 50 miles from Minas Morgul and 50 miles from the Carach Angren (Isenmouthe).  The story of Barad-dûr must mirror the story of the one ring, for only with the power of the ruling ring could a tower of its magnitude be built.  Not since the sky rending Thangorodrim had such a mighty fortress been constructed upon Arda, and not easily was it built.
Starting around 1000 S.A., Sauron, in the guise of Annatar the gift giver, began construction on Barad-dûr even as he wrought ring shaped treachery upon Celebrimbor and the elves of Eregion.  For 600 years he toiled with the One Ring as his forge, building the fortress ever higher, casting it out of iron, steel and other metals far stronger and stranger than are known today.  Black sorceries infused every wicked inch of the fortress,  cloaking it in a darkness so impenetrable, that none could see its true vastness.
When his tower was finished, he sent his slaves forth as a mighty army, 600 years in the making, and with them destroyed Eregion and overran Eriador.  And when Tar-Minastir finally drove the minions of Sauron from Eriador around the year 1700, their dark fortress awaited their retreat, an unassailable refuge from annihilation.  And there it remained until it was finally besieged by the forces of Elendil and Gil-galad for seven years beginning in 3434 S.A.  And yet, when Sauron was finally defeated and Isildur cut the One Ring from the Dark Lord's hand, he did not then destroy the master ring.
And thus, though the tower was largely brought to ruin, its foundation cast back the attempts of every hammer and chisel that attempted to crack its magical shell.  And this foundation remained, brimming with magic, waiting for the Dark Lord's return throughout the Third Age as he grew in form and substance.  Finally, in 2941, when the White Council attacked Dol Guldur in mass and drove Sauron from its corrupted halls, he returned to Mordor and renewed Barad-dûr to its former glory in a matter of 50 years.  Though a fraction of its original construction time, the iron foundation of the tower, surrounded by its moat of lava from Amon Amarth a mere 25 miles away made the rebuilding of Barad-dur a much simpler task.
And yet, when the One Ring was finally destroyed in the fires of Mount Doom on March 25, 3019, this unbreakable foundation crumbled like the last wafer of lembas at the bottom of a pack.  And as it cracked and returned to the earth from which it was wrought, so too did the vastness of Barad-dûr, never to rise in this world again.